GAFFR gameweek 3: Key takeaways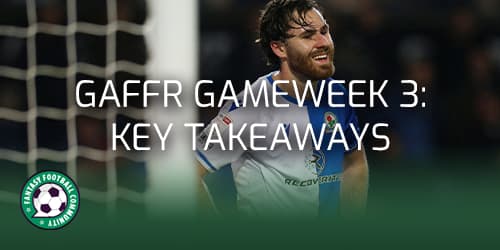 Here we go through the key takeaways in every Championship game in gameweek 3. We take a look at key events including goals, assists, bonus points clean sheets and more from a GAFFR point of view.
With gameweek 3 now over GAFFR managers could benefit from knowing the key events from the matches gone. This information could then help those all important GAFFR decisions as we edge closer to the gameweek 4 deadline.

Watford v Burnley
Burnley slumped to a 1-0 away loss at the weekend. The entire team only managed 35 points collectively with no players managing more than four points. The whole Watford backline provided nine or more points other than £6m Kamara who received a red card.
One of the standout options in the Watford attack was £7m midfielder Sema who hit double digits for his assists and bonus points. £6m midfielder Cleverly also hit double digits with 10 points for his goal and performance bonus.
Cardiff v Birmingham
Home side Cardiff managed their second clean sheet of the season with their 1-0 win against Birmingham. Goalkeeper and £4.5m Ruddy was the only Birmingham asset to hit over four points. His six points consisted of save points and his second half clean sheet.
Two big performances came in the Cardiff attack after their backline managed six points or more. £5.1m midfielder O'Dowder was one of them. His assists and bonus resulted in a big 11 points return. His total was matched by team mate £6m midfielder Philogene for his goal and performance bonus.
Blackpool v Swansea
Another match that ended up finishing 1-0 but this time in the way of the visitors. With a team total of below 50 GAFFR points Blackpool assets failed to standout this gameweek. 5m midfielder Dougall managed five points for his penalty won but it didn't get much better than that.
Popular asset and goalkeeper within the GAFFR community £5m Fisher took away a massive 15 point haul for his clean sheets and penalty save. £5m defender Naughton was the biggest returner amongst defenders with his 9 points. This consisted of clean sheets and bonus.
£7m Obafemi came out on top amongst the attackers with his nine point return. His assist and bonus points lead to the forward having a successful week in GAFFR.
Huddersfield v Stoke
Lots of goals came in this one. The home side took a surprising 3-1 victory against Stoke. No away player returned more than six points this gameweek. Defensive points came from £6m goalkeeper Nicholls who hit nine points for his first half clean sheet and penalty save. £5m defender Nakayama matched that tally.
Match starters £8m midfielder Thomas and £6.5m forward Ward both hit eight and 10 points for their assist and goal. Late onto the pitch £5.5m midfielder Holmes and £6m forward Rhodes also both returned for their assists and goals. Holmes stood out hugely with his 13 point haul this week.
Hull v Norwich
Hull continued their impressive start to the season with a 2-1 win over Norwich. Norwich assets continue to disappoint their GAFFR managers. They have failed to win a game this season so the community will be hoping that can change and quick.
Only one Norwich asset returned more than three points this gameweek and that was £7.5m midfielder Nunez. He brought in a double digit haul of 11 points for his goal and bonus points. The Hull defence managed to hit four to five points for their first half clean sheet. £5.1m goalkeeper Ingram came away with 9 points for his saves and bonus.
Hull striker and £6.5m Estupiñán took the biggest points return. His whopping 15 points consisted of goals and bonus points.
Luton v Preston
A great performance by Preston resulted in the away side taking all three points for their 1-0 victory. The home assets all failed to hit above six points other than the popular £6m defender James Bree who took away seven points for his second half clean sheet and bonus points.
There was plenty of points at the back for away side Preston after their clean sheet. £5.1m defender Brady hit a 13 point return after creating the assist along with clean sheets and performance bonus. Standout attacker was £5m midfielder Potts as he hit 11 points for his goal and bonus.
Millwall v Coventry
There was no shortage of action between Millwall and Coventry in gameweek 3. A five goal thriller saw a 3-2 home victory for Millwall. It was only £6.5m forward Godden who hit above five points for Coventry. His 13 points haul resulted from his goal, assist and bonus points.
One big success at the back came from £6m defender Cooper. He brought in 10 points for his goal, second half clean sheet and bonus points. The standout GAFFR performance came from £6m midfielder Honeyman. He managed a double digit return of 11 points with his goal and bonus.
Rotherham v Reading
Rotherham whipped Reading in a massive 4-0 victory. The entire Reading team totalled 24 GAFFR points meaning no player returned more than four points in gameweek 3. In comparison Rotherham totalled a whopping 91 points amongst their assets.
There was two big returners at the back for Rotherham. One of them was £4.5m goalkeeper Johansson who took eight points for his clean sheets and saves. The other was £4.5m defender Wood who returned 12 points from his goal, clean sheets and bonus point.
There was also plenty of returns in attack. Two players rose through the crowd of attacking returns. £5.6m midfielder Ogbene scored and hit bonus to take his tally up to 11 points. However it was a massive performance by £5.5m midfielder Barlaser after he stole the show with his 17 point haul. His points came from his three assists and bonus points.
Sunderland v QPR
Another thriller came between Sunderland and QPR. the result ended 2-2 meaning there was a lack of returns for both sides at the back. It was only £5m goalkeeper Dieng who hit more than three points. The goalkeeper somehow managed to score for QPR which resulted in 11 points.
The Sunderland midfield failed to return amongst the goals. It was forwards £5.6m Simms and £6.5m Ross Steward who took eight and 10 points for their goals and performance bonus. £8m Chair was the only midfielder in the match to returns GAFFR points. His assist , goal and bonus resulted in a 15 points haul.
Wigan v Bristol City
Both teams broke even with their 1-1 draw. Both defences failed to hit more than four points in GAFFR this week. The big Wigan returns came from the front line. £5.5m Magennis came away with eight points for his assist and bonus. £6m Keane hit a double digit return of 11 points after his goal and performance.
Similar to Wigan Bristol City's big returns resulted from their forward's performances. £5m Conway took eight points for his assist and bonus. Whilst GAFFR favourite Weimann continued his top form after he hit 11 points for his goal and performance bonus.
Middlesbrough v Sheffield United
A huge clash between Middlesbrough and Sheffield United ended in a goal fest. 2-2 was the final result which meant there was a lack of returns at the back for Sheffield United. Although that was the case Middlesbrough defenders £5.5m Lenihan and £6.5m Jones both came away with seven points for their assists and bonus points.
Only one attacker returned GAFFR points for the home side in gameweek 3. £6m forward Akpom took a massive 16 points haul away from the game for his goals and bonus points. It was midfielders £7m Bolin Berge and £6.5m Norwood who took the attacking spoils for the away side. Their goal and assist saw them return seven and six points.
Blackburn v West Brom
Blackburn continue their relentless wining form to the start of the season with a 2-1 win. No defender in the match picked up more than five points. Big Blackburn returns came from the frontline. £10m premium striker Brereton continued his great form with a goal, assist and bonus resulting in a 14 point return.
Team mate and fellow striker of Brereton £6.5m Gallagher also created an assist, scored and took away bonus to get him close to his tally with 12 points. The big attacking return in the West Brom attack was £7.5m Diangana. He claimed a goal and bonus to secure his 10 point return in gameweek 3.
---
Keep up to date with everything GAFFR here in one place.