GAFFR Gameweek 22 Key takeaways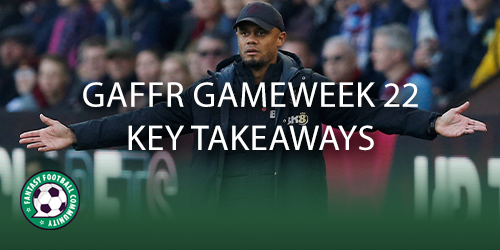 We take a look at the GAFFR Gameweek 22 key takeaways. We go through each and every game that played in the Championship in the most recent round. Taking into account clean sheets, assists, goals and bonus points we highlight the most successful assets in Gameweek 22.
Picking out the GAFFR Gameweek 22 key takeaways in each game every Gameweek can give managers even more information to make those all-important decisions for the round ahead. Whether it be for transfer plans or captaincy, the Gameweek 22 key takeaways can very beneficial to fantasy managers.

Blackburn v Preston
The local derby ended in a massive 4-1 away win, to the shock of many. The lack of goals for Blackburn meant a lack of GAFFR returns. Their highest earner was midfielder Dack (£6.4m) who hit seven points for scoring his goal.
Preston scored four goals so there was lots of returns for the away side. Striker Evans (£5.4m) picked up a whopping 18 points for his goals, assist and bonus points. Midfielder Johnson (£6.9m) also had a very successful Gameweek, returning 12 points due to his assists and bonus.
Rotherham v Bristol City
Bristol City returned to their fantastic scoring form after a 3-1 win against Rotherham. Rotherham's standout player was midfielder Ogbene (£5.8m). He scored and picked up nine points. Bristol City defender Pring (£4.4m) collected a whopping 12 points for his goal, second half clean sheet and bonus.
Bristol City midfielder Scott (£5.6m) hit 10 points after creating an assist and collecting bonus.
Reading v Coventry
Coventry dominated the game but could not convert their chances which lead to a 1-0 win to Reading. No Coventry asset picked up more than four points in Gameweek 22. Reading's most successful asset was defender Salif Mbengue (£4.1m) who scored, picked up clean sheets and bonus to hit 13 points.
Blackpool v Birmingham
Birmingham had some big chances to score but could not convert. The match ended in a 0-0 stalemate. This meant there were plenty of defensive returns for both sides. Blackpool defenders Connolly (£4.6m), Garbutt (£4.3m) and Husband (£4.4m) all returned eight points for their clean sheets and bonus.
Birmingham defender Longelo (£4.6m) racked up 10 points due to his clean sheets and bonus, making him the highest earning asset within the match.
Middlesbrough v Luton
It was a tightly contested game between these sides but Middlesbrough deserved their 2-1 win. Luton midfielder Clark (£5.5m) hit 10 points for his goal and bonus. The biggest returner from Middlesbrough was defender Giles (£6.1m) who bagged 11 points from his second half clean sheet, assist and bonus.
Millwall v Wigan
A 1-1 draw here meant there was a lack of defensive returns. Millwall midfielder Flemming (£7.4m) returned 11 points for his goal and bonus, continuing his good recent form. Wigan's most successful GAFFR asset was striker Keane (£6.1m), he collected 10 points after his goal and bonus.
Sheffield United v Huddersfield
The home side maintained their fantastic start to the season with a 1-0 home win against Huddersfield. No player managed more than five points for the away team in GAFFR. Sheffield United midfielder Ndiaye (£7.8m) returned 11 points for his assist and bonus whilst teammate and striker Sharp (£8.3m) picked up his first goal of the season to rake in 10 points with the help of bonus.
Stoke v Cardiff
In a game full of goals both sides ended the match with a point each after their 2-2 draw. Stoke's biggest return came from striker Campbell (£6.8m) who bagged 10 points for his goal and bonus. Cardiff's best asset was Robinson (£8.4m) who scored and collected bonus to reach 11 points. Teammate and fellow midfielder Wintle (£5.1) was just one point short of his colleague after scoring and picking up bonus too.
Swansea v Norwich
Norwich squeezed a 1-0 win away from home but Swansea had plenty of opportunities to score however, could not finish their chances. There was a shortage of Swansea returns but defender Manning (£5.2m) hit eight points after his second half clean sheet and bonus.
The biggest Norwich returns came via two players. One of them was striker Pukki (£11.4m) who racked up 10 points for his goal and bonus. Goalkeeper and teammate Gunn (£6m) matched that GAFFR total due to his clean sheets, saves and performance bonus.
QPR v Burnley
It was an eye opening match for the home side as they were well beat by promotion favourites Burnley 3-0. No QPR player managed more than two GAFFR points this Gameweek. Burnley's biggest performance came from defender Maatsen (6.1m) who hit a huge 14 points because of his goal, clean sheets and bonus.
The GAFFR returns were aplenty for the Burnley attackers. Midfielder Tella (£7.2m) hit 12 points for his goal and bonus. Midfielder Guðmundsson (£7m) scored a fantastic free kick to secure 10 points with the help of bonus.
Watford v Hull
It was a 0-0 stalemate between the teams. This meant there was lots of defensive returns. Watford defender Kamara (£6m) collected eight points for his clean sheets and bonus, which was his teams biggest return.
Hull's best GAFFR performers were goalkeeper Ingram (£5m), defender Christie (£5.6m) and midfielder Seri (£5.5m) for their clean sheet and bonus.
Sunderland v West Brom
Sunderland struck early via midfielder Diallo's (£6.1m) penalty, with bonus, he picked up 11 points. West Brom fought back and won the match 2-1 with the help of substitute striker Dike (£9.3m) who bagged 13 points for his goal and assist.
Popular GAFFR asset and West Brom midfielder Wallace (£10.6m) returned seven points for his assist and bonus.
---
You can stay up to date with all of our latest FPL articles, all in one place, right here.