GAFFR Gameweek 1: Key takeaways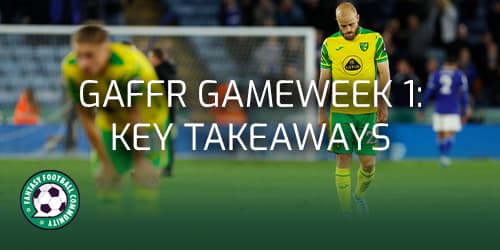 Here we go through some of the key takeaways in Gameweek 1. After a dramatic opening gameweek we'll see which GAFFR assets came out on top. Seeing who managed to rack up the points whether that be from goals, assists, clean sheets or a mix of all.
It is vital GAFFR managers check out some of the key moments in any given gameweek. This gives us an early indication of which players have started well or not. It also gives us a great opportunity to see how the teams performed. This could then help managers with their Gameweek 2 plans.

Huddersfield v Burnley
Many GAFFR managers went into this one not knowing what to expect from Huddersfield and there were mixed reviews. Burnley managed to secure the 1-0 victory meaning players who backed the Burnley defence were successful.
Huddersfield did mount pressure on Burnley but failed to convert. New signing £6m defender Ian Maatsen stole the show with a stunning 15 point haul with a goal, clean sheet points and bonus points. The defender looked very attacking. In addition to the haul Maatsen even managed six key passes in the match, an incredible achievement.
£6.5m defender Roberts returned a nice eight points whilst £8.5m Barnes also managed to level that tally with the assist.
Blackburn v QPR
Away side QPR slumped to a 1-0 defeat against Blackburn and failed to register a single shot on target. There wasn't many GAFFR points in the game for QPR with none of their players achieving more than six points.
Blackburn scorer £5.5m midfielder Travis managed eight points whilst assister for the goal £5.5m midfielder Hedges hit 11 points with the help of bonus. Main man Brereton Diaz managed three shots on target for Blackburn failing to hit the net but still returning six points including bonus.
Blackpool v Reading
It was another tight 1-0 score line and another match that the home side managed to dominate all of the GAFFR points. Right-back and £4.5m Connolly cashed in on 15 point haul with his goal, clean sheet points and his performance bonus.
The backline performed the best for Blackpool with £4.5m goal keeper Grimshaw's seven points and GAFFR favourite last seasons £5.5m defender Ekpiteta also returning six points.
Cardiff v Norwich
The trend continues with another home victory but this one probably came with a lot of disappointment for GAFFR players. Norwich went into the season heavily backed especially with star striker Pukki. With only one single shot on target for Norwich Cardiff did well.
As we can see below popular captain Pukki didn't just fail to return but also got injured. £5m midfielder Sawyers scored the goal and returned 10 points. In addition the Cardiff defence also did well. £5m defender Collins matched Sawyers total.
Hull v Bristol City
A standout match in the game week for Hull and Bristol City for goals. Hull came away with the points in and open 2-1 home win. £5.5m midfielders Tufan and Seri managed to score the goals for Hull resulting in 11 and 7 GAFFR points. The rest of the team failed to rack up more than six points.
Popular GAFFR asset and vice captain £8.5m Weimann came away with a goal and a healthy 10 points for his trouble. £4.5m defender Vyner created the assist for the goal resulting in a cool six points.
Luton v Birmingham
With many expecting a big result for Luton the match slumped to a 0-0 draw. Although the game hit 26 shots taken both teams only managed seven on target between them.
GAFFR managers who backed last season favourite defender £6m Bree would have been rewarded after he returned 10 points with his clean sheet points and performance bonus. £4.5m Birmingham defender came close with his nine point return including clean sheet and bonus.
£7.5m forward Adebayo failed to register a single shot on target which would have also disappointed GAFFR managers who thought this game could have been a great opportunity for him.
Milwall v Stoke
Home success continues as Milwall took the 2-0 win against Stoke. Both goals incredibly came from £5.5m defender Creswell banking an even more incredible 18 point haul. £6.5m defender Malone also brought in a cool 13 points with his clean sheets and assists.
£6m midfielder Honeyman secured nine points rewarding his managers. His points came from his assist and performance bonus. Stoke managed a team total of just 18 points this weekend. A huge red flag for GAFFR managers.
Rotherham v Swansea
Many expected a much better performance by both Swansea and their £8.5m forward Piroe. Piroe managed two shots on target but failed to convert.
Big GAFFR returners here were £5.5m Rotherham midfielder Ogbene who managed to score the goal and take bonus points. £5m defender Darling came away with 10 points for his goal beefed up by bonus points. Finally £6m midfielder Grimes achieved nine points with his assist for the goal and bonus points.
Wigan v Preston
Without much expectation within the GAFFR community for this one both teams defences stayed strong in their 0-0 draw. £5.5m goalkeeper Woodman returned nine points with his clean sheet and bonus points. £4.5m defender Bennett also had success with his nine point return.
£7.5m forward Riis came away with four points with bonus performance but only managed a single shot on target.
Middlesbrough v West Brom
In one of the most anticipated matches of the weekend Middlesbrough and West Brom cancelled each other with their 1-1 draw. GAFFR managers would have been very excited about this one with all of the popular assets in play.
Standout performances included Middlesbrough wing-back £6.5m Jones with his 12 points from a goal and bonus points. New signings Swift and Wallace also returned in their competitive debut. Both paired up to combine with the goals with Swift being the one to put it away.
Sunderland v Coventry
Sunderland welcomed visitors Coventry in their first game since being promoted to the Championship. In a tight contested match the end result was 1-1.
Budget midfielders Clarke and Gooch both came away with 10 and nine points as they combined for the only Sunderland goal. £5m Coventry defender Panzo also came away with an impressive return of 10 points for his second half clean sheet, assist and bonus points.
Last seasons GAFFR favourite Viktor rewarded owners with his 11 points for his goal. A huge blow for Coventry asset owners would of course been the non start for £7m midfielder O'Hare due to his hamstring injury as you can see below.
Watford v Sheffield United
A big game for home side Watford to make their early stamp as promotion favourites ahead of the new season. The home side won 1-0 after a strong defensive performance by Sheffield United. With strong early fixtures many GAFFR managers may have avoided selecting Watford players.
Forwards £11m Dennis and Pedro both returned points. Pedro scored the only goal and with bonus secured a nice nine points for his owners whilst Dennis slightly less with six points pulled in some bonus points.
Star of the points was £11m midfielder Sarr who came away with 10 points after his assist for the goal combined with bonus points.
---
Keep up to date with all of our GAFFR content here.