Friday night football round up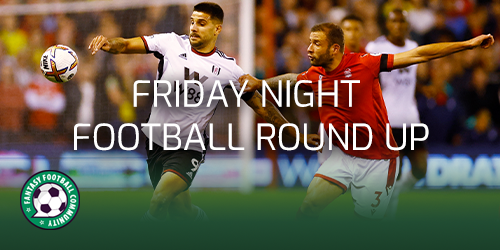 We take a look through the Friday night football round up. Gameweek 8 in FPL is now underway, and we look to the two early matches played. We take a look at the line-ups, key events, and the standout FPL performances from the Aston Villa v Southampton and Nottingham Forest matches.
Looking at the Friday night football round up can be very helpful to FPL managers. Taking note of the line-ups and which players came out on top in FPL can help the community with their future decisions regarding those teams and players.
Line-ups – Aston Villa
FPL managers could be looking to £4.7m Digne. The defender has become a top target for wildcarders this week and for that reason many will have high hopes for defender.
Southampton
With only one tough fixture in the next seven matches, FPL managers could be looking at the Saints assets. One of those players could be £6.5m midfielder Ward-Prowse. The set piece taker has only picked up two attacking returns this season, and many will hope that improves.
Standout FPL performances
£5.2m midfielder Ramsey took the biggest return away. The Aston Villa man picked up 10 points for his goal and three bonus points. His winning goal saw the home side take a 1-0.
£4.3m defender Mings was also successful. He collected nine points for his clean sheet and three bonus points.
Those managers that selected Digne were rewarded. His seven-point return consisted of a clean sheet and one bonus points.
Line-ups – Nottingham Forest
The 27% owned £4.1m Neco Williams starts. The defender resides on many managers benches every gameweek. However, some could have seen potential to start him in this match.
Fulham
FPL managers will be looking forward to the performances of £6.9m striker Mitrovic and £4.6m midfielder Andreas. Both players are well owned and many even brought in the Serbian striker for his great fixtures ahead.
Standout FPL performances
Both Mitrovic and Andreas both failed to pick up any attacking retruns in their thrilling 3-2 away win.
£4.5m Fulham midfielder Reed topped the points with his 10. Those points consisted of a goal and three bonus points.
£5m Fulham midfielder Palhinha also picked a nice return. His nine points came from his goal scored.
Nottingham Forest striker and £5.8m Awoniyi scored, picking up a bonus saw his tally hit seven points.
---
To stay up to date with all of our FPL articles you can find them all in one place here.