FPL announcement: What happens to Gameweek 7 chips, Wildcards and points hits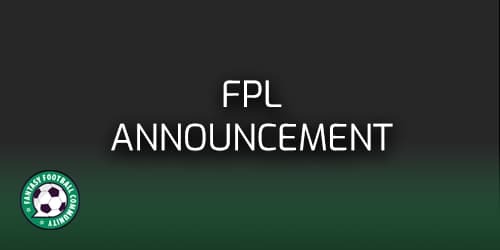 In the wake of the passing of Her Majesty Queen Elizabeth II, an FPL announcement has revealed what this means for the now-postponed Gameweek 7.
At around 11:30am (BST), the Premier League declared that the upcoming weekend's matches will be postponed until a later date. This pays respect during such exceptional circumstances.
Then, at 1:11pm (BST), tweets from the Fantasy game explained what this means for managers.
Firstly, we don't yet know the status of Gameweek 8. Details regarding the public funeral will soon dictate this.
If you have already activated a Free Hit, Triple Captain or Bench Boost chip for Gameweek 7, you will have them returned.
And there is also good news for those who have an active Wildcard. The chip will continue past the Saturday 11am deadline until the next round of matches is due to take place.
Yet some non-chip users have two free transfers to use in Gameweek 7. Use one of these before Saturday 11am and you will then get the usual new transfer, keeping it at two for Gameweek 8.
All managers will score zero for Gameweek 7 unless a points hit has already been made. This means that head-to-head matches will either finish 0-0, giving both managers a point, or award victory to those lucky enough to face a hit-taking opponent.
Where will Gameweek 7 fixtures move to?
Right now, we just don't know. It will likely lead to a large Double Gameweek in the early months of 2023, possibly in the spots currently allocated to FA Cup replays.
Those wanting to Wildcard in Gameweeks 8 or 9 must wait until we hear more about a funeral and its consequences. A further complication is that Brighton v Crystal Palace was recently removed from Gameweek 8 because of a rail strike. That may not now be happening.
Stay alert for all other FPL announcement tweets.