The 2018/19 Fantasy Premier League season is here and we are taking a look at the fixture calendar.

Champions League and Europa League action makes it a busy time for last season's top six teams.
---
Fixture Calendar
In many respects, the fixture calendar will easier to navigate this season than it has been previously. Here are the reasons why:
The EFL Cup will not be as strenuous as it has been previously, given that there are to be no replays or extra time in the tournament. Any match which is drawn after 90 minutes will immediately progress to a penalty shootout.
Although the International Breaks will split the season up somewhat, there is a lull in major tournament international football and qualification games. There will be far less at stake in any friendly games, which should help to reduce fatigue.
However, for the big clubs, there's real struggles in Europe: Liverpool, Manchester United, Manchester City and Spurs have all dropped points in the Champions League so far. The schedules don't relent for them, with some of them still involved in the EFL Cup too.
---
Gameweek 9-12
It's another congested time for the big teams, with 6 or 7 fixtures in 23 days, depending on involvement in the EFL Cup. With six group games in the European tournaments, Matchday 3 and 4 will be crucial to their campaigns to reach the knockout rounds.

The EFL Cup fixtures will also be more challenging from this point on, with a win here securing a Quarter-Final place. This period could be a good opportunity to invest in some differential players from smaller clubs, with strong form and fixtures.
Spurs and Manchester City face the worst schedule, squeezing in seven games over this period. Manchester City sit 2nd in their Champions League table, with Spurs 3rd in theirs. Every game is a must win, as other teams are performing better in the Premier League too. In the EFL, they have tricky games against West Ham and Fulham respectively.
Chelsea and Arsenal also have busy schedules, with plenty of miles to cover in the Europa League too. However, they have both been resting key players in Europe which has reduced fatigue, meaning less impact for their Fantasy Premier League returns.
Liverpool and Manchester United have six games in this schedule, since they failed to progress in the EFL Cup. This gives some rest time between Gameweek 10 and 11, which should benefit them. However, their Champions League campaigns are lacklustre, neither currently at the top of their groups as desired.
---
Gameweek 13-21
The Christmas period is always the busiest time for Premier League sides, with 8 fixtures in the 33 days from the beginning of December to the beginning of January. Add EFL Cup, Champions League and Europa League fixtures into the mix, then some teams have a potential 12 games in 40 days.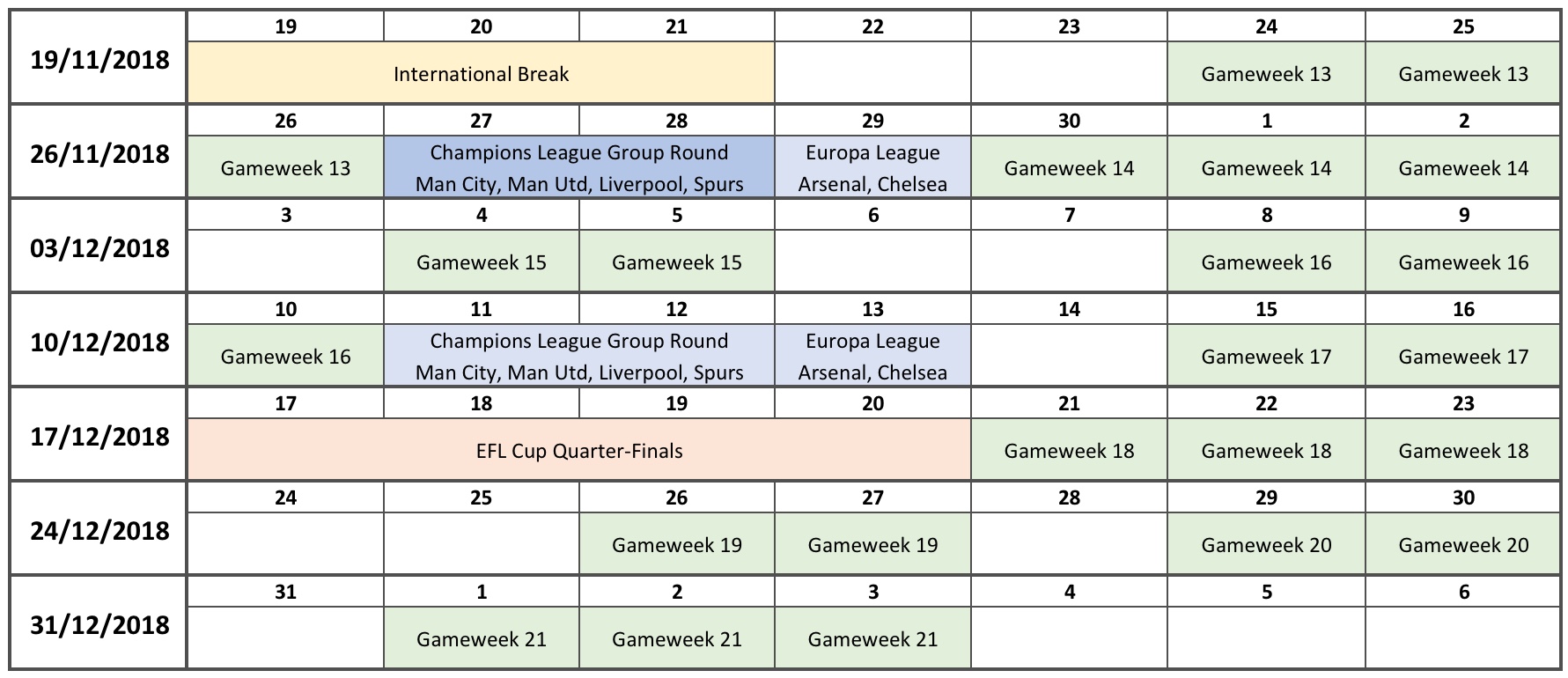 Champions League: Matcheweek 5 and 6 of the Champions League will be crucial for Man City, Man Utd, Liverpool and Spurs; as they look to progress to the knockout rounds. None of these teams have a perfect record in the competition so far, with an easier draw at stake for winning the respective groups. It's 11 games in 40 days for Man Utd and Liverpool.
EFL Cup: Man City and Spurs could have the dreaded 12 games in 40 days if they progress to the Cup Quarter-Finals, with matches played on 29th October-1st November. Expect plenty of rotation, as they do their best to stay in contention within the 3 competitions currently being juggled.
Arsenal and Chelsea may face equally challenging schedules, with EFL and Europa League games. However, it's expected that they will continue to rotate in European games, particularly if they can maintain their 100% records through October and November: easing the pressure in December.
Premier League: The large majority of other Premier League sides should have 8 Premier League games in the 33 days from the beginning of December: this may rise to 9 games if Bournemouth, Crystal Palace, Leicester, Southampton, West Ham or Fulham continue to progress in the EFL Cup. A maximum of 7 clubs will make this round.
All of the game times have finally been confirmed this week with TV scheduling. The graphic shows the date and time of each game and the number of hours between each game, with greatest congestion around Gameweek 18-21. Click the image to enlarge. Teams with the best and worst schedules are highlighted appropriately.

The FA Cup returns immediately after this schedule giving clubs their next opportunity to effectively rotate their squads. So how do we cope in the middle? Liverpool look to be the big winners, narrowly beating Manchester City and Wolves for the kindest schedule. Meanwhile, Everton and Spurs have the worst congestion.
During this time, it's going to be so important to have a playing bench. If you are on a wildcard, make sure that you have 15 starters in your sides. If you've got spare transfers over the next few weeks, look to strengthen your bench. And most importantly, look at patterns of rotation to help with choosing a playing captain each game week! Good Luck!
N.B. The overall average rest times will be updated after the EFL Cup Quarter Final fixtures are confirmed, in early November. Keep your eyes peeled for a further update.