Community Team Reveal Gameweek 12 – FPL Inzaghi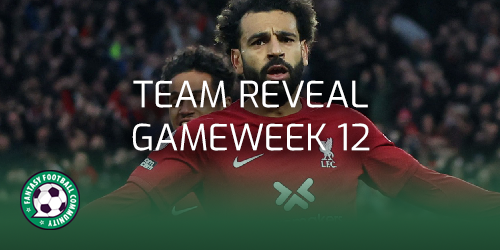 Each Gameweek brings an FPL community team reveal. As a result, that person gives insight into their transfers, captaincy and future plans.
---
Ahead of Gameweek 12, it's the turn of FPL Inzaghi (Ryan) to tell us what he is doing to his team.
Hi Ryan and thanks for the team reveal. So how did Gameweek 11 go?
I scored 57 points, which resulted in a nice green arrow from 500k to 330k and means I sit 31 points outside the top 50k.
What does your defence look like?
I've planned carefully for this Blank Gameweek 12 and go into it with two free transfers, £1.9m in the bank and ten players available – this would've been 11 if it wasn't for James Maddison's suspension!
In defence, I'm fielding the popular Newcastle double-up as Nick Pope and Kieran Trippier host Everton. With the 40% chance of a clean sheet and a strong home defensive record, I'm hopeful of a double clean sheet.
Budget options James Justin, Jonny and Neco Williams take up the remaining spots. Expectations are low, especially when Neco and Justin are against the decent attacking teams of Brighton and Leeds.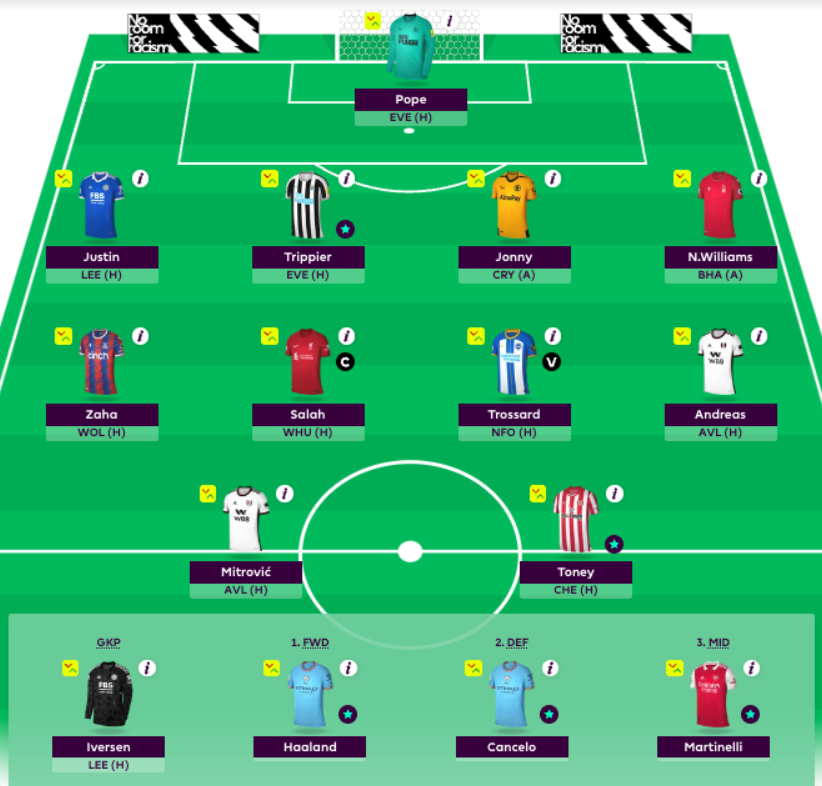 Meanwhile, what about your midfield and attack?
There are four in midfield – Mohamed Salah, Wilfried Zaha, Leandro Trossard and Andreas Pereira. Salah has a home match against West Ham whilst Trossard has been bought to replace Maddison.
He was an easy decision, to be honest. With no other issues in my squad and the ability to roll a second free transfer into Gameweek 13, I was in a comfortable position to punt on Trossard. The home fixture against Nottingham Forest is too good to refuse.
Up front, I'm starting Aleksandar Mitrovic and Ivan Toney. The former returned to the team at the weekend and faces an Aston Villa side struggling for both form and confidence. The latter's match against Chelsea is much harder but the Blues are plagued with injuries and the Brentford home crowd may be able to push their team on.
So what are your transfer plans for Gameweek 12 and beyond?
Rolling a transfer puts me in a strong position for Gameweek 13. I have £3.3m in the bank as well, enabling me to go on a spending spree for Arsenal and Man City assets.
My likely four-point hit will be to sell Trossard, Pereira and Toney for Phil Foden, Bukayo Saka and Dominic Solanke but I'm currently £0.2m short of those moves. Let's hope upcoming price changes will go my way.
Finally, what about captaincy?
Salah gets the armband this week. West Ham have a strong defence but, with Kurt Zouma and Craig Dawson absent, plus the Anfield home factor, I'm backing Salah to produce a strong return.
Trossard comes close but I always prefer to back a premium player from a premium team. Fielding 11 players without taking a hit is enough of an advantage this week, so I don't need a risky captain such as Trossard or Zaha.
Good luck and thank you for the team reveal!
No problem. Check out my weekly YouTube content, intending to help you and your FPL team.