Community reaction: Pre-season friendlies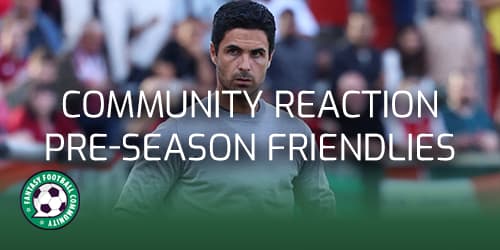 Seeing how the FPL Twitter community reacted to the preseason friendlies over the last two weeks. Giving their reactions to goals, assists, team structures, line-ups and anything else that has FPL implications.
Following pre-season can be vital in making sure FPL managers are up to date with the latest news, form, and everything else that can be used to get ahead of the competition ahead of the new season. A great way to do this is joining the FPL Twitter community.
Manchester United assets on the radar?
Fantasy Football Scout pro-pundit Andy North took to Twitter to air his views on the two Manchester United assets that have impressive during pre-season. £6.5m midfielder Marcus Rashford has scored two goals during the summer so far with many FPL managers thinking about him.
Rumours and high level sources suggest Ronaldo could be on the way out. This means that the in form forward Anthony Martial could become the main man. With three goals already managers could be considering the Frenchman.
Pedro Neto continues his form
Youtuber @LetsTalk_FPL highlighted how good of an asset £5.5m Wolves midfielder was ahead of the new season using expected goal involvement over the last several seasons.
Wolves start the season with the best first six fixtures when using the Fantasy Football season ticker. Neto bagged his second goal last match out, totalling three attacking returns during pre-season friendlies. Something FPL managers will be very keen on.
Haaland
Fantasy Football Scout and FPL content creator @ffscout_az reacts to Haaland's first Manchester City goal against Bayern Munich. The forward comes in at £11.5m and at the time of writing has the second highest ownership in the game with 58%.
With higher ownership than Salah, Haaland and Man City come third on the season ticker for best fixtures. FPL managers will be watching the striker very closely during pre-season.
Leon Bailey
Leon Bailey continues to play a major part in many FPL managers watchlists. The midfielder comes in at one of the price tags in the game equalling a cost mostly given to defensive midfielders in his position.
The £5m attacking midfielder has caught the eye in the summer, starting three of the four matches Aston Villa have played so far. With two goals and an assist already Bailey could well make managers final drafts.
Andreas the best £4.5m midfielder?
@FPLFamily emphasised just how good £4.5m Fulham midfielder could be. Andreas Pereira joined Fulham from Manchester United this summer and since has played an attacking role and is also taking some corners.
So far the budget enabler has managed two assists in his three features for the newly promoted side. Something a lot of community members have been taking note of.
---
Want to check out another community member article? @FPLReactions gives us his first draft here.