Louis (@FPLReactions) first draft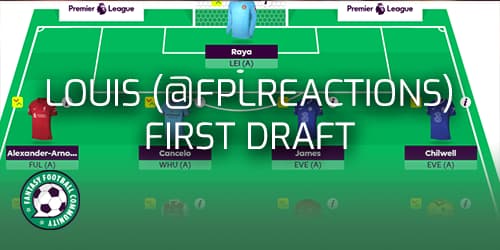 Here I discuss everything that has contributed to my, Louis, (@FPLReactions) first draft for the new season. I'll discuss position by position on why specific players have made the cut and also cover things that may change. I found that Fantasy Football Scout Members Area helped make those important decisions using underlying stats and the season ticker.
First drafts can and will inevitably change over the course of pre-season. One thing I have found with my first draft is that although one or two players do change the main core of the team remains.
Defence
You'll see straight away I've gone for big at the back. Raya and Brentford's fixtures rank in the top five teams in the league in the first eight matches defensively. Although Mendy is fantastic value selecting him would mean a triple Chelsea defence, and I'm not keen on that.
Deciding between Chilwell and Reece James was an issue. Both are very hard to compare statistically due to Chilwell's lack of game time last season. Both are likely to play in a wing-back role again this season and both could be as dangerous as each other.
Trent and Cancelo are simply must haves. Two of the highest scoring FPL players last season and both play in top teams with good early fixtures. Going without any could also be a serious problem for rank when taking into account effective ownership.
Neco Williams comes in at £4m which could be a gift from FPL. Another player who plays in a wing-back role. Although the fixtures for Nottingham Forest aren't great Neco Williams will likely be my first bench option. This is a player that could change in my draft.

Midfield
Salah remains an essential after last season so nothing has changed there. He's probably the best captaincy option in most of the first eight fixtures too.
Luis Diaz is another player I really like. He takes up the third Liverpool slot in my team and covers the £8m midfielder bracket. This means i have the flexibility to move to any other £8m midfielder if they hit form. This is something that could be really important this season.
Neto and Martinelli are players that could change within my team but for now they stay. I like Neto's per 90 minutes data from last season and he has great fixtures with Wolves in the first six game weeks. Martinelli also dominated the stats last season in his price bracket and has great fixtures with Arsenal too. For me they are the best options in their price point.
Andreas will likely stay especially because he's a £4.5m attacking midfielder. It would take something major to take him out especially because he's second in line on my bench.
Forwards
The forward line was quite simple to put together. Haaland makes the draft because he's one of the best finishers in the world. Not just that but playing for the best team in England who usually score the most goals season after season. Haaland is also likely to be on penalties too. Combining all of those factors with great fixtures means he likely stays.
Jesus has looked really bright in pre-season for Arsenal. Likely to be the focal point of the Arsenal attack means his potential could be huge. Great fixtures and high ownership mean it may not be worth going elsewhere. I'm also covering the £8m forward price point which means I can jump anywhere from a Wilson or a Bamford if they hit form.
Taylor is just a cheap bench filler. He likely does not change unless a better striker with better potential minutes comes along at £4.5m. This slot is my third bench option and will likely not be used at all.

Structure
Playing a 4-4-2 with the price points below gives me the most flexibility I have found. Although thinking about a big back five, doing that would mean losing Jesus or Diaz and i'm not keen on it.
Having premiums in every position is helpful but having mid-priced options in every position is even more helpful. Losing the flexibility in the £8m slot in midfield and forward line is another thing I don't like the thought of.
Flexibility and having the assets I think will do well is key in this draft. I can't see too much changing here but anything can happen.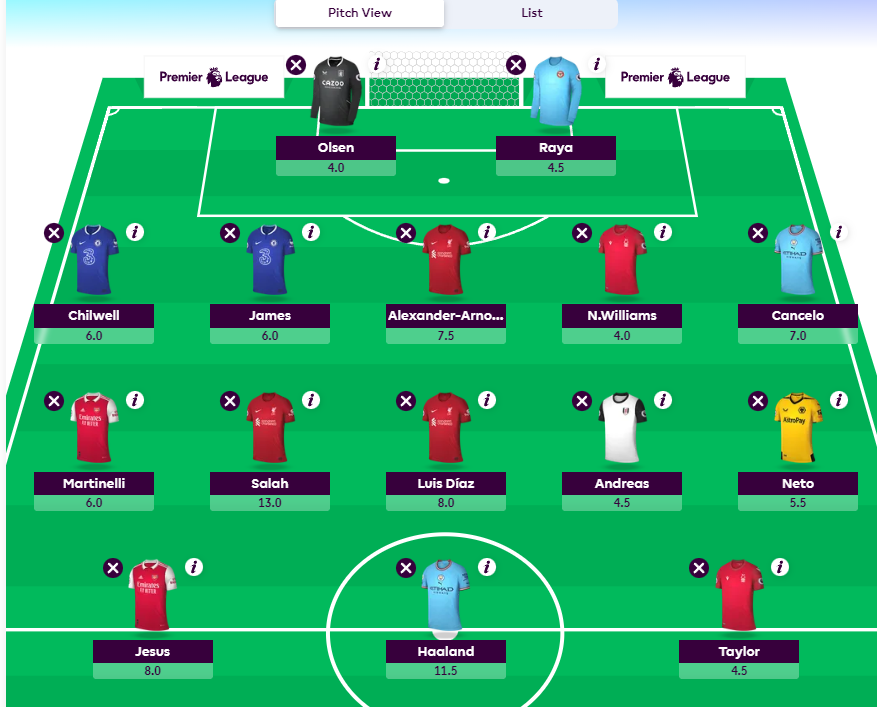 ---
To see more Community first drafts check them out here.