Best Premium Picks for Gameweek 7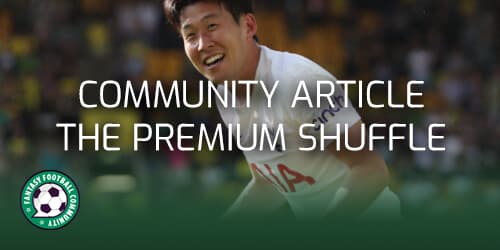 With FPL managers only able to budget for a few premium assets getting the right ones is key. Hindu Monkey has cast his eye over the premium assets so far and whether managers should do the premium shuffle for considering the best premium picks for Gameweek 7.
The Premium Shuffle
We're six games down and it's time to take a look at how our Premium assets are doing. Are they fattening up like the prize pig at the village fete? Or do they need putting out to pasture.
The fixtures turn across the board over the next three, with all of the top six playing each other in this period. As such, getting your Premiums right has never been more important.
Let's take a look at how they're doing.
Mo Salah (£13.0m)
Points: 38
Shots: 17
Chances Created: 24
xGI: 4.09
Next Three: WOL, che, BHA
This is a different season to last, if nothing else for the fact that Mohammed Salah is no longer the greatest asset in the game. More on that later, but for now what's clear is that Salah is creating more and shooting less. He has become the selfless Yin to Luis Diaz's selfish Yang. He probably remains a hold for Wolves at home, but after that players have a genuine choice… is their better value elsewhere? How much can a Salah haul now truly hurt non-owners? For the first time in what feels like forever he is less than 50% owned.
Kevin De Bruyne (£12.2m)
Points: 35
Shots: 17
Chances Created: 20
xGI: 4.11
Next Three: TOT, wol, MUN
It's safe to say that KDB owners have been a little unlucky this week, with a one-point cameo at the same time as a Haaland hat-trick. His numbers still hold up however, and if the Norse demi-god is a lock, there now appears a genuine question as to whether KDB or Salah fills that second slot.
City have created 28 big chances already this season, seven more than their nearest rival (Brentford, unexpectedly) and 12 more than Liverpool. But with a mixed set of fixtures up next, plus the UCL now in full swing, it may be a wait and see for now on the rotation front.
Erling Haaland (£12.0m) 
Points: 67
Shots: 25
Chances Created: 3
xGI: 7.16
Next Three: TOT, wol, MUN
If Haaland carries on like this he will score 63 goals and 424 FPL points. So I'm going to go out on a limb and say that's probably not sustainable. On the flipside, it seems unimaginable that he won't score 30 goals plus and be this season's top scorer, injury notwithstanding. Put simply, he is a beast. This is a generational talent playing in arguably the best attacking team in the world. Don't overthink it. If you still don't own him, ensure this madness ends now.
Son Heung-Min (£11.7m)
Points: 17
Shots: 17
Chances Created: 13
xGI: 2.30
Next Three: mci, LEI, ars
I know they say form is temporary but class is permanent, but then people on Twitter say form doesn't exist and is just an abstract concept, so I'm confused.
What I do know however, is that buying Son right now would be based on nothing but random "chip and a chair" vibes. Spurs continue to grind out results, but one has to wonder how much longer Conte will persist with the South Korean, let alone FPL managers.
Harry Kane (£11.4m) 
Points: 40
Shots: 22
Chances Created: 13
xGI: 4.95
Next Three: mci, LEI, ars
It's five goals in five for the Spurs talisman, who would surely be in everybody's team were it not for the form of Haaland in the exact same price spot. For those looking to wildcard in Gameweek 8/9 – Kane presents an intriguing dilemma. Spurs fixture list is largely wretched until the World Cup. But as we've seen time and time again, that rarely presents an issue for a striker as consistent as Harold.
Cristiano Ronaldo (£10.4m) 
Points: 7
Shots: 12
Chances Created: 5
xGI: 0.93
Next Three: cry, LEE, mci
Still at the club but not in the first XI, the former goat turned petting zoo is now being used solely as an impact sub.
Obviously not an option, but worth sticking on your watchlist to see if he can outscore Danny Ward.
Raheem Sterling (£10.0m)
Points: 34
Shots: 11
Chances Created: 8
xGI: 3.12
Next Three: ful, LIV, cry
Sterling is a strange one. He looks capable of evolving into a real talisman at Chelsea and is clearly going to play the most matches of their front line. However, they are just not creating the chances that the other big clubs are. Indeed, Chelsea lie just eleventh on the chances created table so far.
You'd expect them to be below City, Liverpool and Arsenal. But they're also below Newcastle, Palace, Brighton and Leeds.
They are even behind Wolves.
Bruno Fernandes (£9.8m)
Points: 22
Shots: 11
Chances Created: 10
xGI: 2.83
Next Three: cry, LEE, mci
Averaging six points across his last three games, the new United captain is definitely one to keep an eye on. Whilst his price remains prohibitive when compared to the cheaper trio of attackers ahead of him, he will play almost every minute and could well be one to turn to for a pre-wildcard punt.
Leeds at home is coming up.
Premium Shuffle: best premium picks for Gameweek 7