Who to pick in the Women's EURO Final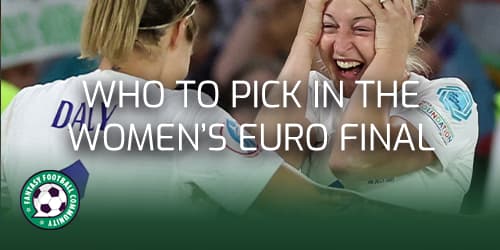 England and Germany will face either other on Sunday in the Women's EURO Final. The clash at Wembley is will see one team win the tournament, as well as one Fantasy manager crowned champion. We look at who are the best players to pick in the Women's EURO Final.
With just England and Germany left in the EURO tournament managers will have to make their choices carefully. Ahead of the final an extra £12m Fantasy pounds have been added to all managers budgets. This additional budget will allow managers to invest more readily in the best assets form each country.
In addition Women's EURO Fantasy managers can also now select up to eight players from either team. This will allow them to complete a 16 woman squad.
Any changes need to be finalised by 17:00 GMT on Sunday when the match kicks off. Managers should ensure that they select their captain carefully ahead of the final match as this could be the difference between first or second place in a mini league.
Managers who haven't used the Supersub chip should be sure to play it this weekend too.
Top picks
Beth Mead
Forward Mead has been one of the standouts for England in the tournament so far. She has scored six goals for England as well as returning four assists.
Lucy Bronze
In defence Bronze looks an excellent pick for the final round. The defender has registered three attacking returns as well as four clean sheets from the five matches played.
Alessia Russo – Supersub?
Russo is yet to start a game in the tournament, yet she has come off the bench in every match so far. In these substitute appearances she has retuned four goals and one assist. As a result she looks the perfect pick for managers with the Supersub chip left.
Germany
Alexandra Popp
Striker Popp is Germanys top Fantasy scorer in the competition so far. She has returned six goals and has averaged 23.5 points per match.
Lina Magull
Although Magull has only played in four of Germany's five matches she is their top points scoring midfielder. With two goals and one assist in the tournament so far she could be a good option for the final.