Who can be sold from the blanking teams?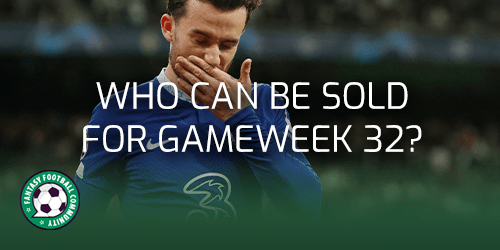 Man United, Man City, Brighton and Chelsea all blank in Gameweek 32. For managers who have already used their Free Hit chip this could be a headache. Managers will be able to put three non playing outfield players on their bench as well as a goalkeeper. However, any more would mean not fielding a full 11 players. Here we look at who can be sold from the blanking teams ahead of the Gameweek 32 deadline.
Managers that have their Free Hit chip remaining will likely decide to play it in Gameweek 32. This means that they can keep their assets from Man United, Man City, Brighton and Chelsea so they are available for Gameweek 33 and the all important Double Gameweek 34. However, for the managers who don't have the Free Hit chip remaining they will need to think carefully about who can be sold from the blanking teams to enable them to field a full XI.
Here we take a look at which players can be sold from the blanking teams, by looking at the assets from each of the four clubs in turn.
Brighton
Managers will likely want to hold on to as many Brighton assets as possible. This is because Brighton play twice in Double Gameweek 34 as well as having two further fixtures still to be rescheduled. This means that in the final weeks of the season Brighton will likely have three double gameweeks. Unless they play a triple gameweek which we have seen for Man United a couple of seasons ago.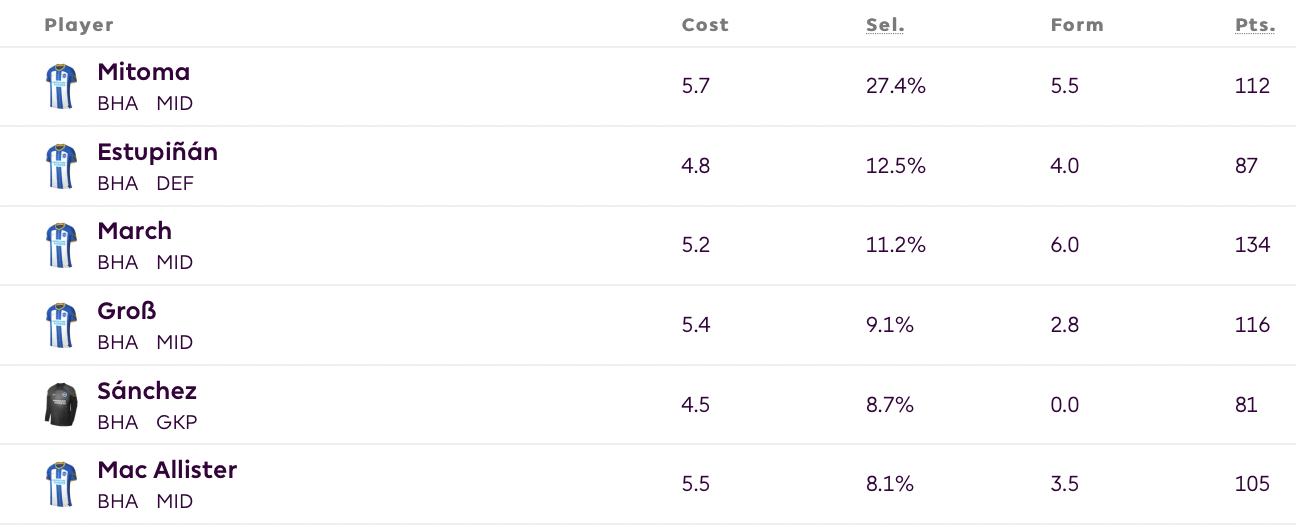 Mitoma is the most highly owned FPL asset at Brighton. He alongside March and Mac Allister have been the best performing Brighton assets of late. Therefore if managers hold one or two of these Brighton assets these are likely ones to hold. However, if managers have recently invested in Mitoma, March or Mac Allister and therefore have no value to be lost by selling them they could be sold and re-bought before Gameweek 34.
However, assets like Gross could be sold in favour of using that Brighton spot to by a more in form asset ahead of their doubles later. Likewise the 8.7% of managers who still own Sanchez have an easy sell as he has lost his spot in goal.
Chelsea
Chelsea have been struggling. The sacking of Graham Potter followed by the reinstatement of Frank Lampard as caretaker left many FPL managers wondering what to do with their Chelsea assets.

Courtesy of the Official Premier League website
James and Chilwell remain the most heavily owned assets at Chelsea. However, their ownership is still lower than it would have been in previous seasons. Chilwell was rested in Gameweek 30, however his red card in the Champions League means that he now looks more likely to start in the Premier League.
If Chelsea's defensive fragility continues managers could sell the defenders. Doing this in favour of investing in defenders from other teams who play twice could have two benefits. One it means continuing to have players who play twice, whilst also increasing the potential for clean sheets.
Managers are also unlikely to have any value tied up in any of the Chelsea defence. Therefore it would be easy to sell ahead of Gameweek 32, especially as they don't double in Gameweek 34. Managers could look towards Crystal Palace options as they have good fixtures.
If managers own any of the attacking assets they are easy sells for Gameweek 32.
Man City
Managers who own Man City assets are likely to want to hold them through Gameweek 32. Players like Haaland, De Bruyne and Grealish will all be assets that managers want for Gameweek 33 until the end of the season. Therefore unless managers want to sell them and bring them back with another transfer they will need to be held.
If managers have a Man City defender they could potentially be sold for Gameweek 32. Especially with the risk of rotation and the Pep roulette.
Man United

Both of the most heavily owned Man United assets are flagged with injuries. Both remain flagged In the game. With Marcus Rashford out 'for a few matches' he is an easy asset for managers to sell. Then if he is fit and available for the double in Gameweek 34 managers could use their transfers to buy him back.
Luke Shaw is also a doubt, therefore he could also be sold for other players who play in Gameweek 32. Assets like those from Liverpool, Fulham and West Ham all feature in Gameweek 32 and double in Gameweek 34.
Managers who own Bruno Fernandez should hold and bench for Gameweek 32.