What to do with Villa assets?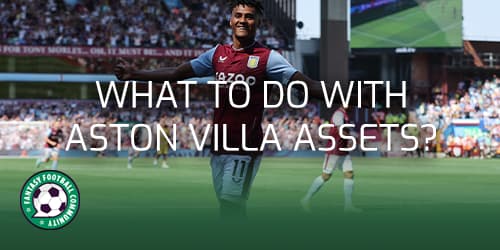 Ahead of the season many FPL managers were tipping Villa to have a good start to the season. Players like Matt Cash, Philippe Coutinho and Leon Bailey were popular picks amongst FPL managers. However, with a surprising defeat in Gameweek 1, key benching and injuries what should FPL managers do with Villa assets?
Between now and Gameweek 12 Villa have a mixed run of fixtures.

Games against Crystal Palace, Southampton, Leeds, Forest and Fulham look to be matches where FPL managers would expect results. However Villa also have Arseanl, Man City and Chelsea, alongside Leicester and West Ham in the next ten weeks.
So what should FPL managers do with their Villa assets?
The defenders
Matt Cash/Lucas Digne (£5.0m)
Aston Villa are yet to keep a clean sheet this season, even though many FPL managers were expecting clean sheets in both of their opening two fixtures. Neither has returned any attacking points, indeed Digne has returned an own goal. Cash was also subsitituted in the match with a muscle injury.
Over the coming weeks clean sheets look unlikely for a number of reasons. In most weeks Villa will be coming up against opposition who have good attacking threat, therefore making the clean sheet vulnerable.
Their underlying stats have also looked troubling. Villa have conceded 22 shots so far in the opening two Gameweeks, seven of those have been on target and they have conceded three goals.
With the potential injury to Cash as well as poor underlying stats the Villa defenders appear to be easy sells in favour of players with better defensive fixtures. Villa sit fourth bottom of the fixture ticker for defence between now and Gameweek 12. Meanwhile Bournemouth, Brentford and Fulham are at the top. All these clubs have cheaper defensive options too.
The attackers
Danny Ings/Ollie Watkins
Villa have looked far better and their attacking numbers have significantly improved when Watkins and Ings were pn the pitch together. Managers that have invested in the forwards have had attacking returns from both assets. With Crystal Palace in Gameweek 3 and West Ham in Gameweek 4 they could b e held for another couple of weeks.
Leon Bailey (£5.0)
Steven Gerrard's comments about Leon Bailey meant that many FPL managers started Bailey in Gameweek 2. Only to find the midfielder benched. He came on for a one point cameo. Bialey's budget friendly price tag means that managers could stick with him and bench him in the difficult fixtures. However some budget can be found moving him on to players such as Rodrigo or Harrison from Leeds or Martinelli at Arsenal looks wise.