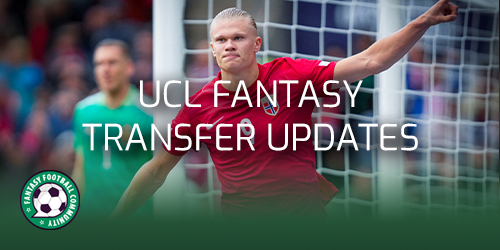 Here we take a look at European transfers within the Champions League qualified clubs. We'll look at how they could potentially set-up within the teams and also what effect they will have both defensively, offensively or both.
Haaland-Man City
The league winners Man City were relentless in their route to the title but it was close and they also fell short in the Champions League again. With 22 goals and seven assists in 24 matches leading to 29 goal contributions Haaland had a fantastic season. For Norway Haaland managed 20 goals in his 21 appearances so far. Another example of the quality the young striker has. Man City will go into the Champions League looking for silverware and we think Haaland could be one of he biggest fantasy assets in the new 22/23 UCL campaign.
Adeyemi-Dortmund
Mazraoui-Bayern
The German Giants have had a busy window. One of those buys have been the young star Noussair Mazraoui. The former Ajax right-back had many suitors looking at him however he wanted Bayern. A very popular asset in the UCL fantasy game last season due to his offensive abilities and Ajax's strong backline. For Ajax last season Mazraoui managed 25 appearances, scored five goals, created two assists and kept 11 clean sheets. This meant that the attacking right-back came away with 18 returns from the 25 matches he featured in. Current right-back Pavard does not offer much threat for Bayern on the flanks which would explain the arrival of the exciting Mazraoui. Monitoring the right-backs game time before the Champions League could really determine if Mazraoui could be a good UCL fantasy asset.
Rudiger-Real Madrid
Rudiger has now left Chelsea and joined Real Madrid. The winners of the Champions League in the season gone were never hugely seen as stable at the back. This meant many players went only for their attacking players. Moving forward this could change as Rudiger has shown in recent months that he is one of the best centre backs in world football. Taking this into account this would mean that Real Madrid will be even more attractive at the back. Interestingly Rudiger also loves a shot in any given match, he averaged 1.4 shots per match for Chelsea in the Premier League last season. All of this means that Rudiger could be the go to asset from Real Madrid from a defensive point of view.
Haller-Dortmund
As you can probably tell Dortmund have been very busy in the transfer window this summer. Haller became a UCL fantasy favourite last season with six returns in six UCL group stage matches. Amongst those returns three double digit hauls. UCL players will be monitoring Haller very closely prior to the Champions League group stages. All of this reinforced with the fact that the man from Ivory Coast also scored a whopping 21 goals and created seven assists in the 31 league matches he played for Ajax last season.
Mane-Bayern
Mane is now officially a Bayern player after years at Liverpool. Many UCL fantasy players would have selected Mane towards the end of the campaign due to how far Liverpool progressed and managers were rewarded. In the season gone for Liverpool Mane managed to play 34 matches, scoring 16 goals and creating two assists. This lead to a total of 18 returns and a return every other match that he played in. Its hard to say where Mane will fill in at Bayern but the chances are he will be a first team player. Rumours suggest that Lewandowski could leave the club which could put Mane in a forward role but we will have to wait and see. Either way Mane joins a very strong and attractive club in UCL Fantasy and so is definitely worth monitoring prior to the Champions League group stages.
To monitor UCL news click here
---
For more UCL fantasy articles check out UCL Fantasy Season 21/22 Review – Fantasy Football Community