UCL Fantasy what is limitless?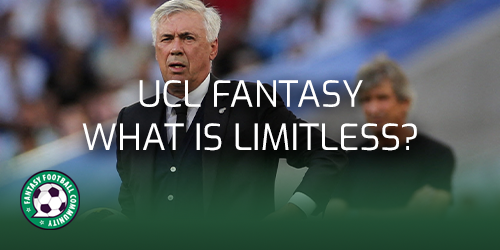 We answer the question, what is limitless? The Champions League is fully underway, and we now approach Matchday 2 in UCL Fantasy. We look at one of the most important parts of the games, how it works and why it is so important.
Fantasy games around the world sometimes offer more than the usual ability to pick players we want in our teams. These additional helping hands from the game can add both more fun and a way of getting ahead of the competition.
What is Limitless?
Limitless gives you the chance to pick your dream squad for one matchday only. Playing it allows you to make unlimited free transfers for that matchday with no budget restrictions. Once the matchday has finished, your squad will go back to how it was before you played your Limitless chip.
Limitless Rules
The normal rules for automatic subs, manual subs and captain changes still apply when playing Limitless, as well as formation constraints and the number of players you can pick from one team.
If you've already made transfers ahead of a matchday and you then play Limitless, the transfers you've made previously will be cancelled, along with any points deductions.
How many times can you it?
This chip can be used only once and can be played at any time except Matchday 1 and Matchday 7 (the round of 16). Once you've played it, it can't be cancelled.
How do you play it?
To play your Limitless, select 'Activate Limitless' and then confirm the transfers you'd like to make. Once you save your transfers, your changes will come into effect.
What is the difference between Limitless and Wildcard?

When is the best time to use it?
The most experienced UCL Fantasy managers find that using Limitless in the group stages can be more beneficial. As the competition progresses the teams face tougher opponents. This means that matches will be even tighter, giving player less chance to bring in points.
In the group stages the best teams have the opportunity to play the weakest teams in the tournament and most of the time without rotation. Using the chip in the early part of the group stages when the best teams play the weakest teams and need good results can be hugely beneficial.
---
Did you miss our latest edition of UCL Fantasy top picks? You can check out some of the best picks for Matchday 2 here.