UCL Fantasy transfers and gossip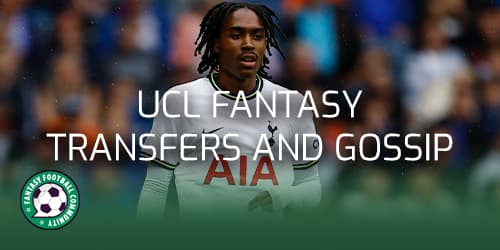 We take a look at transfers and gossip in the world of UCL Fantasy. Whether that's done deals or potential moves within the world of Champions League football we cover it. To keep up to date with news make sure to follow the Champions League account on Twitter.
Keeping tabs on moves between Champions League clubs can be advantageous for UCL managers in the hunt for a successful season. Knowing how each signing could affect a team defensively or offensively can be extremely useful when selecting our first teams.
Djed Spence-Tottenham
In a fee of around £12.5m plus add-ons right-wing back Djed Spence has now officially joined Tottenham. Spence lit up the Championship last season for Nottingham Forest with speed and strength which was exciting to watch in Steve Cooper's back three system. The defender joins Conte's Spurs, also known now for their effectivity offensively through their wing-backs.
Conte already took a shining to Doherty who managed some of the best attacking per 90 stats amongst defenders last season but can Spence become the man man? Only time will tell and fortunately UCL players have plenty of time to monitor this. If Spence does secure right wing-back UCL Fantasy players will be looking forward to seeing his price tag.
Kim Min Jae-Napoli
New Napoli signing South Korean centre back comes in for around 19.5m Euros. Kim Min Jae comes highly rated from Turkish club Fenerbache to strengthen up an unsettled backline.
Napoli qualify for the Champions League after coming nine points clear of Italian giants Juventus to grab a third place finish in Serie A. Although many may not opt for the South Korean there's a big chance it makes Napoli a lot more defensively investable for UCL Fantasy managers.
Brian Brobbey and Calvin Bassey-Ajax
Ajax continue to re-build after losing key players like Gravenburch and Mazraoui to Bayern, Haller to Dortmund, Tagliafico to Lyon and now Martinez to Manchester United.
20 year old striker Brian Brobbey returns to Ajax for a fee of around 17m Euros. The Dutchman managed to score an impressive seven goals and one assist in the 11 matches he played last season for Ajax. With Dutch league champions short of a forward the youngster could well break into the first team.
Calvin Bassey signs for Ajax for a fixed fee of 22m Euros plus add-ons. The Nigerian defender comes in for Lisandro Martinez who is reportedly leaving for Manchester United. The 22 year old had a very successful season for Scottish team Rangers who made it all of the way to the Europa League final.
Although many UCL managers may not think Bassey is that attractive as an asset the new centre back comes in highly rated and predicted to secure the backline even more making the Ajax defence even more investable.
Kounde
Barcelona lacked the ability to defend very well last season both domestically and in the Champions League. Gossip is now heating up in the battle to sign one of the best centre backs in Europe with both Chelsea and Barcelona seemingly in a tug of war and rightly so.
If sources are right and Barcelona are likely to sign Kounde then Barcelona become even more investable defensively. With most eyes on their attack this signing may open the field up and give managers more options.
Ronaldo
The UCL world will be keeping close eyes on the Manchester United man. Without Champions League football this season Ronaldo could be looking to move on. Europe's top clubs could swoop in at any given moment with several teams looking for a a main man up front.
The Portuguese international continues to stay at a high level in terms of goals. The 37 year old veteran still managed to net 17 goals last season for an inconsistent Manchester United team. Many UCL fantasy managers will be hoping he joins a club where they will see a fair price tag so they can select him for the new campaign.
---
We now have a UCL Fantasy section on site and you view them all out here.