UCL Fantasy @FPLReaction 2nd in the world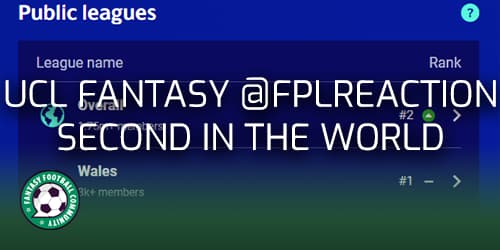 Continuing from our expert interview, we see how our very own @FPLReaction became second in the world in UCL Fantasy. The Fantasy Football Scout and Fantasy Football Community contributor returns to review his early success and explain how he managed it.
UCL Fantasy managers like @FPLReaction are always looking to find ways to improve their game. Looking at how some of the best managers in the world play could be highly beneficial in making our own decisions. With Matchday 3 ahead, we could take some great advice and thinking and introduce it into our own game.
@FPLReaction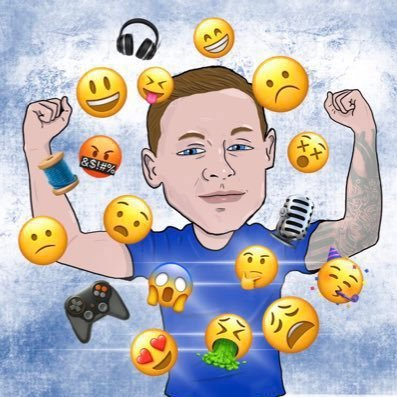 My early game plan
Before the season started, I created my own fixture template. It was nothing special, it was a handwritten list of all of the fixtures. With this simple template of fixtures, I was able to see all of the fixture swings in front of me.
The next part was to decide how I would use my chips. Using the fixture template I had created, I then started to see a very obvious chip strategy based on the fixture swings. Most of the points are usually picked up in the group stages and for that reason, an aggressive approach paid off.
Matchday 1 Review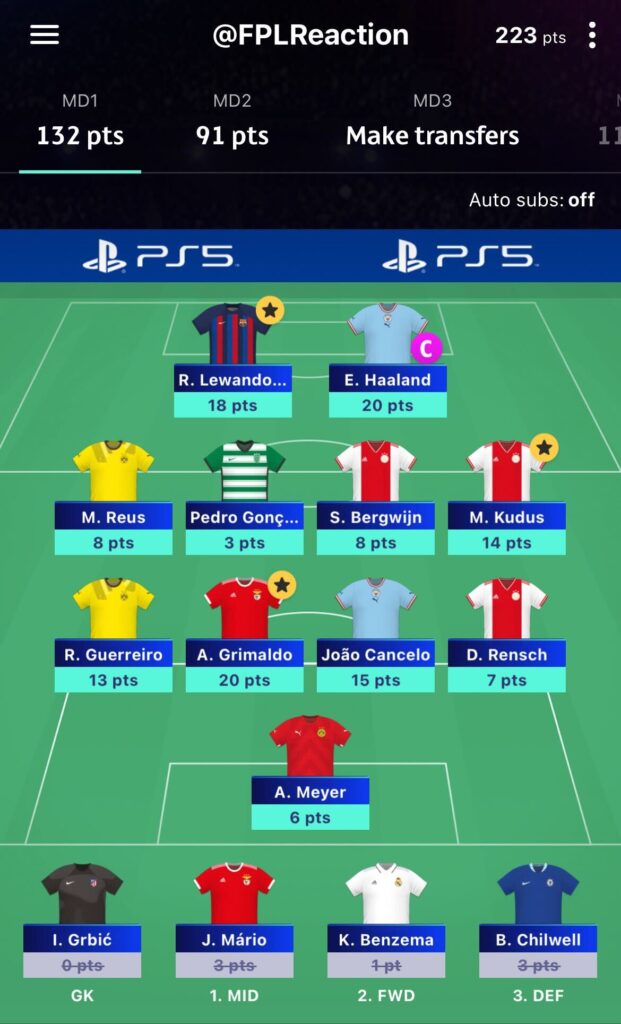 Because of my chip strategy, I was able to attack the Matchday 1 fixtures. The majority of my successful picks were based on the heavy research I did beforehand. Players like Lewandowski, Haaland, Cancelo, Bergwijn and Reus were a reflection of that.
However, four of my player selections were due to late team news. I aways find being on Twitter for up to an hour before the matches can be detrimental to making good decisions. Not only is reacting to the early team news important, but looking for unofficial news and strong rumours also.
The last-minute decisions within my Matchday 1 team were Guerreiro, Grimaldo, Kudus and Meyer. I included Guerreiro from the official line-ups after there was some doubt he would play. Meyer was also a reaction from the official line-ups as the £4m player surprisingly started the match.
My last inclusions could be seen as partly lucky. I saw some strong rumours that Ajax attacker and budget player Kudus could be starting in an advanced role for Ajax. For that reason, Kudus was firmly on my mind. After seeing Jorginho was not starting for Chelsea I made the switch over.
The change from Jorginho to Kudus freed up £0.5m within my squad. I originally selected Otamendi, Grimaldo's teammate. However, with the extra £0.5m I chose to upgrade Otamendi for the pricier and more attacking Grimaldo.
As you can see, those decisions led to a massive 132 points in Matchday 1. A total I really did not expect. Having a good start in UCL Fantasy has always been very important. With the Limitless chip planned for Matchday 2, i had no doubt i could maintain a great start.
Matchday 2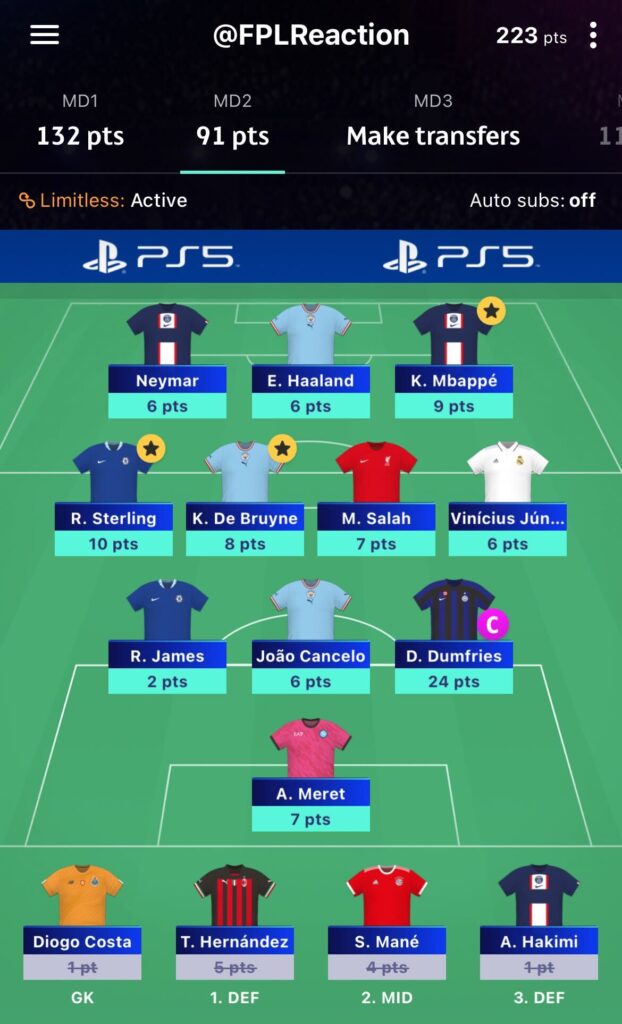 Using the Limitless chip has always been the most exciting part of UCL Fantasy for me. Being able to bring in the best players from the best teams can almost feel like a weight lifted off my shoulders. Part of me did not like the fixtures in Matchday 2. This was one of the reasons I used the cheap. When matches don't look clear, relying on premiums can be a great idea.
A large factor towards my success was captaincy. I felt there was no obvious options on Tuesday and for that reason decided to select the attacking wingback Dumfries. Knowing I had the assurance of Mbappe on the Wednesday, made the selection an easy one. Not only did Dumfries come out on top but he even bettered Mbappe.
Seeing strong rumours that Hakimi would not be starting on the Wednesday gave me the opportunity to start Sterling. The reliance of premiums came through successfully. Combined with rumours and a differential captaincy success, I managed to pull in 91 points in a week where even other Limitless users struggled.
Matchday 3 plans
Although second in the world, I am fully aware I will be up against Limitless users this week. When up against Limitless managers there becomes a reliance on cheaper options that Limitless users would not necessarily select. I don't believe I can hold second place; however, I do believe I can build a successful squad with my wildcard for both Matchday 3 and Matchday 4.
Even if Limitless managers have a better Matchday than myself, I still think, with my wildcard, I could potentially better them in Matchday 4.
---
If you missed our full UCL Fantasy expert interview with @FPLReaction, you could catch up here.