UCL Fantasy expert team reveals for Matchday 8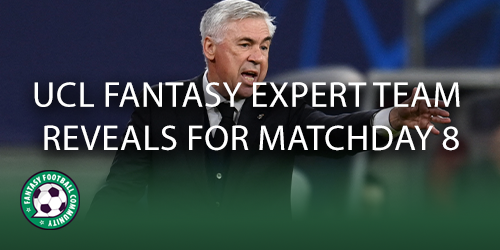 We check out some UCL Fantasy expert team reveals for Matchday 8. Champions League Fantasy returns! We take a look through some of the most experienced managers teams ahead of the new round. We will see why they have made some of their decisions and some of the things that could change within their teams.
As the Matchday 8 deadline approaches thick and fast UCL Fantasy managers will be scrambling to clarify some big decisions. Looking at expert team reveals for Matchday 8 can help bring clarity to our own decisions within our teams.
@FplToni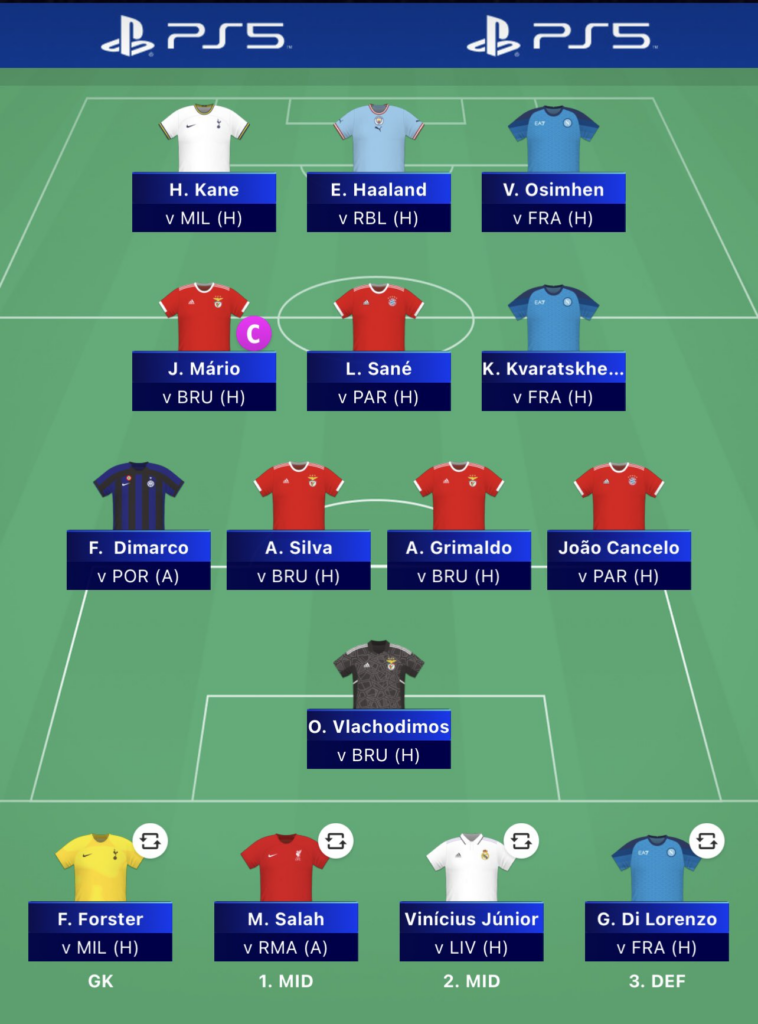 Notes
An important thing for everyone is that we can't carry transfers in the next round.
My plan is to use all three transfers. Players out will most likely be Sane and Cancelo because of their minutes and my last transfer will be either Dimarco or Kane.
Players I am looking at include Mahrez, Kevin De Bruyne, Valverde, Mbappe, Benzema, a Manchester City defender, Chilwell or adding a second Napoli defender!
Good luck everyone and I will post my completed moves on my Twitter before deadline, Chelsea line-ups might tempt me so I will wait for that.
@FplRossoneri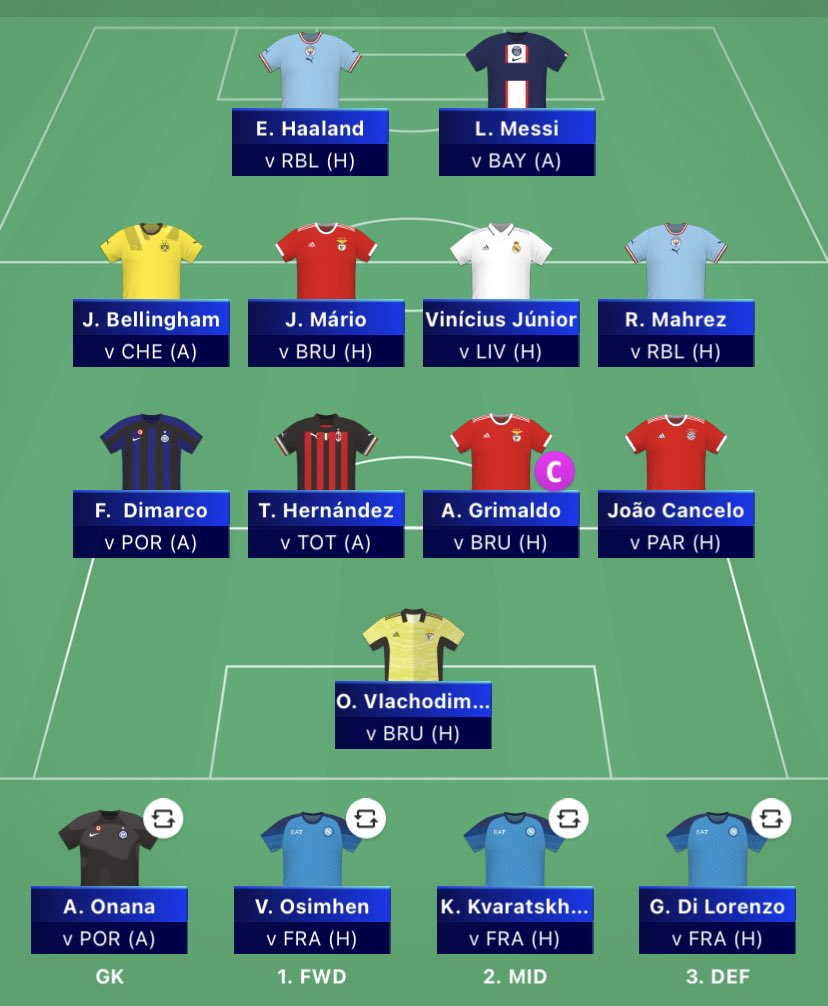 Notes
I am pretty content with where my team is at going into the second leg.
For my three free transfers I am currently looking to get rid of Messi, Bellingham and DiMarco.
The pool of players from which I am looking to bring in three players include Mbappe, Benzema, Otamendi, A Silva, Musiala, Coman, Mario Rui, KDB and Akanji.
Captaincy for the Matchdays would most probably be as follows. Day One – J Mario/Grimaldo, Day two – Mbappe, Day three – Haaland and Day 4 – Kvaradona/Osimhen/Vini Jr.
@uclfantasypod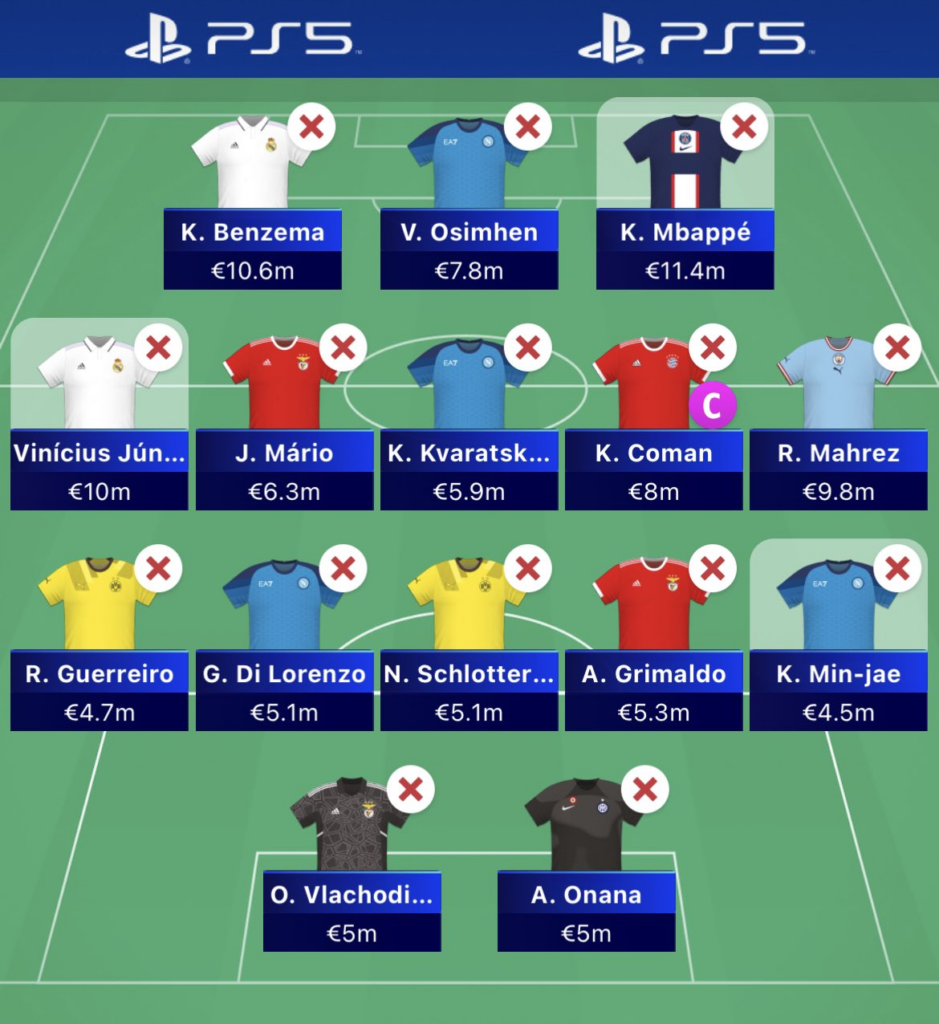 Notes
With Kobel injured I'd like to get off double Dortmund defence but Chelsea just look so bad going forward and Dimarco's minutes aren't worth the health scare.
Biggest question was the triple Benfica defence (goalkeeper included) or double up on Napoli as they're also at home and Frankfurt are without Muani. Ultimately I didn't want triple Benfica defence to run away from in the quarter finals so I've gone for Kim.
I want Vini in now as I believe Madrid are through and I'll just want him next week.
Jude isn't the optimal Dortmund midfielder at the moment for points, that's Brandt or Reus and I don't want to bring either of those in. So watch him score now.
Leipzig have an outstanding defensive record since the World Cup restart and Man City aren't exactly free flowing. For that reason I've risked binning Haaland for Mbappe, a man who terrorised Munich in Germany. I believe they still call him the butcher of bavaria for cutting their defence apart time and time again. He's a risk, but a fairly safe one. He's the highest scoring forward on the game by a mile for a reason.
@TheLineUpBrazil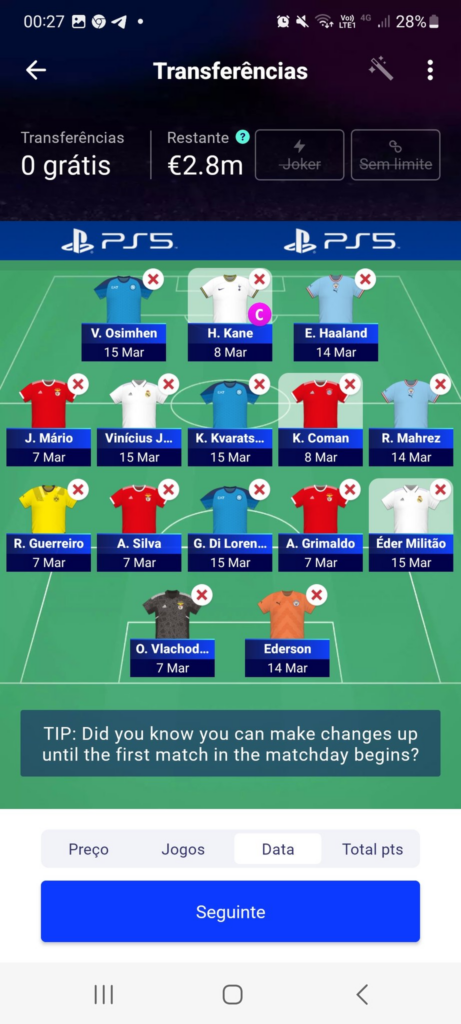 Notes
Free transfers could be Kane or Benzema for Messi.
I may bring in Coman for Salah.
I could also swap Militao for Dimarco.
My captain on Day one – João Mario, day two – Kane, Day three – Haaland and day four – Vinicius Junior.
@FPL_Crisk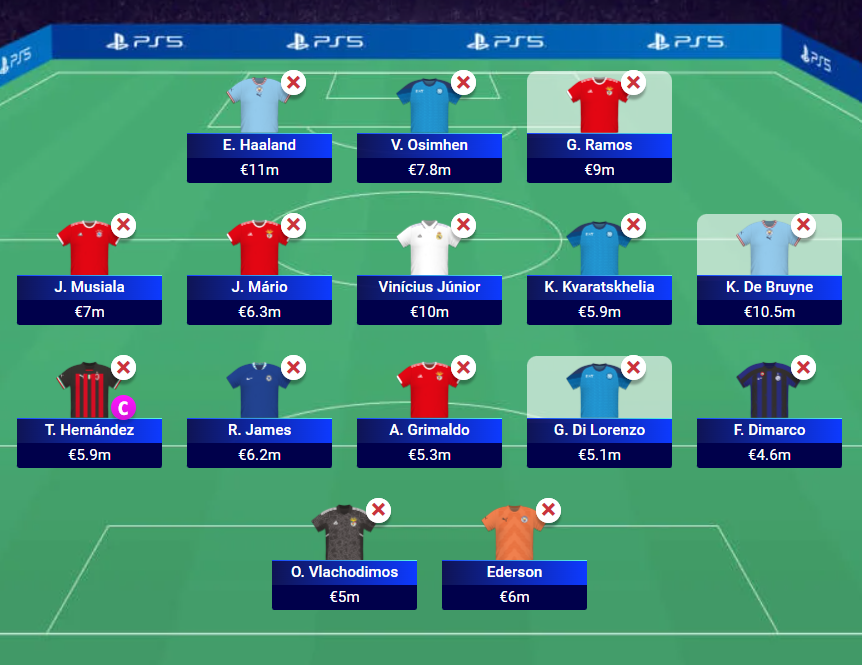 Notes
My philosophy for this round is to have the most amount of players that I think will go on to the quarter finals as I don't have a wildcard and I will need to use as many transfers as I can to adjust the team to fit the draw.
1] Son -> De Bruyne: I had Son because I thought he could exploit Milan's weaknesses but the first leg game showed that the Rossoneri have prepared for the Spurs matchup better than I expected.
De Bruyne on the other hand is the City midfielder I'm the most confident in (couldn't stand a Mahrez benching), and I would be surprised if City do not score a couple of goals (and pass the turn) at the Ethiad.
2] Rui -> Di Lorenzo: sideways transfer. Thought I was smart by having the set-piece taking full-back from Napoli, but he was instead benched for seemingly no reason and Di Lorenzo ended up hauling.
Never again. 3] Lautaro Martinez -> Goncalo Ramos: both players scored during the weekend, but I'm expecting a very close game in Porto, while Benfica could easily smash Brugge in Lisbon. Much higher ceiling for the home playing Portuguese forward despite not being on penalties.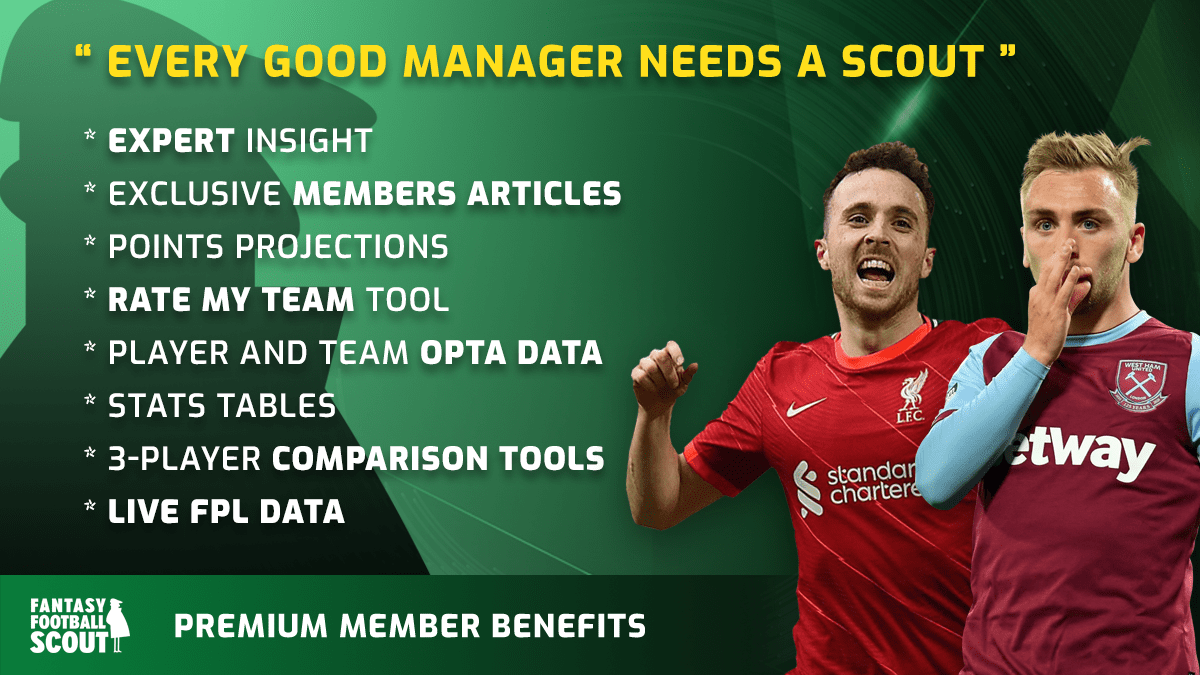 ---
Who are the top picks in UCL Fantasy Matchday 8 second leg? Find out right here.