Top three picks for Gameweek 37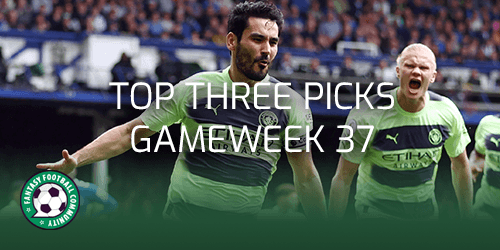 David Munday is back with his top three picks for the upcoming gameweek. This week he takes a look at his top three picks for Gameweek 37.
Another week, another Double Gameweek. It's the last one of the season so fear not, ye Single Gameweek fans, the end draws nigh.
The Doubles are something of a nightmare for us content creators. Thursday night's meeting between Brighton and Newcastle makes it very difficult for me talk about any of the Seagulls' players in this article. Even though they are top of the shopping list.
So here is a selection of Manchester assets instead.
Ilkay Gundogan
Remember when we all jumped on the Jack Grealish bandwagon, like everybody's half-interested wives and girlfriends during the Euros? Well, while we've all had eyes on the hair, the calves, the vibes and the… *checks notes* … six successive blanks, Ilkay Gundogan has been performing like it's 2020 all over again.
With three matches left of the campaign, the German could maybe break his all-time FPL points record. He returned 157 in the 2020/21 season when he evolved into prime Frank Lampard (the player, not the manager) for as long as it took for Gabriel Jesus to come back into the team and get in his way.
Well, the Brazilian's not on the books at Man City anymore. Even though Erling Haaland is an even bigger mountain of muscle, Gundogan has been quietly raking in points in the shadows.
While Grealish has been lapping up the attention, Gundogan has five goals in his last six outings. He has scored 7.7 points per match in that time. The bulk of that has come in the last two, with 13 against Leeds and 19 at Everton, but the stats are sustainable.
You've got Haaland, right? I hope so. He's the only Man City player to have recorded more shots, more shots in the box, more big chances and more shots on target than Gundogan over the last six matches.
So chuck out your headband and those socks hanging around your ankles. It's time to pull up your lederhosen and swap Grealish for Gundogan.
Luke Shaw
No more being the left back at centre-back. Luke Shaw now he's a left-back again. Yeah… I think that made sense. The return of Raphael Varane to the Manchester United line-up in the win over Wolves has unlocked the full-back as an exciting option again, just in time for the Double Gameweek.
Shaw's total of 19 final-third touches on Saturday was more than he had put together in the three previous matches combined, and he came close to an assist for his efforts too.
His attacking stats in recent times haven't been too impressive considering he's been stuck holding down the fort at centre-back but across the course of the campaign, we know what he's done as a left-back. In the whole 2022/23 season, Shaw is third among United players for key passes while only Bruno Fernandes has created more big chances.
Crucially, now is the time to get into Erik Ten Hag's defence, especially considering the remaining fixtures. The Red Devils have now kept 11 clean sheets in their last 14 home matches and two of their last three outings of the season are at Old Trafford.
Antony
Now, this final entry comes with a bit of a caveat as his credentials as an FPL asset are largely dependent on whether or not Marcus Rashford is fit. If he's not, why not go full-Cleopatra and get yourself an Antony?
The Brazilian only has a goal and two assists to his name across his last six appearances but his statistics show it's not for lack of trying. Across that time period, he's had 22 shots on goal, just one fewer than Fernandes, 12 in the box, which is the same as his Portuguese colleague and, admittedly only five shots on target.
Antony clearly needs to improve his accuracy but his numbers are good enough for second spot on Joe's famous Goals Imminent table. That means he *could* be set to explode in a Double Gameweek where he's likely to play both matches. While it's not a sure-fire thing, there's promise there for sure and, at just 3.3% ownership, he could be a powerful differential for you.
Just when you thought you could steal a march on your opponent, Solly March stole one on you. And if you sent up a prayer for your cheap fifth midfielder, then Andrea Pereira made sure it went unanswered.
---
Sign up as a Fantasy Football Community member for access to members only articles and newsletters.