Teams to target for Double Gameweek 28 and 29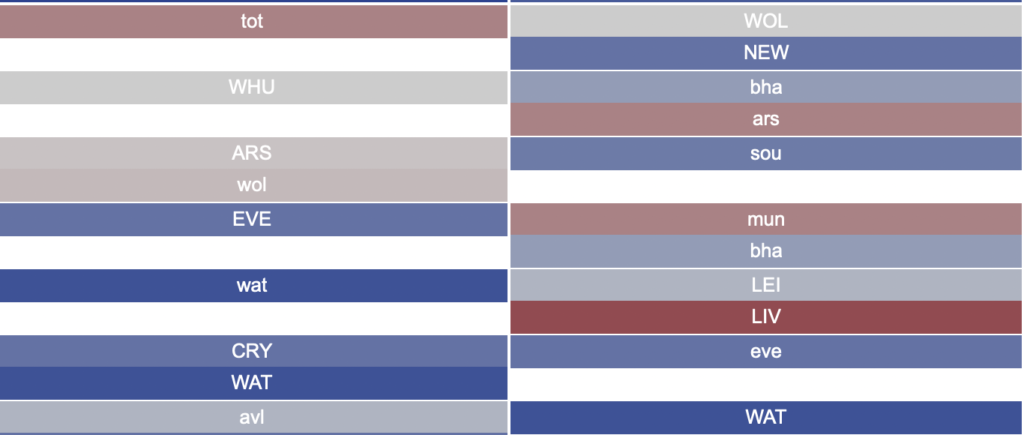 With Friday's announcement of Double Gameweek 28 and 29 FPL managers plans were thrown in the air. We have a look at the best teams to target for the back-to-back Doubles Gameweeks.
Most FPL managers target the Double Gameweek's by trying to have as many doubling players in their squads as possible. Thankfully a number of the teams who Double in Gameweek 28 or Gameweek 29 have also previously doubled in Gameweek 26 and so managers are already invested.
Liverpool, Spurs, Wolves, Arsenal, Leeds and Watford were already on FPL managers radars because of their double in Gameweek 26. This means that most managers will likely be looking at the other doubling teams to target to strengthen their squads ahead of the next two doubles.
Aston Villa, Newcastle and Southampton all double in Gameweek 28 alongside Wolves and Watford. Everton, Newcastle and Brighton double in Gameweek 29 alongside Liverpool, Spurs and Arsenal.
Teams to target: Gameweek 28

Wolves
On paper for Gameweek 28 Wolves have the best fixtures. They play Watford and Palace with both games at Molineux. FPL manages will likely now target Jimenez and the Wolves defence. However, when you run the fixture ticker between Gameweek 27 and 31 it's Southampton who sit top of the season ticker.

Southampton
Southampton, much like Wolves, offer FPL managers exceptional value for money as well as some excellent differentials. Owning Armando Broja looks like a great option ahead of matches at away at Aston Villa and home to a Newcastle team who will be without injured Kieran Trippier.
Whilst Josh King and Emmanuel Dennis both double in Gameweek 29, they are two difficult looking matches against Arsenal and Wolves. Watford have failed to score a goal under Hodgson so far. Therefore even though it seems counterintuitive to sell a doubling player, swapping them for Broja looks a great option.
Aston Villa
Many FPL managers have been waiting with baited breath for an announcement of a Double Gameweek for the Villains. Ahead of Gameweek 26 many FPL managers were struggling with having to bench their Villa assets in favour of the Double Gameweek players. However Gameweek 28 provides an attractive set of fixtures against Southampton and Leeds.
Since his arrival in Birmingham Philippe Coutinho has been catching the eye of FPL managers. His two goals, two assists and a clean sheet point in four matches means he is one of the leagues most in form players. Owning him alongside wither defender Lucas Digne or budget enabler Jacob Ramsey or even both could be a great option for the double. However managers shouldn't overlook Emi Buendia who has returned 20 points in the last five Gameweeks.
Leeds
Leeds had lost all of their last three fixtures ahead of the Gameweek 26 deadline. However, there brace of fixtures meant that managers invested in Leeds held their assets. Many managers however were likely to sell those assets ahead of their match against Spurs in Gameweek 27. However, the announcement of a Double Gameweek against Leicester and Aston Villa means now managers will likely hold. Especially as Leeds follow Double Gameweek 28 with a match against Norwich in Gameweek 29.
Newcastle
Allen Saint-Maximin is the most owned Newcastle player currently. With the announcement of a Double Gameweek against Brighton and Southampton his ownership looked likely to increase. However, Saint-Maximin missed Gameweek 26 with a knock so FPL managers will want to keep an eye on his fitness before investing. It isn't just the Newcastle forward who might be worth the investment from the Toon though. Saint-Maximin's strike partner Chris Wood could be a perfect buy for Gameweek 28. Managers who own Burnley's Wout Weghorst for his back-to-back doubles in Gameweeks 26 and 27, could switch for Wood's double in Gameweek 28 and 29.
Teams to target: Gameweek 29

Gameweek 29 see's three of the contenders for European football next season double. Liverpool, Arsenal and Spurs are likely to be teams that managers have invested in because of Double Gameweek 26. However, as Liverpool and Arsenal blank in Gameweek 27 FPL managers may want to increase their investments ahead of Double Gameweek 29.
Liverpool
Almost all FPL managers who are an active part of the FPL community will already own Salah and Alexander-Arnold. However, with the injury to Diogo Jota just ahead of the Gameweek 26 deadline a number of managers will not have the treble up. Liverpool's Double Gameweek against Brighton and Arsenal could provide an opportunity to add Andy Robertson or if recovered Diogo Jota to their squads.
Spurs
Tottenhams form has taken a dramatic turn in recent weeks and as a result they haven't been as popular transfers in as they normally would have been. The announcement of a further Double Gameweek in 29 against Manchester United and Brighton will mean that managers are keeping a close eye on Spurs' form. If Double Gameweek 26 proves successful for Spurs after the midweek fixture against Burnley then the likes of Kane and Son will be popular buys ahead of a nice fixture run for the Lily Whites.

Arsenal
Blank Gameweek 27 has meant that many FPL managers have not invested as heavily in Arsenal as they ordinarily would have in Double Gameweek 26. However after Blank Gameweek 27 the Arsenal fixture are excellent on paper.

The addition of Double Gameweek 29 means that managers should be targeting both the Arsenal defence and attack. Aaron Ramsdale is already the most popular goalkeeper in the game. Differentiating him by adding a defender such as Kieran Teirney looks an attractive option. In attack midfielders Saka and Martinelli could both be excellent options. As a real differential forward Lacazette could replace the likes of Weghorst. Weghorst doubles in Gameweek 27, when Lacazette blanks, so looks an ideal replacement.
Brighton
On paper Brighton's Double Gameweek looks difficult. Matches against Liverpool and Spurs are not normally the sort of fixtures that managers would want to invest in. However, if managers still own a Brighton player from Double Gameweek 25 then they could help to create a good bench boost team in Gameweek 29.
Everton
Much like Aston Villa in Gameweek 28, Everton are another team that FPL managers have been eagerly awaiting a double for. Dominic Calvert-Lewin is owned by just 4% of the game. In fact no member of the Everton squad is owned by more than 6.7% of managers. Investing in an Everton player now that there form seems to be improving seems promising. Everton's Double Gameweek is against Wolves and a Trippier-less Newcastle whose defence could now be penetrable.