Should managers reinvest?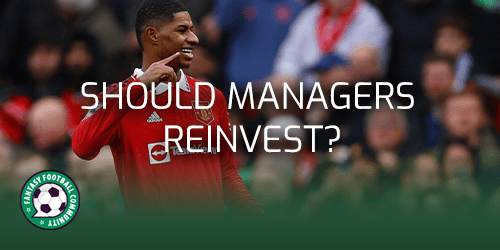 Manchester United, Brighton, Brentford and Newcastle all blanked in Gameweek 25. This was as a result of the League Cup Final between Man United and Newcastle. Many FPL managers sold their assets from these clubs as a result of the blank. However, now this blank is over is it time for managers to reinvest? We take a look at should managers reinvest in the teams who blanked in Gameweek 25.
Many managers were reluctant to sell their assets from Man United, Newcastle, Brighton and Brentford. However, many found themselves doing it in order to ensure that they had a full XI out in Gameweek 25. With managers now turning their attention to Gameweek 26 and beyond it is important to consider whether managers should be looking to reinvest.
Should managers reinvest in Man United?
Manchester United come out of the League Cup final and their blank gameweek and into a match with Liverpool. In recent years games between Liverpool and Man United have not gone in the Red Devil's favour. Liverpool have won three of their last four meetings. In these four matches Liverpool have scored 14 goals and conceded just four. However, Man United did win the reverse of this fixture 2-1 back in August.,
Marcus Rashford (£7.3m) was a reluctant sell for many FPL managers. However ahead of Gameweek 25 he was sold by over 183,000 managers. Ahead of Gameweek 25 Rashford had all bar one of Man United's 10 Premier League matches since the restart. In that time Rashford registered 89 points, more than any other player in the league. Managers who sold Rashford will likely want to reinvest quickly. However, there is more debate over defensive assets such as Luke Shaw (5.4m).
Managers who sold Shaw or one of the Man United defensive options should consider waiting until after Gameweek 26 to reinvest.
Bruno Fernandes (£9.8m) is a more difficult dilemma for FPL managers. Bruno has three double digit hauls in his last six Premier League games and is in good form. However, Bruno has played five matches in the Premier League and in that time has returned in just one of them, averaging just 2.8 points per match. Whilst is form is good managers could risk waiting until after the Liverpool match to reinvest.
Indeed, managers should carefully consider too heavy investment in Man United given they will blank again in Gameweek 28. This is because Gameweek 28 opponents Brighton won their FA Cup fifth round fixture. Whilst not having a fixture in Gameweek 28 shouldn't stop managers investing for Gameweek 26, they will need a plan in place to manage the blank.
Newcastle
Like Manchester United, Newcastle have a difficult fixture in Gameweek 26. The Toon face Man City away at the Etihad. Kieran Trippier (£6.1m) was sold by over 230,000 managers ahead of Gameweek 25. Man City have only failed to score once in the Premier League in 14 matches, this was in Gameweek 22's match against Spurs. With Man City regularly scoring goals managers could potential afford to wait and reinvest in Trippier ahead of Gameweek 27 instead. Especially as Trippier had failed to return either attacking or defensive points in the last three Premier League matches ahead of the Cup Final.
Trippier is also certain to have a fixture in Gameweek 28 as both Newcastle and opponents Nottingham Forest are out of the FA Cup.
However, Newcastle's form in both the league and the League Cup final has tailed off. They have scored just three goals in their last seven matches in the League. So Whilst Trippier is a hold others do not necessarily need reinvestment.
With players like Nick Pope (£5.4m) and Miguel Almiron (£5.5m) managers can likely afford not to reinvest. Making a goalkeeper change can be saved now until managers play their second Wildcard. Meanwhile, there are more in-form midfielders in the game than Almiron.
Brentford
Brentford play twice in Gameweek 27 and Gameweek 29. Leicester's defeat in the FA Cup means that they will also feature in Black Gameweek 28. Brentford have been in good form in the Premier League, and they haven't lost in the league since the Premier League restarted. In that time they have picked up 16 points and scored 14 goals.
Ivan Toney (£7.7m) and Bryan Mbeumo (£5.8m) look like good investments for Brentford straight after the blank. Brentford play Fulham in Gameweek 26. Although they lost the reverse of this fixture 3-2 back in August, they had won four of their last six meetings in all competitions prior to that. Drawing one of the others and only losing in the Championship play off final in 2020.
Managers will want to be invested in Brentford for the double gameweeks and therefore reinvesting in the Bee's straight after the blank makes sense.
Brighton
Like Brentford, Brighton also play twice in Gameweek 27 and 29. They will also blank in Ganeweek 28 as they won their FA Cup match.
Over 138,000 managers sold Kaoru Mitoma (£5.4m) heading in to Gameweek 25, with a further 74,000 selling Solly March (£5.1m). Managers who sold their Brighton assets will want to immediately reinvest ahead of their Gameweek 26 fixture against West Ham.
---
Click here for all the FPL content you need to help you achieve those all important green arrows.