Should managers aim for a threemium?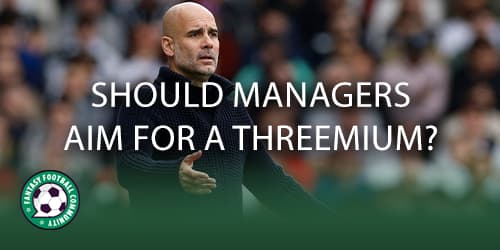 We answer one of the most important questions in the FPL community, should managers aim for the threemium? With the help of the Fantasy Football Scout members area and its fantastic tools we come to a conclusion.
Premiums are players that come with big price-tags that are expected to do well in FPL. A threemium consists of three premium players within our fantasy teams. But is it worth the money to bring three in and should we aim for a threemium?
Fixtures
Firstly, it is important that we look at the fixtures for the remainder of the season. We can see that Brighton, Manchester United, Manchester City, Chelsea and Liverpool rank amongst the top five teams with best fixtures. Liverpool, Newcastle and Tottenham also follow closely behind.
Of these teams significant players like Manchester United's Bruno Fernandes (£9.4m), Manchester City's Erling Haaland (£12.4m) and Kevin De Bruyne (£12.2m), Liverpool's Mohamed Salah (£13m) and Tottenham's Harry Kane (£11.4m) and Son Heung-min (£11.5m) could all be considered as premium players.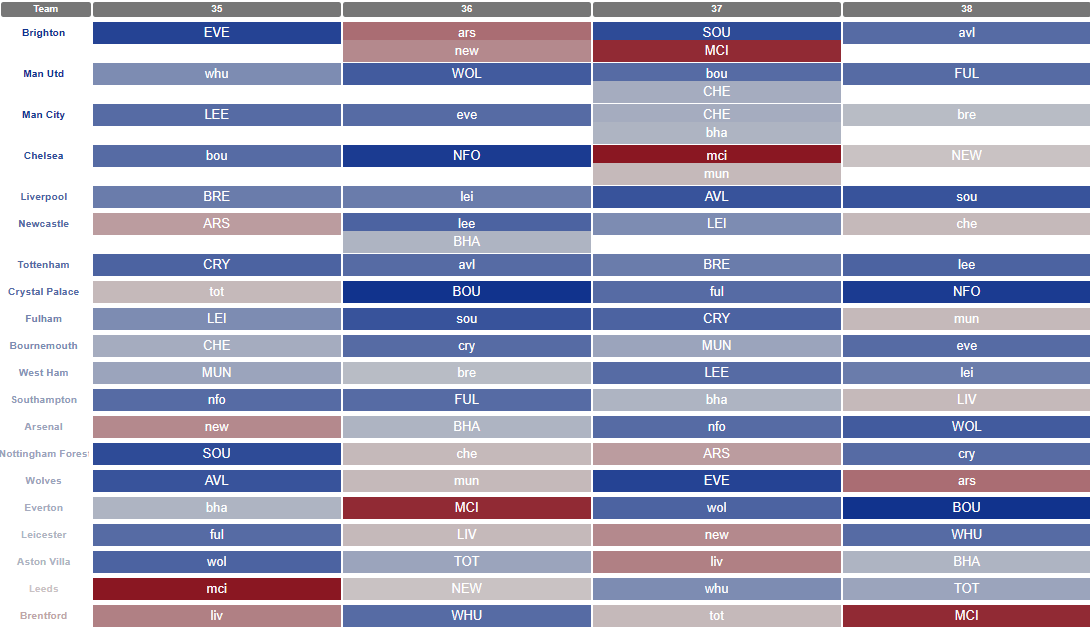 Players with the most points so far
We can see from the graphic below that all three of the highest scoring players in the game are premium players. All of whom have some of the best fixtures in the league remaining as seen above.

Who else makes the list?
As we can see, only four of the 11 highest scoring players in FPL so far are premium players (five if we include Newcastle defender Kieran Trippier who costs £6.1m. This means that there are plenty of non-premium players having great seasons.
Three members of the list include Arsenal midfielders Bukayo Saka (£8.2m), Gabriel Martinelli (£6.7m), and Martin Odegaard (£6.6m). Others include the likes of Manchester United's Marcus Rashford (£7.2m) and Aston Villa's Ollie Watkins (£7.6m).

The premium players continue to deliver
The graphic below shows the top 10 highest scoring players from the last six Gameweeks. We can see that Erling Haaland, Mohamed Salah, Kevin De Bruyne and Harry Kane all make the list. Once again, the premiums are returning at a very consistent rate.

Key double Gameweek players
Another huge factor to consider is that some teams have double Gameweeks ahead, so being able to afford them and fit them in, will be absolutely key. In order of fixture difficulty, first being the best, some of the players involved include :
Brighton – Defender Pervis Estupinan (£4.9m), and midfielders Solly March (£5.3m) and Kaoru Mitoma (£5.6m).
Manchester United – Midfielders Bruno Fernandes and Marcus Rashford.
Manchester City – Midfielders Jack Grealish (£7.3m) and Kevin De Bruyne and Erling Haaland.
Newcastle – Defender Kieran Trippier and strikers Alexander Isak (£6.9m) and Callum Wilson (£7m).
Other factors to consider
Manchester City – They face two massive clashes in the Champions League semi-finals against Real Madrid with the possibility of an additional game in the final if they progress. In addition, they also face a Cup final towards the latter stages of the season. Because of this rotation between their premium players could be rife.
Tottenham – Not only do they not have a double Gameweek for the remainder of the season but they also face, what could be, tough games against the likes of Crystal Palace, Aston Villa and Brentford in their final four fixtures.
What would the optimal threemium be?
Erling Haaland – Regardless of his expected minutes, Haaland has sustained some of the best offensive data in the league whilst also being the highest owned, highest scoring and most explosive player in the game. In addition, Manchester City also face a double Gameweek and around that some of the worst defences in the league.
Bruno Fernandes – Manchester United have some great fixtures as well as playing a fantastic double Gameweek ahead. Not only does Fernandes take his sides penalties but he has also maintained some great distribution stats this season.
Mohamed Salah – Liverpool do not have a double Gameweek remaining but they do however play two of the worst defences in the league ahead. The Reds have also been sustaining some of the best offensive stats amongst all teams in the league this season. Mohamed Salah is their standout option. The Egyptian takes his sides penalties and has also shown his ability to return points even when playing below par. Not just this, but the additional points for a goal scored and clean sheet only further his appeal above other premiums.
Should managers aim for a threemium?
Taking into account the fixtures, consistency and other key doubling players, yes. Most of the best doubling assets moving forward come at a very kind price-tag, so in terms of affordability, it could be very easy to fit three premiums into our squad.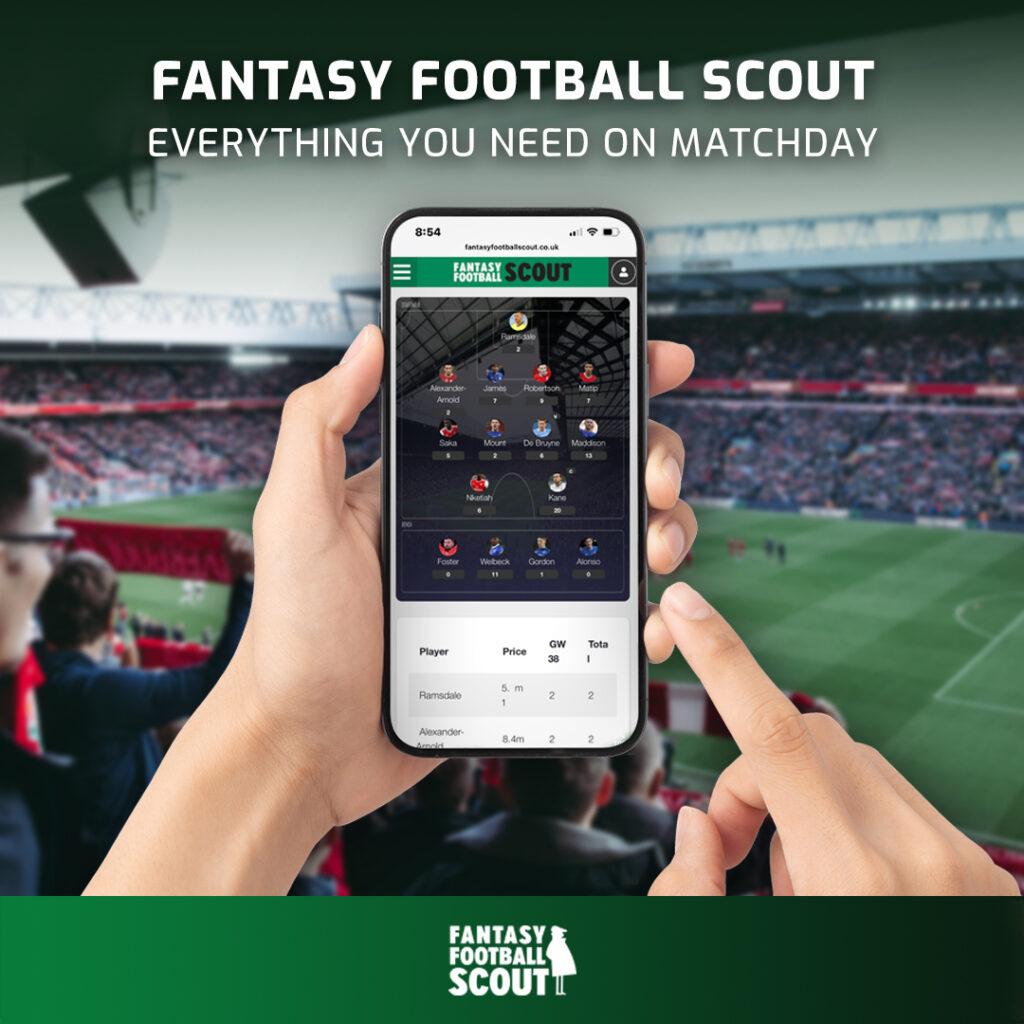 ---
Would you like FREE and exclusive content moving forward? Simply sign up with your email address to receive exactly that right here.