MLS Fantasy Round 2 team reveals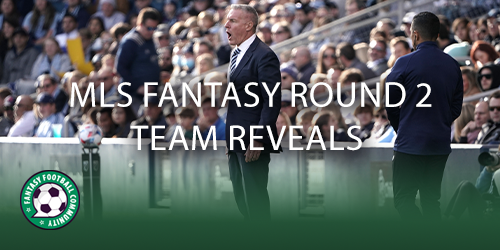 The brand new campaign continues! We take a look at MLS Fantasy Round 2 team reveals from some of the most experienced managers around. They share their thoughts on their teams going into the new round including captaincy.
Looking at some MLS Fantasy Round 2 team reveals can be extremely beneficial for new managers. Seeing some of the best assets, who managers will be looking to captain and their general thoughts can help bring clarity within our own teams.
@dmpwright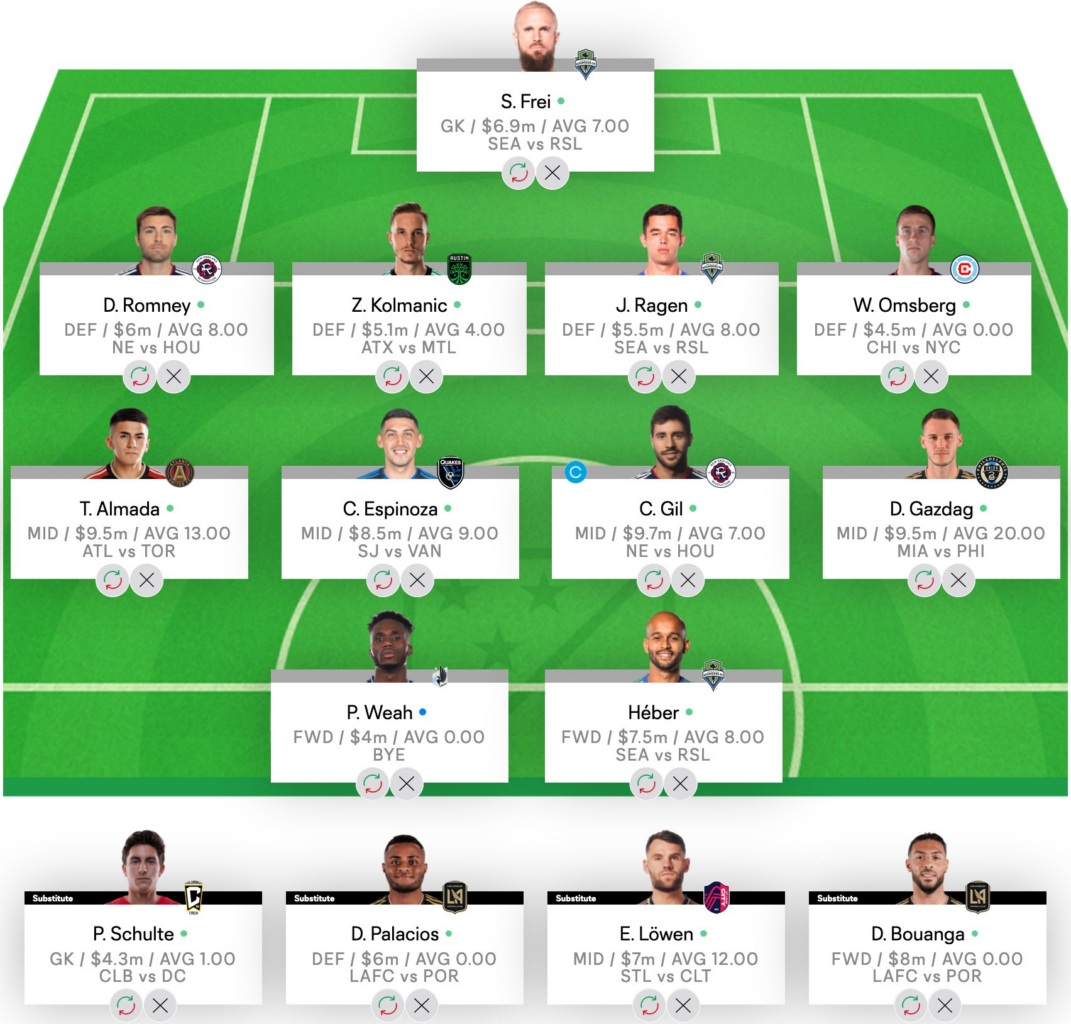 Notes
Goalkeepers: Schulte (if he starts) is a pure value play, unless he plays terribly. He's almost guaranteed a price rise based on MLS Fantasy's rolling three-round performance-based algorithm.
Frei will be the fall guy should Schulte keep a clean sheet; I also don't mind Petrovic and whoever starts for LAFC this week.
Defenders: Romney is the cheapest route into a New England defence and should stand a good chance of one at home to Houston.
Brandon Bye is my preferred New England defender but I don't currently have the funds to accommodate him.
On the bench, I have Palacios from LAFC, who play Portland at home in the early game; Kolmanic and Ragen are both value plays with decent clean sheet chances, the latter or Omsberg likely to be scrubbed out should Palacios score well.
LAFC also play in the CONCACAF Champions League in midweek, so watch out for potential rotation (although I think most of their starters are likely to be substituted early rather than be benched).
Midfielders: Most of my midfield picks itself, with Almada, Espinoza and Löwen all having favourable home matchups and likely to rise in price after strong performances in Round 1.
The same is true of Gazdag, who plays a potentially suspect Inter Miami defence. Gil should also do well against Houston, although he may make way for Driussi, who plays against a Montreal side that played poorly against Inter Miami.
I'm undecided on my captain. However it will almost certainly be one of my premium midfielders with a home fixture.
Forwards: I'm expecting LAFC to do well against Portland. I have gone with Bouanga (although you could also go with Opuku if you're short of funds).
Héber is a good value play if he leads the line again for Seattle, having scored against Colorado in the last round. However, Ruidíaz is back in training and may yet take Héber's place (or eat into his game time); if you're concerned about his minutes, Mueller is a good alternative at a similar price point and plays against a NYCFC team that looked shaky in their opener against Nashville.
I'm also strongly considering Cucho Hernández, who play DC United at home; however, I don't currently have the funds to fit him in.
@Anurag_B_ST4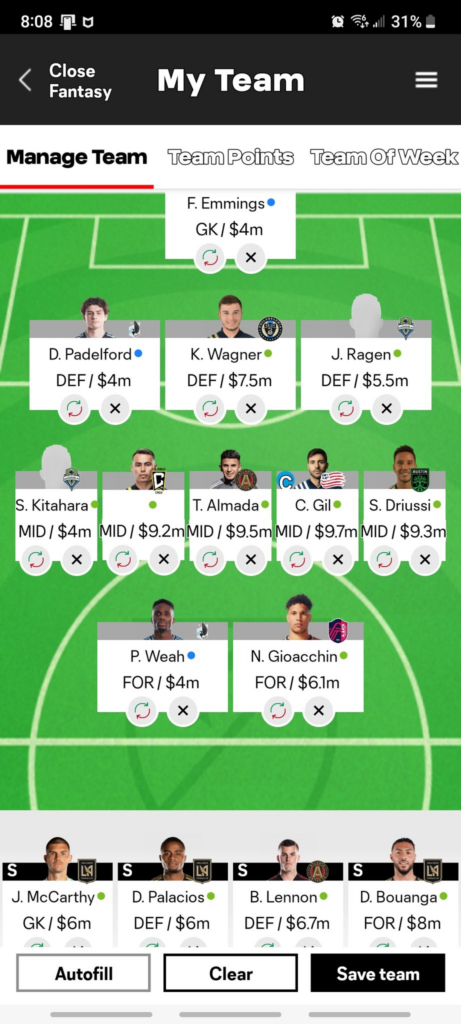 Notes
I have got the usual picks most would have for Week 2.
Triple up on McCarthy, Palacios, Bouanga – LAFC have decent clean sheet odds, Palacios, an attacking defender, Bouanga, a potential MVP candidate and saves some money on hit or miss talisman Vela.
Lennon, an attacking defender who may rack up defensive bonus points.
Wagner – nothing else to add to anything said by others… despite away game.
Ragen – budget option, Seattle with another good home fixture.
Zelarayan – Columbus are at home against a DC side who like to ship goals and him and Cucho can feast.
Driussi – Despite Austin's surprising home defeat in week 1, Driussi returned… again, has a good home fixture, expect a bounce back and Driussi to carry again.
Almada – Just need to see extra time of Week 1 game….. two Golazo goals! Has a bright future, surely somewhere in Europe!
Gil – NE at home and the talisman, might just be the chalk captain of the week (if people trust him).
Again, with the extra budget from price increases and other rules of MLS Fantasy, keeparoo/switcheroo/autoroo strategies in-play.
@Mahoney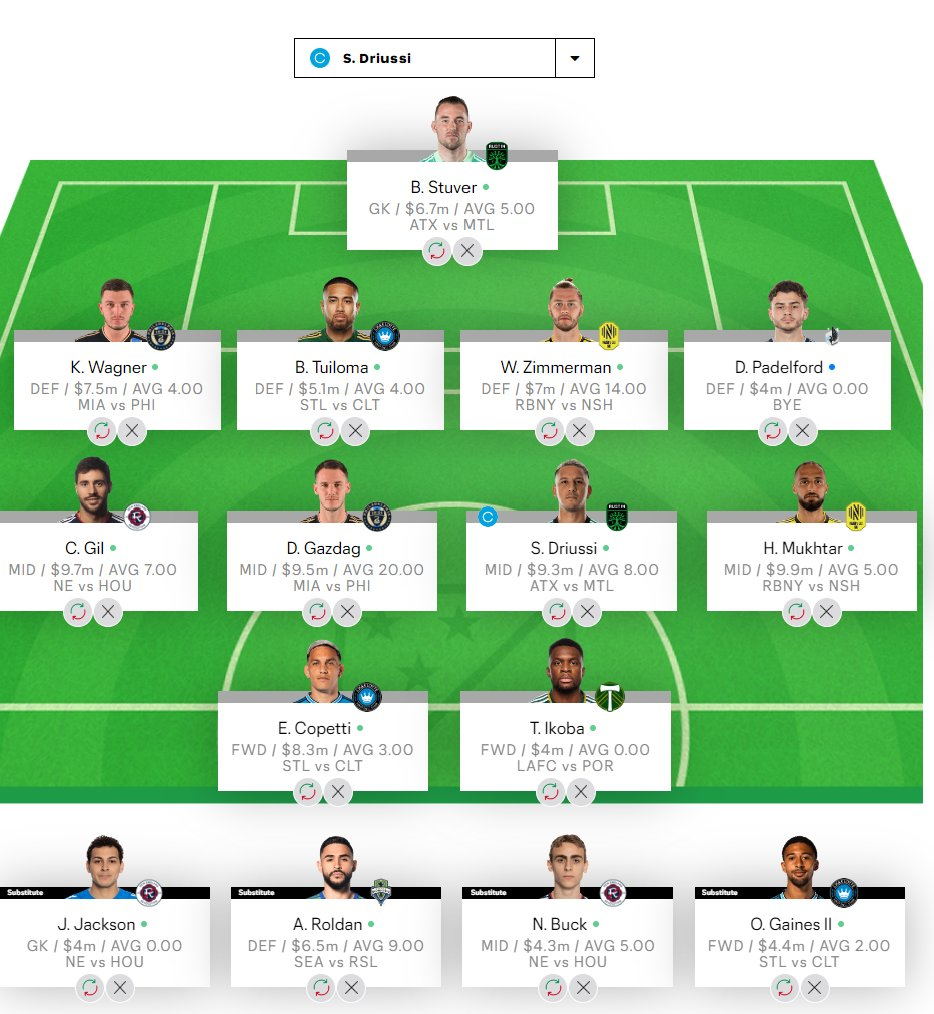 Notes
Week 1 was 59 points, disappointing but we move, OR 4.2k .
A few changes from last week but not an overhaul . Zimmerman is likely to be a must have so I brought him in for more quality in the back .
I missed out on Philly offense so brought in Gazdag, think they will continue to be strong, especially on the road in Miami.
Sticking with Copetti up top, watching his speed this week was amazing and feel like he will come good.
Had to sacrifice Lodiero for Buck in the middle due to budget.
@_FutboIOscar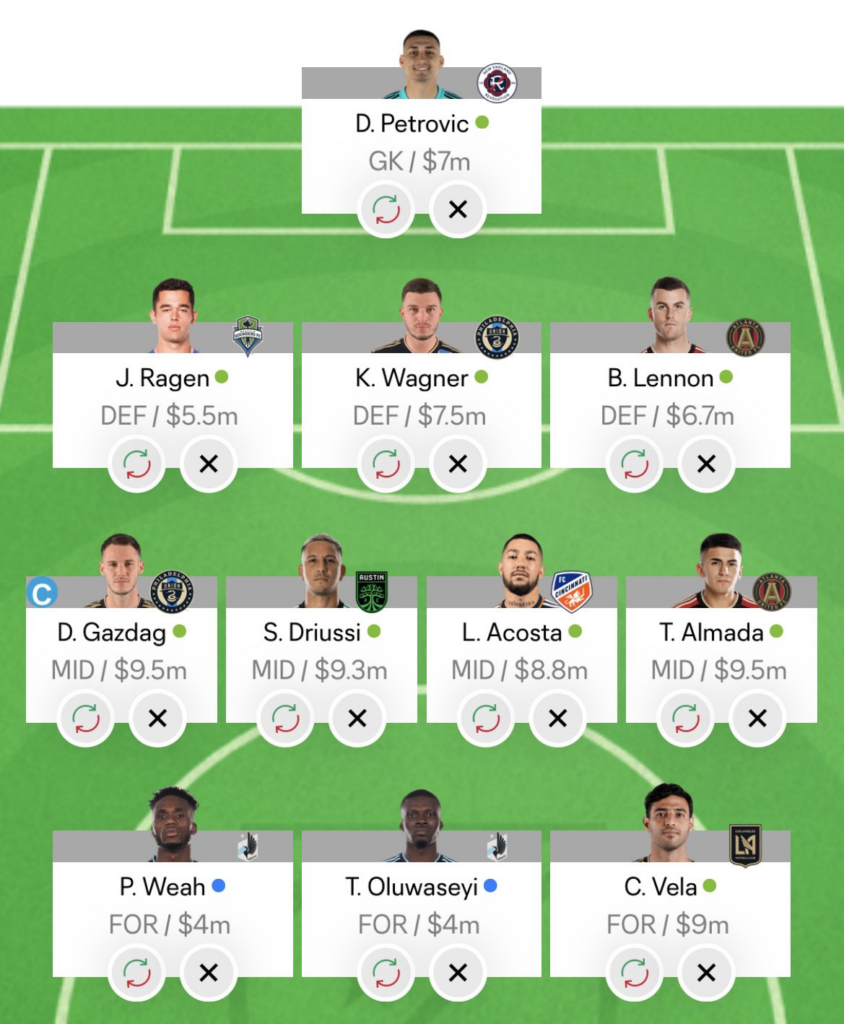 Notes
Djordje Petrovic was one of the biggest revelations in the MLS last season. He also hosts Houston Dynamo at home.
Brooks Lennon started the season with an assist against San Jose.
Daniel Gazdag scored two goals and created three assists in his opening fixture, which speaks for itself.
Argentinian playmaker Luciano Acosta picked up a disappointing three points. However I back him to do well against Orlando.
Carlos Vela is captain material for round 2.
My captain will be Daniel Gazdag.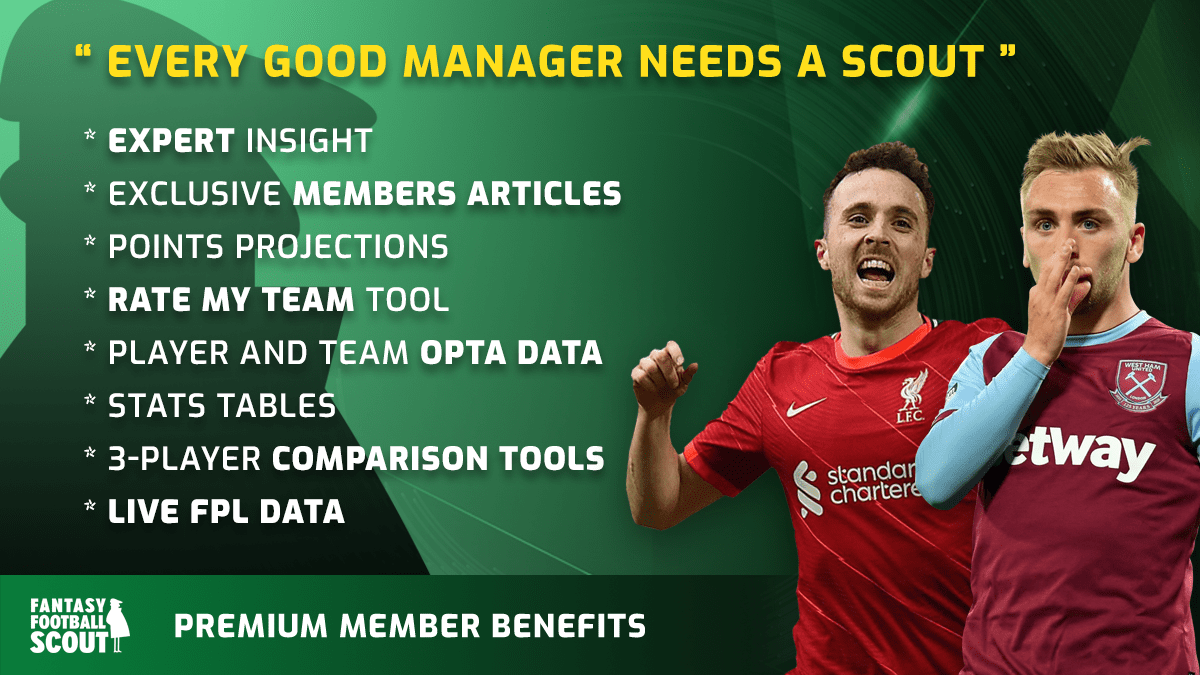 ---
Get ready for the new round of Fantasy Premier League with our top picks article here.