MLS Fantasy Round 15 team reveals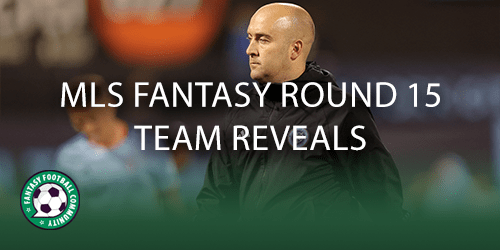 The brand new campaign continues! We take a look at MLS Fantasy Round 15 team reveals from some of the most experienced managers around. They share their thoughts on their teams going into the new round including captaincy.
Looking at some MLS Fantasy Round 15 team reveals can be extremely beneficial for new managers. Seeing some of the best assets, who managers will be looking to captain and their general thoughts can help bring clarity within our own teams. So, lets take a look at some Round 15 team reveals.
@dmpwright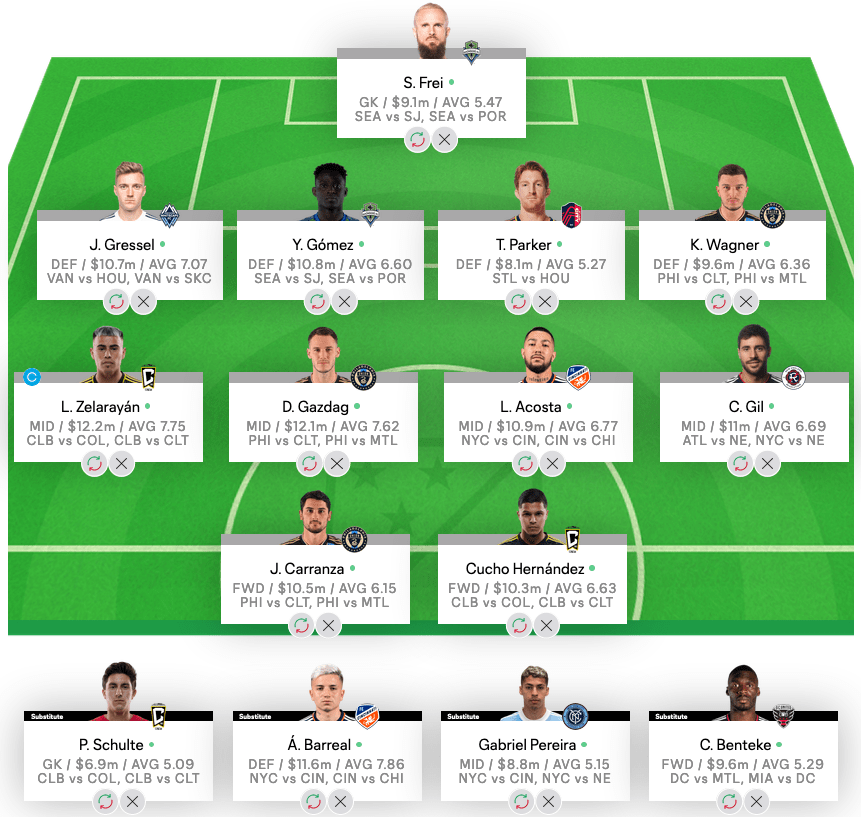 Notes
Philadelphia and Columbus have great double gameweek fixtures, so I have tripled up on their players – Patrick Schulte, Kai Wagner, Dániel Gazdag, Lucas Zelarayán, Julián Carranza and Cucho Hernández are all locks in my team. Zelarayán is currently my captain, although I haven't ruled out giving the armband to Gazdag.
In goal, Stefan Frei will be my fallback should Schulte not score well in his first game. Like Philadelphia and Columbus, Seattle also play twice at home and stand a decent chance of at least one clean sheet, most likely against San Jose. For that reason, I have also taken Yeimar Gómez in defence.
With the Sounders attack not firing on all cylinders, I prefer Yeimar's bonus point production to Alex Roldán's offensive potential. The offensively minded Álvaro Barreal and Julian Gressel are my other double gameweek defenders, while Tim Parker is my single gameweek fallback should my bench not deliver any meaningful points.
In midfield, Carles Gil and Lucho Acosta are also locks providing they start against Atlanta and NYCFC, respectively. Héctor Herrera and Lorenzo Insigne are considerations should Gil and/or Acosta miss out.
My final midfield pick is a punt on Gabriel Pereira, who also plays twice at home and has posted slightly better numbers to date than teammate Santi Rodríguez.
My third forward spot is not locked in: my current pick is Christian Benteke, who is on a run of four goals in his last six starts. However, Jefferson Savarino and Brian White also appeal.
@Mahoney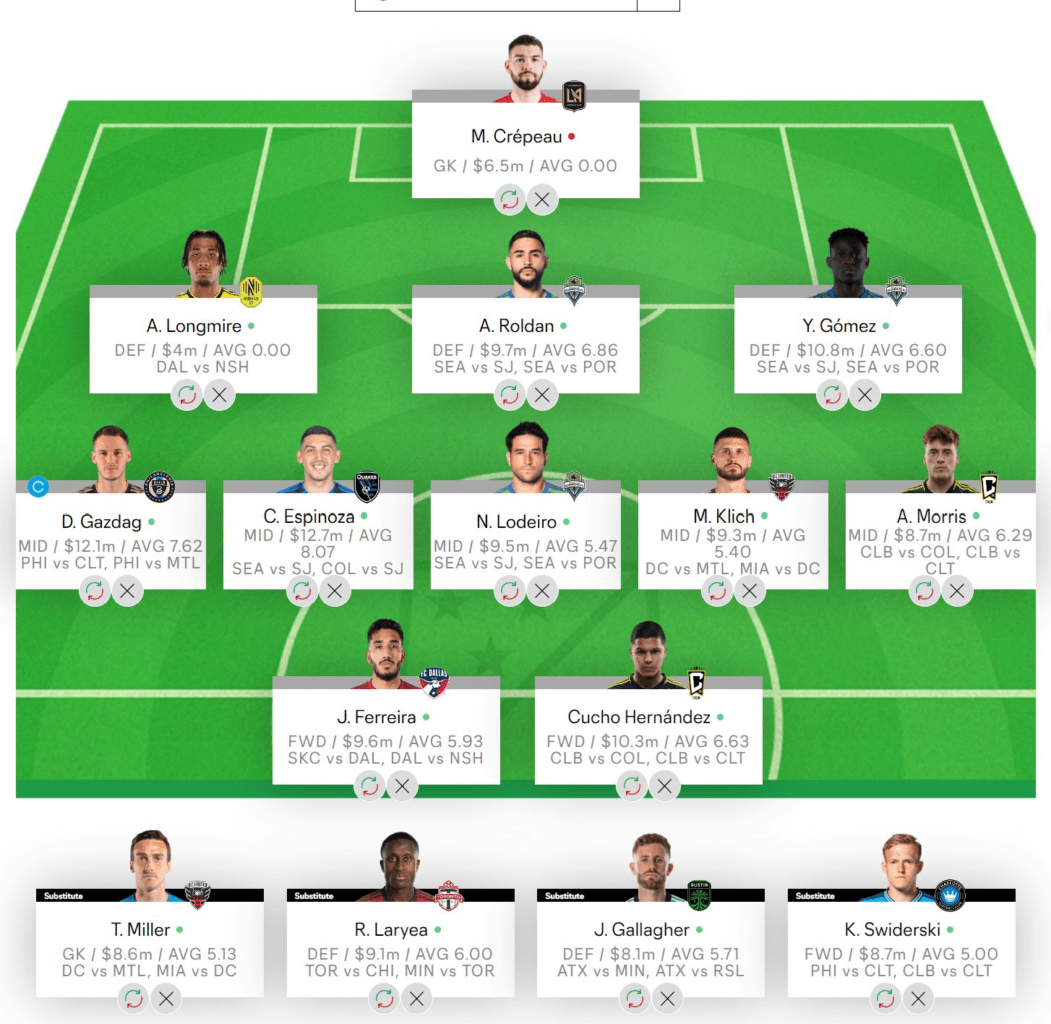 Notes
72 points turned out to be ok in a weird scoring week.
My OR – backed up to 1380 so I lost four places.
Double Game week for many and LAFC have a bye.
I have a non-playing defender to get the best off the bench.
I'm saving some goalkeeper cash in case Johnson doesn't do well in the first match.
I have two SEA defenders with two home matches.
Gazdag is captain and I think Cucho is in the running or Espinosa as well.
@_FutboIOscar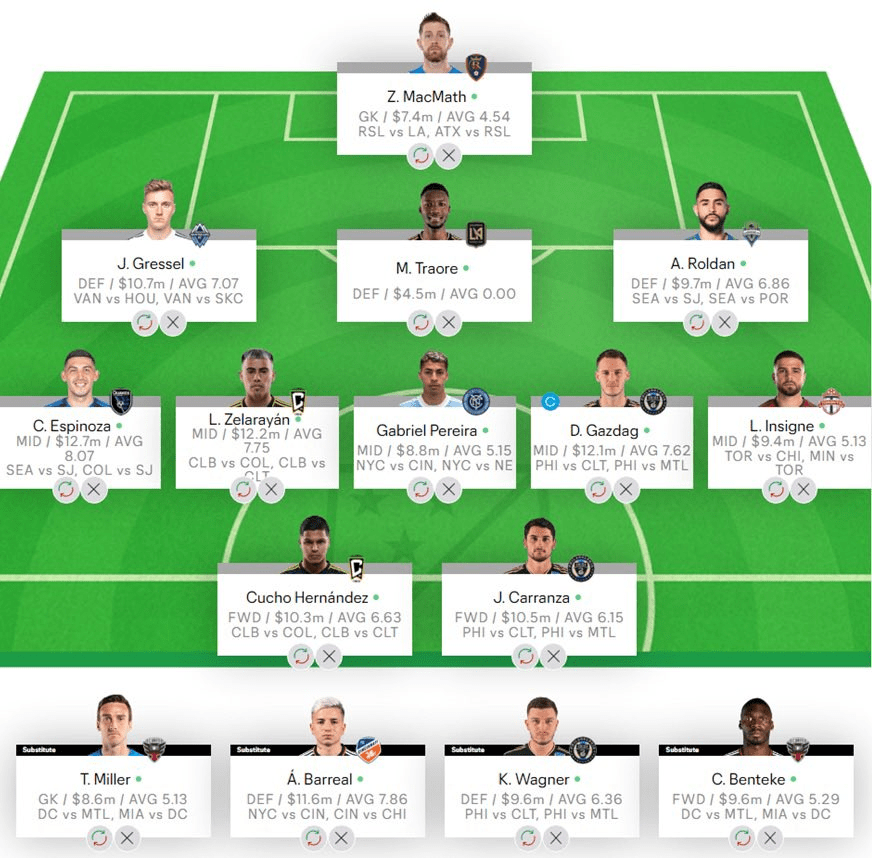 Notes
68 points in Round 14 and another red arrow down to 97th overall.
This is my Round 15 team.
My goalkeeper picks this week are currently Tyler Miller with a home game against Montreal before a visit to Fort Lauderdale. My fallback is MacMath should Miller not score well in his first game.
Julian Gressel and Alex Roldan are locks for me in defence this week with two favourable home games and for their offensive potential.
I've currently got Wagner and Barreal on my bench but that might change come the rolling lockouts.
Daniel Gazdag, Lucas Zelarayan and Cristian Espinoza, despite his blank against FC Dallas, are all locks in my midfield this week.
My final two midfield picks are Lorenzo Insigne and Gabriel Pereira. Insigne helped Toronto to their first win since April 30th with two assists against DC United whilst Pereira scored NYCFC's only goal against Philadelphia.
Julian Carranza and Cucho Hernandez are two of my forward picks this week as they both have two home games.
My third and final striker is Christian Benteke who got on the scoresheet again in Round 14 and is now up to seven goals on the season.
My captain this week is likely to be Daniel Gazdag. Philadelphia's DP has returned in his last three games and with two home games to come he's likely to add to that tally.
@eytexi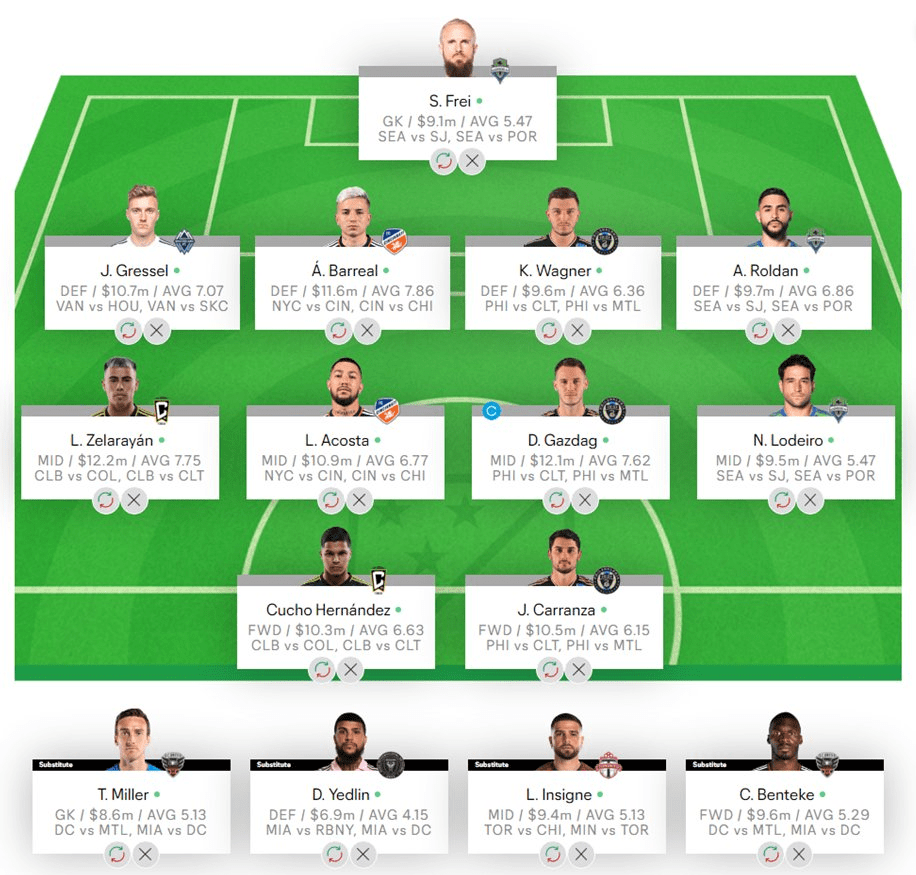 Notes
The MLS' joint second best clean sheet odds for midweek (2.50) before a favourable home tie vs. Portland means Frei returns to the side for DGW15. Six clean sheets in eight home games bodes well for Seattle Sounders; their two double Gameweek opponents have just one away win between them this season.
With 9.75 points-per-game over his last four appearances, Acosta is a man in fine form. He's hit double-figures in four out of his last five home outings, the second fixture of the double Gameweek therefore standing out. 14 shots on target, six big chances created, 31 key passes, and 168 final third passes all top Cincinnati ranks.
Another talisman with two home double Gameweek fixtures; Lodeiro tops Sounders for big chances created (five), key passes (32), crosses (27), and final third passes (279; second in the MLS). Seattle have 1.65 (third best) winning odds midweek, then hosting a Portland side who've conceded more than two goals per game on the round 2023.
Five goals and three assists in his last seven games puts Carranza in fine form ahead of two phenomenal home fixtures; Philadelphia have the MLS' best winning odds midweek (1.60) before the host of Montreal at the weekend. His 41 shots and 19 shots-on-target both rank first at the club; an absolute must!
@Anurag_B_ST4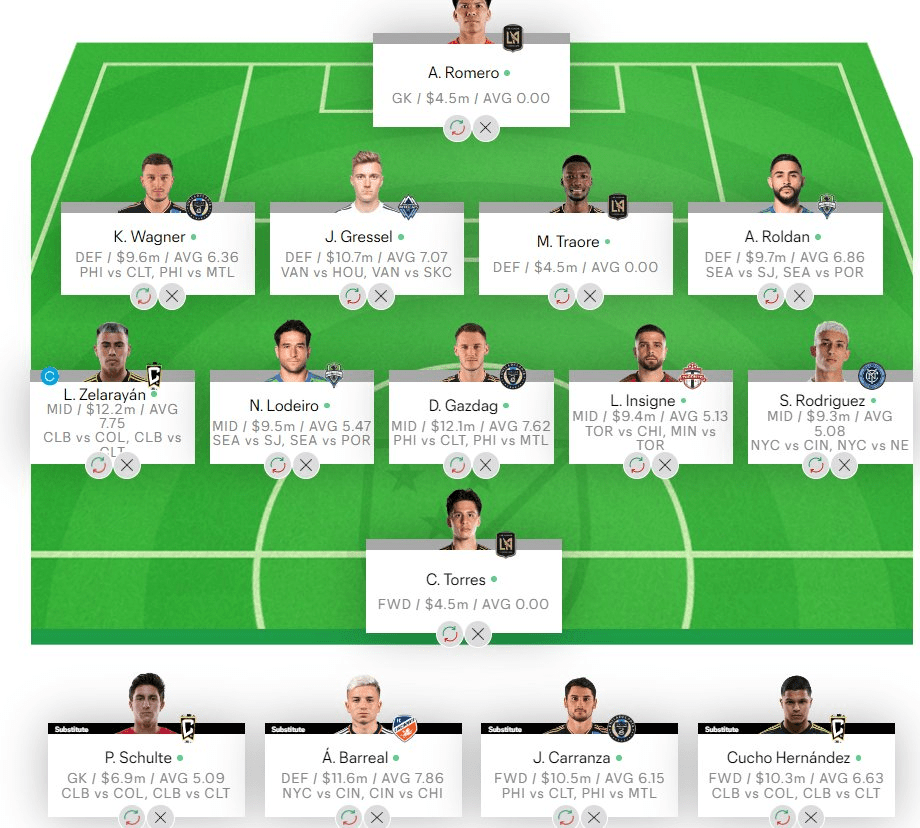 Notes
I'm back! Returning after some busy last weeks. GW14: 82 Points. Up to OVL of 120th For the second HUGE DGW of the season!
The first of many DGWs that are coming up for the next four weeks spread out over the next month or so.
GW15: MLS being a very "home" favoured league most of the time…. my team is filled with DGW players who have two home games.
GKs: Schulte, two great home games, Frei in case Schulte's points aren't enough in his first game of the DGW.
DEFs: Wagner and Gressel, seem like two easy chalk picks again. He has two great home matches and attacking defender Roldan joins above as well for same reason. He is an attacking fullback with two home games. Barreal, despite the split. Cincy defence looks ok with the matchups and Barreal is an OOP defender.
MIDS: The home theme continues. Four mids with double home games are Lodeiro, Gazdag has the two decent home matchups and the talismans of their teams Santi, despite maybe tougher two home games, its at home. We know NYC play better in their baseball-like stadium Insigne, seems like we are slowly getting some form with the victory in last game against DC, has the decent home game in first game against Chicago and second game against Minnesota, could easily return as well FWDS: Two DGW Home games goalscoring main target FWDs: Carranza and Cucho!
As always with the MLS Fantasy rules and line-up dependent as there could be rotation with a heavy number of fixtures coming for all teams in next couple of GWs, player choices may change GL All!
@melvin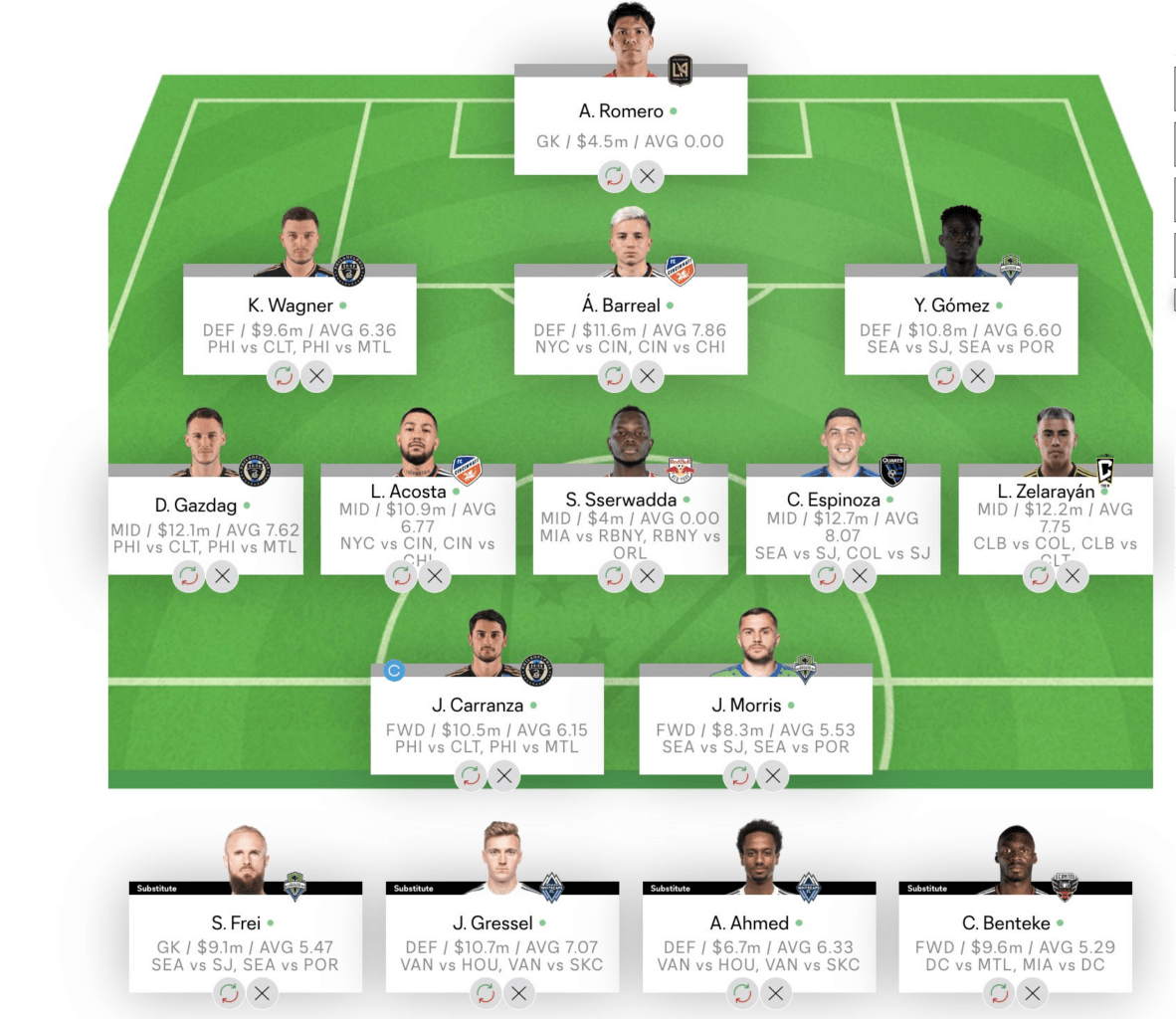 Notes
Defender: Yeimar Gomez (SEA; 10.8m): The Sounders have six Clean sheets in eight (H) games. This is encouraging considering that their two DGW opponents have combined for only one (a) victory this year.
Midfielder: Lucas Zelarayán (CLB; 12.2m); Zelarayan is among the top-12 players in the league for goals, shots, and shots on target. He also has 7.75 PPG which makes him a good pick.
Midfielder: Luciano Acosta (CIN; 10.9m); Acosta is a man in good form, averaging 9.75 points per game over his last four outings. He has reached double digits in four out of his previous five home games.
Forward: Julián Carranza (PHI; 10.5m); Carranza is in excellent form with five goals and three assists in his last seen games. His 19 Shots on target and 41 shots both lead the club; an absolute necessity!
My captain is likely to be one of Carranza or Gazdag.
@MotleyBarnets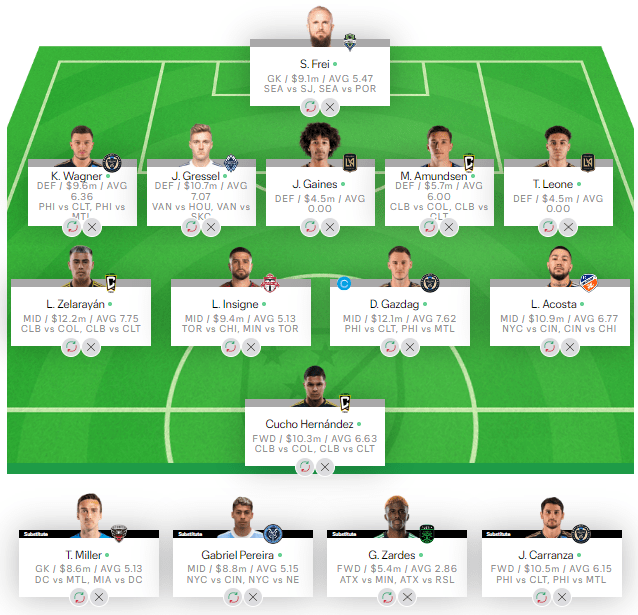 Notes
This is my Round 15 team.
Goalkeepers- With two home games, Frei ($9.1m) is my starting 'keeper with Miller ($8.6m) currently on the bench. Defenders Gressel ($10.8m) completes a Vancouver double-up in defence, whilst Wagner ($9.6m) is another lock in the back-line.
I was also contemplating a double-up on the Seattle defence with Yeimer Gomez, but with Seattle rotation expected due to the rival match against Portland in the second game of the DGW, I've decided to go with Amundsen ($5.7m) who was the second highest scoring player in the last DGW.
Two LAFC "BYE" players completes my backline.
Midfielders – My captaincy this week goes on Gazdag ($12.1m), who is an assured pick with Zelaryan ($12.2m) and Acosta ($10.9m). If Bernadeschi doesn't start in the first game of the DGW for Toronto, then I'm taking a punt with Insigne ($9.4m) who will be on set-pieces.
I'm also taking another punt with Pereira ($8.8m) on the bench, even though NYCFC have been trash as of late.
Forwards – Cucho ($10.3m) is my starting striker, and on the bench I'll have Carranza ($10.5m) and Zardes ($5.4m) – the latter who could be a bargain having scored in his last three games for Austin against fairly decent opposition.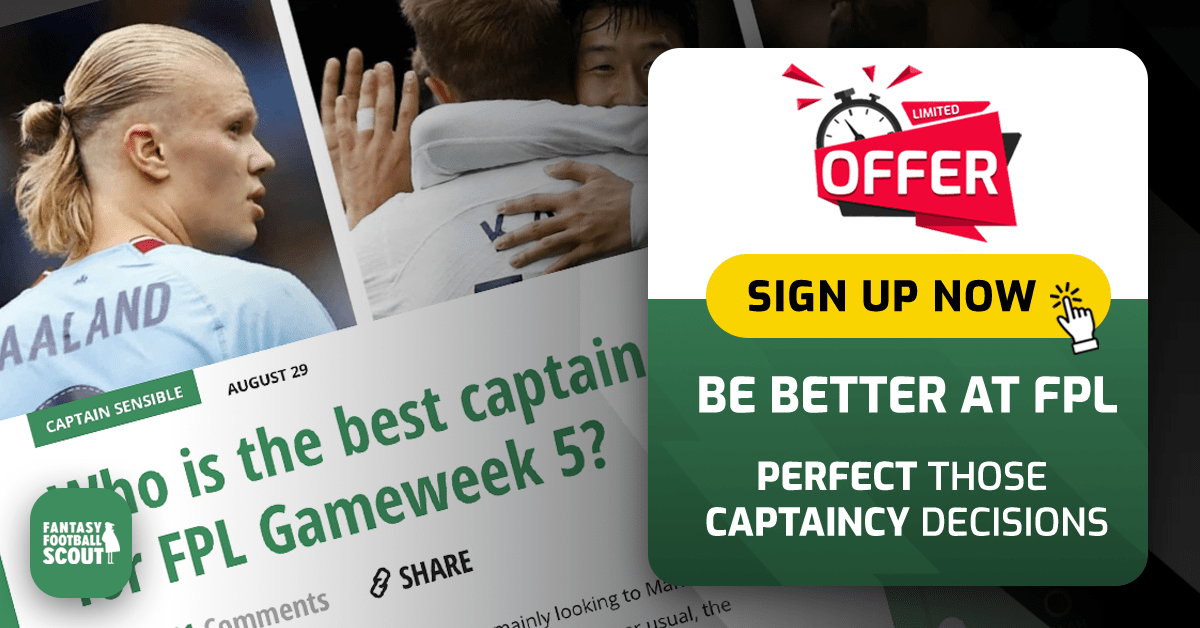 ---
Who were the highest scoring players in FPL 22/23? Find out in our article here.