MLS Fantasy Round 11 team reveals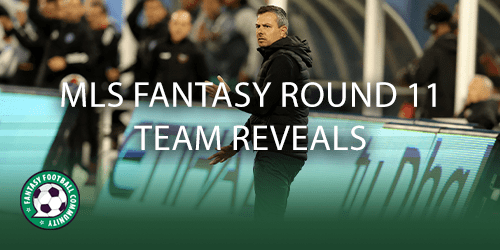 The brand new campaign continues! We take a look at MLS Fantasy Round 11 team reveals from some of the most experienced managers around. They share their thoughts on their teams going into the new round including captaincy.
Looking at some MLS Fantasy Round 11 team reveals can be extremely beneficial for new managers. Seeing some of the best assets, who managers will be looking to captain and their general thoughts can help bring clarity within our own teams.
@dmpwright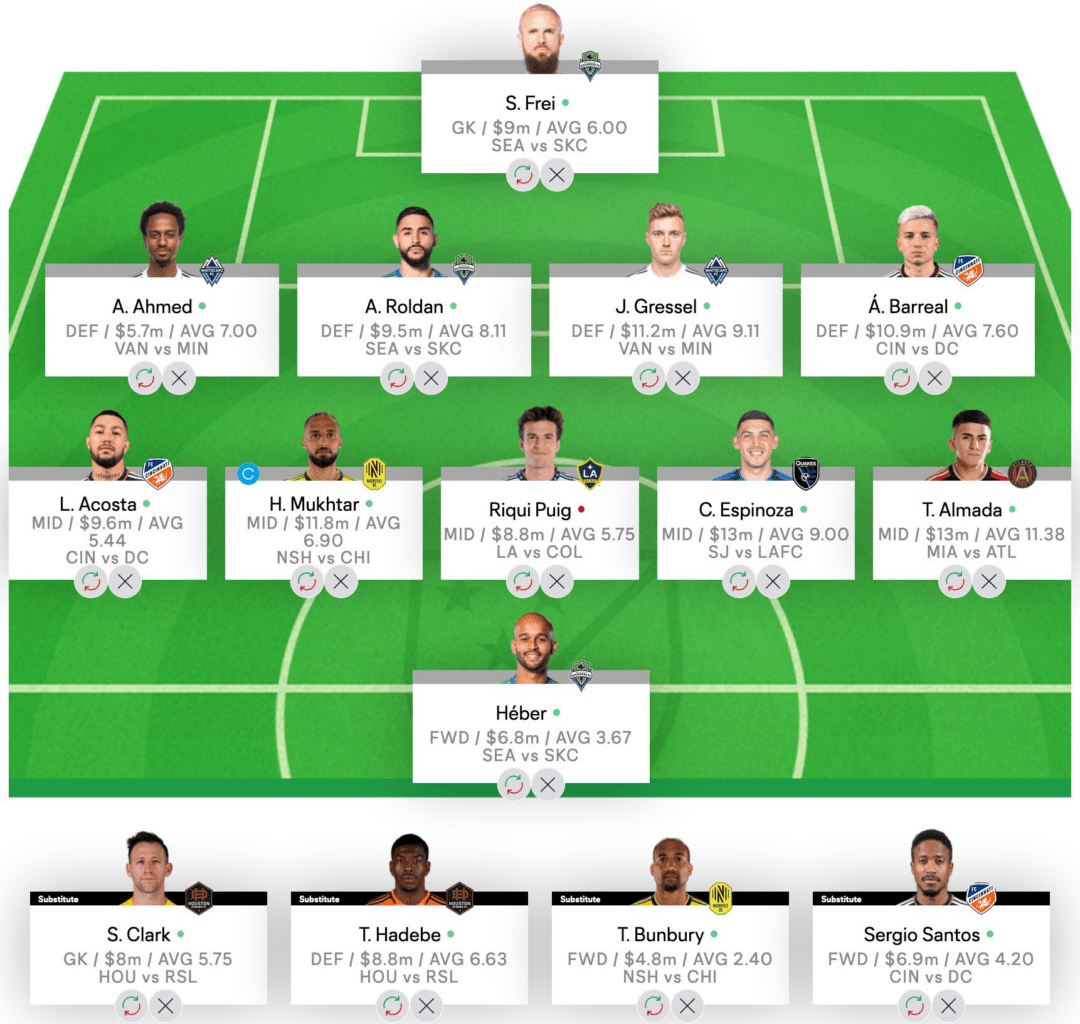 Notes
In goal, I will likely have one of Steve Clark or Yohei Takaoka, with Stefan Frei as my fallback.
In defence, I have paired Clark with Teenage Hadebe and Frei with Alex Roldan. I expect the Vancouver defence to keep a clean sheet at home to Minnesota, so I have doubled up on Julian Gressel, who is now an eye-watering $11.2 million, and the more budget-friendly Ali Ahmed.
My other defender is Álvaro Barreal, who stands a good chance of both defensive and offensive bonus points in Cincinnati's home fixture against DC United. Nashville defenders – particularly Walker Zimmerman, are also worthy of consideration, as is Portland's Juan Mosquera.
Hany Mukhtar (my captain for this round), Riqui Puig and Thiago Almada are currently my only midfield locks – Lucho Acosta and Cristian Espinoza are my other two midfield picks. Acosta has a great home matchup against DC United but has flattered to deceive on multiple occasions this season, while Espinoza's inclusion is likely to be line-up-dependent based on the team that LAFC roll out after their CONCACAF Champions League game against Philadelphia.
Evander and Héctor Herrera are the alternatives should I decide to pivot.
In attack, there are a number of budget options with good home matchups to enable spending elsewhere.
I currently have Teal Bunbury and Sergio Santos on my bench; CJ Sapong and Brian White are also under consideration.
Héber is currently my third striker: with Raúl Ruidíaz still out, he should continue to lead the line for Seattle at home to SKC. However, I may pivot to Chicharito if I can free up funds elsewhere.
@_FutboIOscar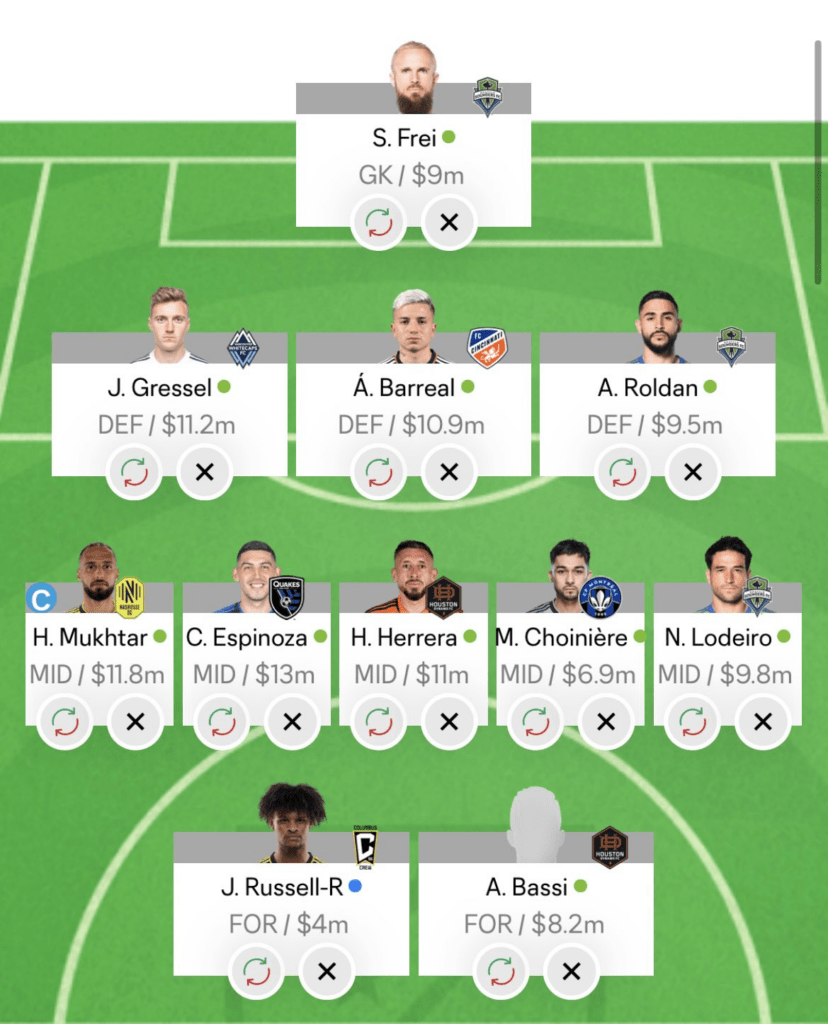 Notes
ROUND 11 – 100 points in Round 10 saw me climb up to 20th overall.
My goalkeepers this week are likely to be Sirois and Frei with each having favourable home fixtures this week.
Gressel ($11.2m), Barreal ($10.9m) and A. Roldan ($9.5m) pick themselves this week for their offensive and clean sheet potential this week.
On my bench is Zimmermann and Hadebe.
My midfield pick this week is Choiniére who's got two goals and one assist in his last two outings. I expect him to continue to do well against Orlando at home this week and he's only owned by 2% of all managers.
Up front I've gone for Amine Bassi of Houston. The Frenchman has gone scoreless in his last two outings but I expect him to be back amongst the goals against RSL at home.
My captain this week will be Hany Mukhtar. The German is hard to look past with six goal contributions in his last five appearances.
@melvinmbabazi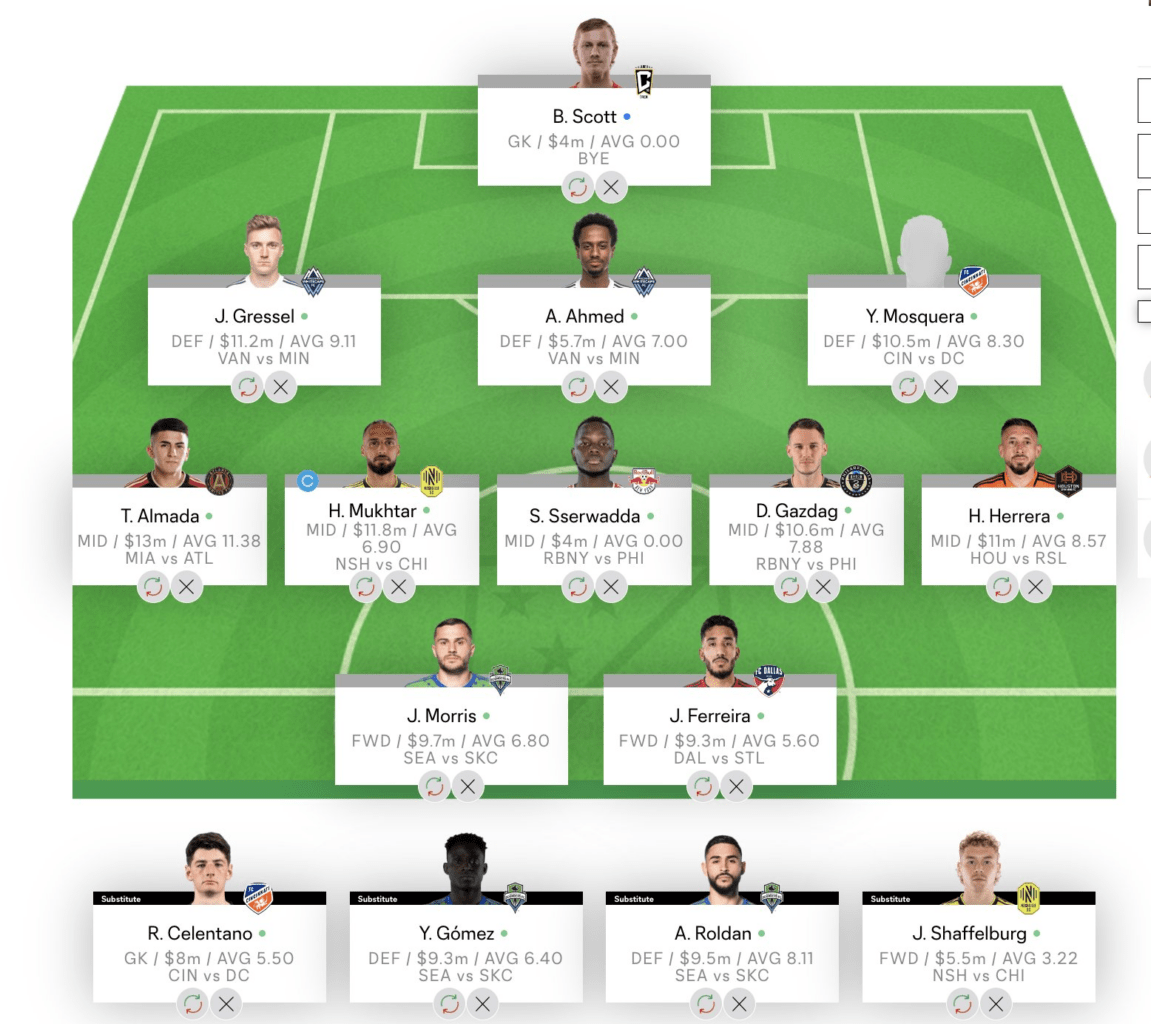 Notes
Defender: Julian Gressel (VAN; 11.2m): MLS defender leader for big chances created and shots. He also got a 12-pointer last week, he poses a good chance to get points again as his playing OOP.
Defender: Ali Ahmed (VAN; 5.7m); Ahmed has 46 points in his last four games and plays OOP and is only 5.7m! Vancouver Whitecaps FC have four consecutive clean sheets and are likely to continue vs Minnesota United FC this weekend.
Midfielder: Hany Mukhtar (NSH; 11.8m) ; Nashville have a favourable home encounter against Chicago Fire FC and Mukhtar has three goals and three assists in five. It also makes him a great pick this round.
Midfielder: Thiago Almada (ATL; 13m), Another Premium midfielder, Almada has five goals and six assists in eight games this season. Almada also averages 11.38 PPG, making him a good option this round.
My captain is likely to be one of Mukhtar or Almada.
@eytexi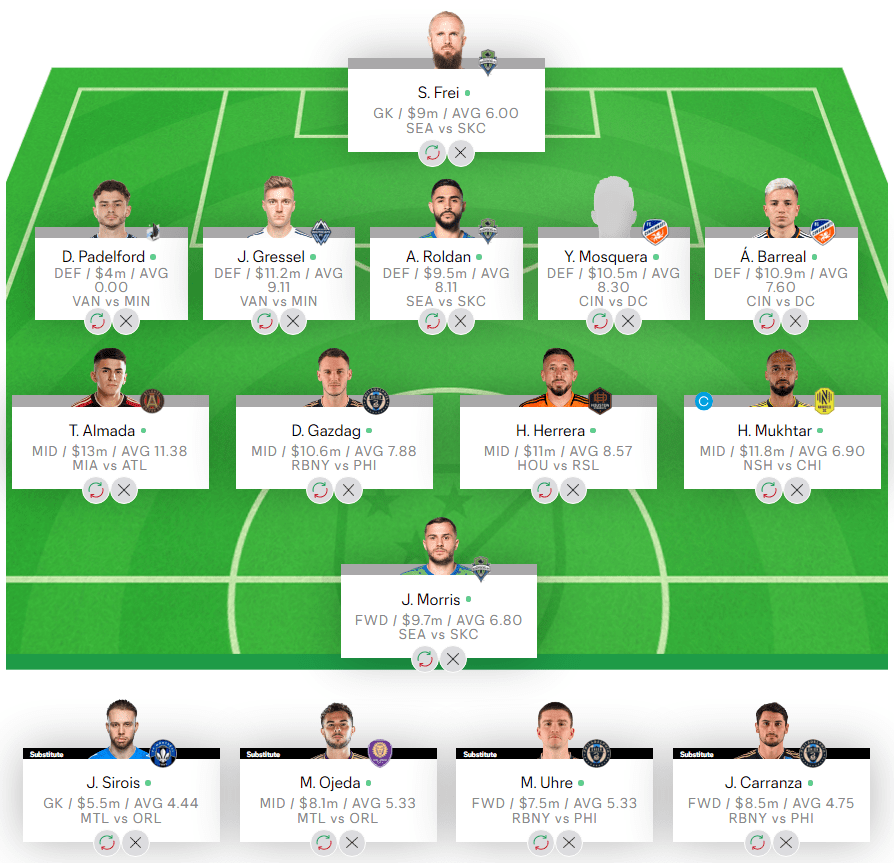 Notes
Seattle Sounders haven't conceded in any of their five home games this season; need I say more? Consecutive nine-point hauls saw Stefan Frei to another 0.5m rise after Round 10; he now goes into Round 11 with MLS-leading winning (1.66) and clean sheet odds (2.37).
Alex Roldán joins him to complete a double-up, three assists and consecutive double-digit hauls absolutely sweetening the deal. 126 final third passes puts him one away from first among MLS defenders. Double-figure hauls in 50% of Rounds so far have seen Yerson Mosquera rise $4.5m in 2023, his eleven defensive bonus in three games deserving of such an accolade.
FC Cincinnati have the MLS' second best winning odds (1.70) and third best clean sheet odds (2.50) for Gameweek Eleven, giving good reason for another double-up! Álvaro Barreal's 26 key passes and 23 accurate crosses top MLS defenders this season, his 12 shots and five big chances created only topped by Gressel among defenders. This chance creation is paying off in returns too; only Almada can top his four assists!
Nashville SC boast the MLS' third best winning odds (1.72) for Gameweek Eleven; although Hany Mukhtar is my only premium coverage from them, he's the captain! Three goals and three assists in his last five, 30 shots (tied 5th in the MLS), 22KP (tied eighth), and a staggering 2022 record all have me sold.
Let's end off with some love for Thiago Almada. 10 direct goal involvements and 11.38 points-per-game; yeah, easy pick. If the away fixture puts you off, he's scored eleven points in all three away games he's played this season. He's missed two games yet ranks third in the MLS for big chances created (eight), second for key passes (28), and fifth for final third passes (163). He's good. He's really good.
@Mahoney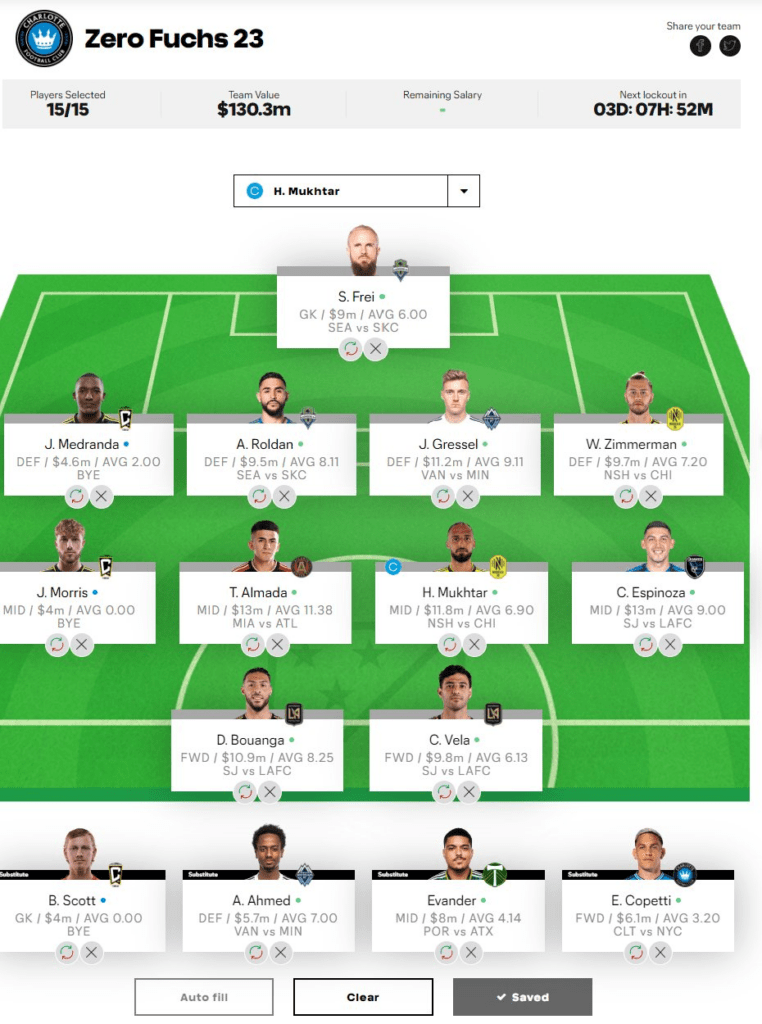 Notes
I hit 91 points in round 10 with a slight move up to 1503.
Gressel with 24 points was a good captain choice and is an option this week again.
Columbus on bye this week and have some good enablers.
I Think Seattle and Nashville have good matchups for defence this week so adding to GK and DEF there.
Nashville are not scoring well yet but have the armband on Mukhtar right now as Chicago could open up for them.
I am going to try the LAFC double up at FWD.
@Anurag_B_ST4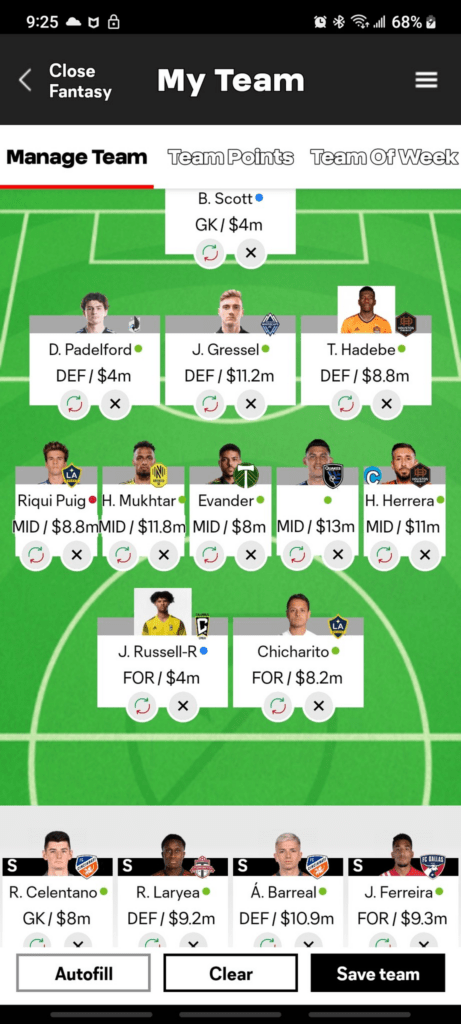 Notes
Round 10: 86 points, OR: 144th.
GK+DEF: Double up on Cincy defence: They have a decent home matchup against DC, Barriel is an attacking def.
Gressel: Feels like an auto selection every week as long as VAN have a good matchup and this week they do.
Hadebe: HOU looks like a good clean sheet game, and has BPS potential. Laryea: May not be the great matchup but has BPS potential.
MID: Espinoza: Despite a tough home game matchup, seems fixture-proof. Insigne: Double up on TOR, with me going to the game and probably relied on to break through that tough NE defence.
Mukhtar: NSH's main man and great matchup. Puig: Despite not yet coming to form, has the matchup to breakout. Herrera: On set pieces and has a great matchup. He is also my current captain as well.
FWD: Chica: Double-up with Puig, the main goal scorer and matchup for a duo breakout game.
Ferreira: Shows up in home games most of the time and has a great matchup against the once form and now out of form expansion side, STL.
As always, with rolling lockouts and unlimited transfers and my added commitment of going to the TOR-NE game. My line-up may change, may not but I will keep eye on line-ups as best as I can.
@MotleyBarnets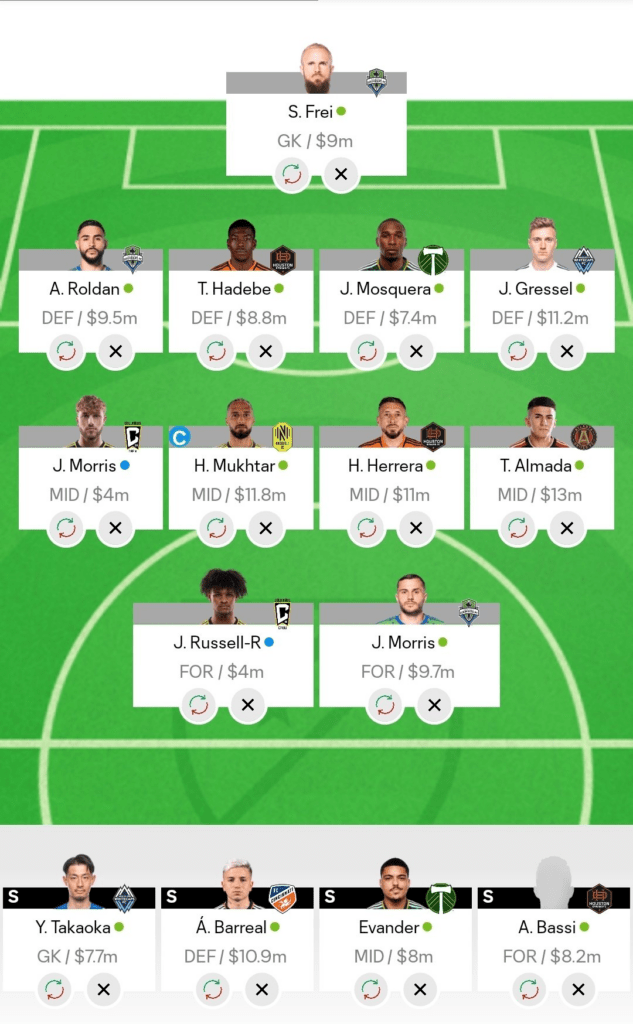 Notes
GK – Both Seattle and Houston are very appealing for 'keeper picks this week – particularly Seattle given that they have they have the Sunday game. This gives you plenty of time to consider a "Keeper-roo".
Vancouver are also another team that will be quite chalky, especially given Takaoka's cheap value ($7.7m) and recent form. Either way, Frei ($9m) will be my starting 'keeper with one of Takaoka or Clark ($8m) on the bench.
DF – The above three teams all have defenders that are high on my shortlist this week, and I won't be alone with making this certain player a number one priority in defence – Gressel ($11.2m).
If I don't pick Clark in goal, then Hadebe ($8.8m) would be my defender of choice with his average points of 9.25 per home game being narrowly pipped by Alex Roldan's score of 11 points. The Seattle man is also making my team which could give me a potential Seattle defensive double-up.
My final defensive starting spot is a toss-up between Barreal (CIN – $10.9m) and Mosquera (POR – $7.4m). My preference is slightly for the latter given that his average score at home is 10.3 points. He is also facing an Austin team that, over their last three away games, have given up an average of 7.63 points to their oppositions defenders on the road.
MF – I can imagine that most managers will be picking the likes of Mukhtar ($11.8m) as their captain, and I won't be any different.
Herrera ($11m) and Almada ($13m) will accompany him in my starting XI in midfield, along with a BYE player.
FW Along with a BYE player up front, I've slotted in Morris ($9.7m) – but I will wait until Sunday evening to finalise that spot depending on how Seattle line up in Round 11.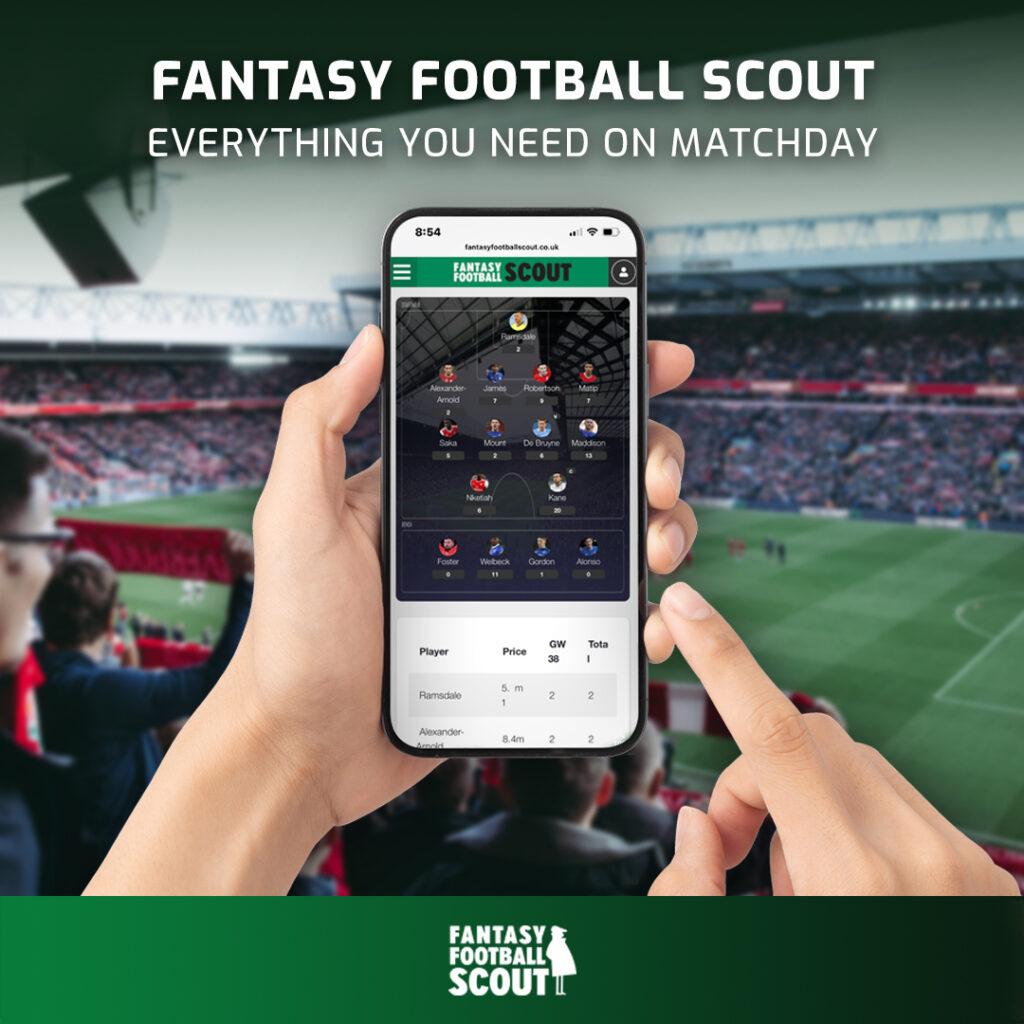 ---
Get ready for Gameweek 35 FPL with all of our best picks for the round ahead right here.