FPL Manchester City Midfielders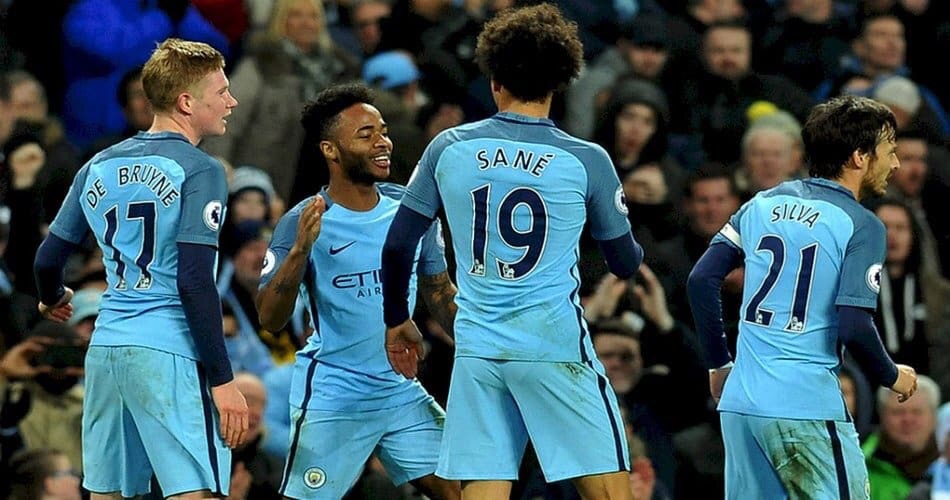 Update 3: It seems like Fantasy Premier League managers are still really undecided on which Manchester City midfielder to bring in. Here's the latest tweets from the community. FPL Cloud assesses the goal threat and compares the output of the midfielders to the forwards. FPL Heisenberg reminds us that Sterling's effectiveness won't be limited by the fitness of Aguero. FPL editor looks at value, with Sane and Sterling leading the way over the last 2 weeks. From a statistical point of view, all indicators point to Sterling but game time and Pep rotation are the limiting factors.
Which Manchester City midfielders do you own and who do you intend to bring in for Gameweek 8? Drop us a tweet and let us know!
#FPL Key Stats Comparison

£10.5M Man City Forward #Versus £7.9M Midfielder pic.twitter.com/7qNla7UYdQ

— Ste #FPL ? (@fplcloud) October 11, 2017
Aguero return bad news for Sterling?#Sterling goals
?GW2⚽
?GW3⚽
?GW5⚽
?GW6⚽⚽#Aguero minutes
?GW2~90
?GW3~24
?GW5~90
?GW6~90#FPL #MCFC

— FPL Heisenberg (@FPL_Heisenberg) October 11, 2017
#MCFC?#SCFC#Silva
?13
?️?️#Sterling
?7
?️?️
?#KdB
?3
?️
?#Aguero???
?️?️?️?️?️?️?️?️
⚽⚽⚽⚽⚽⚽⚽⚽

Plus Eden ?#Hazard?#CPFC
?️8
⚽
?️?️

— ?????? (@FPLUFC) October 12, 2017
Man. City, last 2GWs ?

Sané 19pts / value 1.14
Sterling 16pts / 1.01
Silva 14pts / 0.82
KDB 14pts / 0.70

Value =
points per game ➗price https://t.co/JHdYkK2wYa

— The Editor (@FPLEditor) October 11, 2017
UPDATE 2: FPL managers still can't decide which midfielder to put their money into, and with the news that Aguero is back in training, Jesus becomes a question mark in our thoughts.
El Statto provides another great comparison and FPL Tips provides another great video comparing all the key figures. They also ask if we should be considering a United midfielder instead.
Head to Head – Silva is purple and left pitches & Sterling green and right pitches pic.twitter.com/ALKjuU8gFX

— Él Statto (@FPL_ElStatto) October 10, 2017
? NEW #FPL VIDEO ?

David Silva vs Sterling – wondering which Man City midfielder to pick up for #GW8?

➡️ https://t.co/13iaN4KqnT pic.twitter.com/T2qodG58XB

— FPLtips (@_FPLtips) October 10, 2017
? NEW #FPL VIDEO ?

Should Mkhitaryan make way for a Man City midfielder? ?

➡️ https://t.co/nFxSQWYvPV pic.twitter.com/iZYYbpp1W7

— FPLtips (@_FPLtips) October 10, 2017
UPDATE: The debate rages on regarding which Manchester City Midfielder to own in FPL ahead of GW8. There's some international news which could influence our decision making & the guys at Fantasy Football Fix have provided us with an excellent comparison, as well as looking at the popular transfer combinations!
https://twitter.com/iap_fpl/status/916407142051078144
Which Man City midfielder?https://t.co/6D3rmi3lZ2 pic.twitter.com/tQihvVbbkd

— Fantasy Football Fix (@FantasyFootyFix) October 5, 2017
Meanwhile, @Gameweek38 have given us a timely reminder about price, and a couple of the City assets feature in @InfernoSix bonus points comparison chart! 
Sane over Silva saves £0.2m.
Sterling over Silva saves £0.6m.

IMO Sane isn't worth the risk. Sterling just about might be.

— Gameweek 38 ? (@Gameweek38) October 6, 2017
Top 10 MIDs in BPS order. Crude comparison of pts/90m vs Bench Mark(based on £) KDB poor. Gross pts from 1 gm. Need a consistency measure.? pic.twitter.com/vbv4LuUGM8

— Richard Kenny (@InfernoSix) October 6, 2017
Manchester City are on fantastic form and have excellent fixtures coming up.
If you are wondering which midfielder to invest in, check out the opinions of @TheTinkerMen, @FPL_ElStatto, @FPL_Ted, @the12thmantimes, @YahooFantasy_UK and @FPL_Aussid. Don't forget to follow them all on Twitter!
Looking to draft in a Man City mid?
Over the last 6 GW's Silva has been the assister, Sterling the goalscorer, Sane the all rounder #FPL pic.twitter.com/ukzx1Fd9Me

— TheTinkerMen (@TheTinkerMen) October 4, 2017
Where do you go for a #MCFC midfielder? #FPL thoughts? pic.twitter.com/quo9NwoMg7

— Él Statto (@FPL_ElStatto) October 3, 2017
https://twitter.com/fpl_ted/status/915302858328825857
Fantasy Premier League – Man City midfielders – Statistical Analysis https://t.co/vXR2Nzzt7j pic.twitter.com/bu6gmCaIm5

— Twelfth Man Times (@Twelfthmantimes) October 4, 2017
⬆️goals
⬆️starts
⬆️shots
⬇️price

Sterling over Sane a no-brainer?#FPL | #PL pic.twitter.com/vgO2ujA1S2

— Yahoo Daily Fantasy (@YahooFantasy_UK) October 4, 2017
2/2 pic.twitter.com/OdTMghZ3pV

— #FPL Aussie (@FPL_Aussie) October 5, 2017