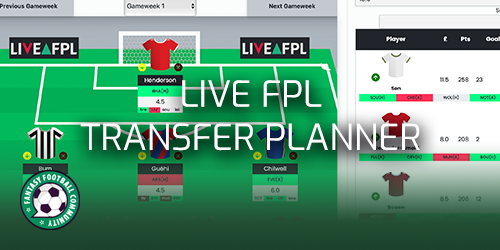 Over on Live FPL Ragaboly has activated the site to allow FPL managers to plan their first drafts. This allows managers to plan their squads ahead of the official price releases.
The Transfer Planner page on LiveFPL allows managers to select players and build a squad as they will when the game goes live. Ragaboly has used Machine Learning as well as manual alterations to predict player prices. These player prices will be updated with the official prices once they are released.
Managers do not need to sign up on LiveFPL to be able to create a draft team. However, managers who create free LiveFPL account, will be able to 10 different drafts and save them permanently. No account gives you 1 free draft.
LiveFPL's Transfer Planner allows teams to be built with an extra £0.5m. This is to allow for discrepancies with the official prices when they are released. Last season the transfer planner was ~80% exact, with 90%+ differing by only +/-0.5 from the official price. When building squads in the planner it should be remembered that pricing is not exact science, so please keep that in mind in case prices are off.
---