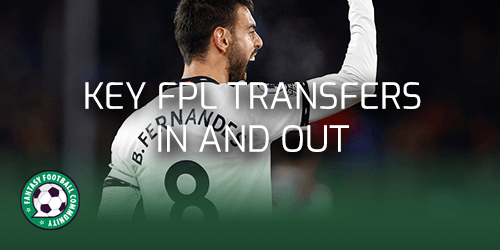 Gameweek 22 started on Friday evening with the match between Chelsea and Fulham. As is is a double gameweek it continues right through until Wednesday evening when Man United play Leeds. Here we take a look at the transfer market and the key FPL transfers that happened ahead of Gameweek 22. As well as the popular early moves ahead of Gameweek 23.. FPL managers can also check who is popular and who isn't through the Official FPL website.
The transfers below are divided in to two sections. The Key FPL transfers ahead of yesterday's Gameweek 22 deadline, as well as the transfers markets so far ahead of Gameweek 23.
What happened ahead of Gameweek 22?
In the build up to Gameweek 22 the January Transfer Window closed. This meant that all the new FPL players were added to the game and as a result some of them started to gain interest from FPL managers. Likewise there were some heavily owned FPL assets who were sold ahead of the deadline. Examples of this are, Joao Cancelo and Matt Doherty who both left the league. Therefore FPL managers needed to sell these assets and replace them with ones who could return points.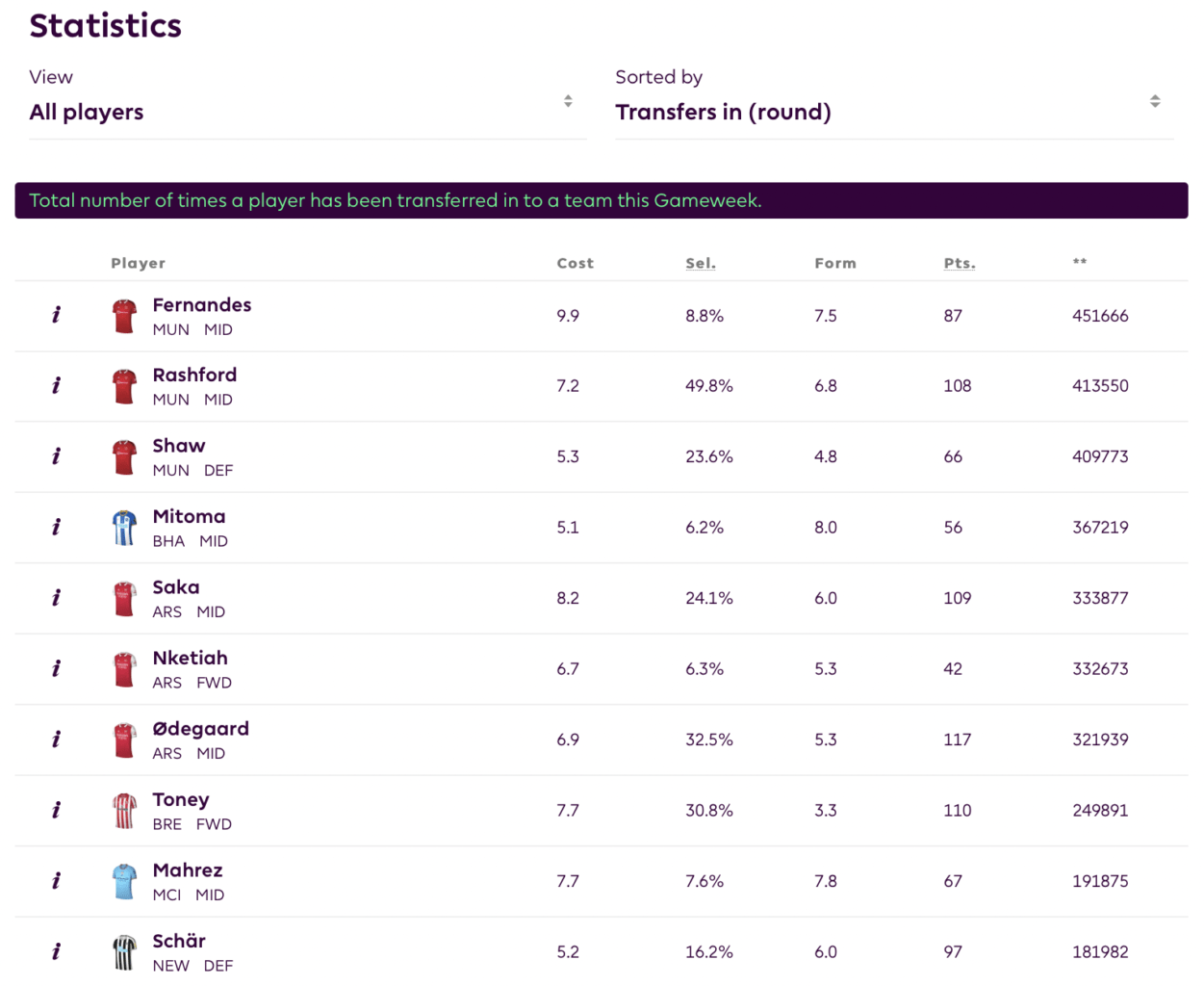 Given Manchester United play twice in Gameweek 22 it isn't surprising to see three of their assets as the most transferred in. Cancelo's move to Bayern Munich means he was unsurprisingly the most transferred out as managers looked to invest in a defender to replace him.
Key FPL transfers ahead of Gameweek 23
Top transfers in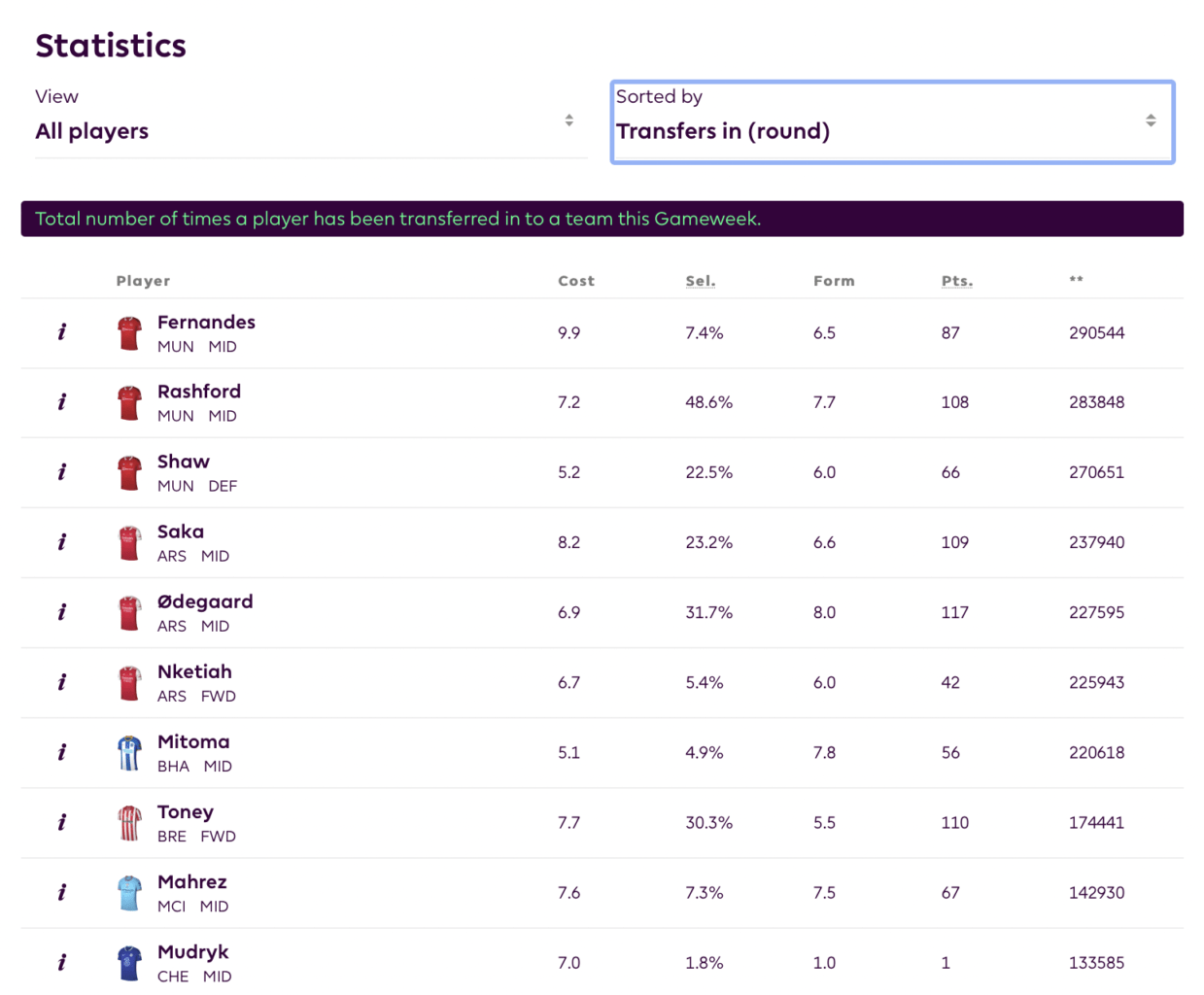 The Premier League's announced that Manchester United and Leeds will play twice in Gameweek 22 if they both get a result in the FA Cup. This has meant that the Red Devil's assets are proving popular in the transfer window.
Bruno Fernandes (£9.9m) has now returned in each of the last five Premier League matches. He is also third for creativity and fourth for influence in the ICT index for midfielders. Fernandes has hadover 290,000 transfers in so far and is the most popular transfer target ahead of Gameweek 22 so far.
Fernandes' Man United teammate Marcus Rashford (£7.2m) has returned in all bar one match that he has played for Manchester United since returning from the World Cup with England. He was the most transferred in player ahead of Gameweek 20, the fourth most transferred in ahead of Gameweek 21 and now the second most transferred in ahead of Gameweek 22. Rashford has over 283,000 new managers so far.
Luke Shaw (£5.2m) is the third most popular transfer in. The defender is currently in 22.1% of FPL teams. He has had over 270,000 transfers in since the Gameweek 21 deadline.
Bukayo Saka (£8.2m) will play twice in Gameweek 23 after a fixture against Everton in Gameweek 22. Everton have conceded 11 goals since the Premier League returned after the World Cup, more than any other side in the division. Saka has had over 237,000 signings so far.
Top transfers out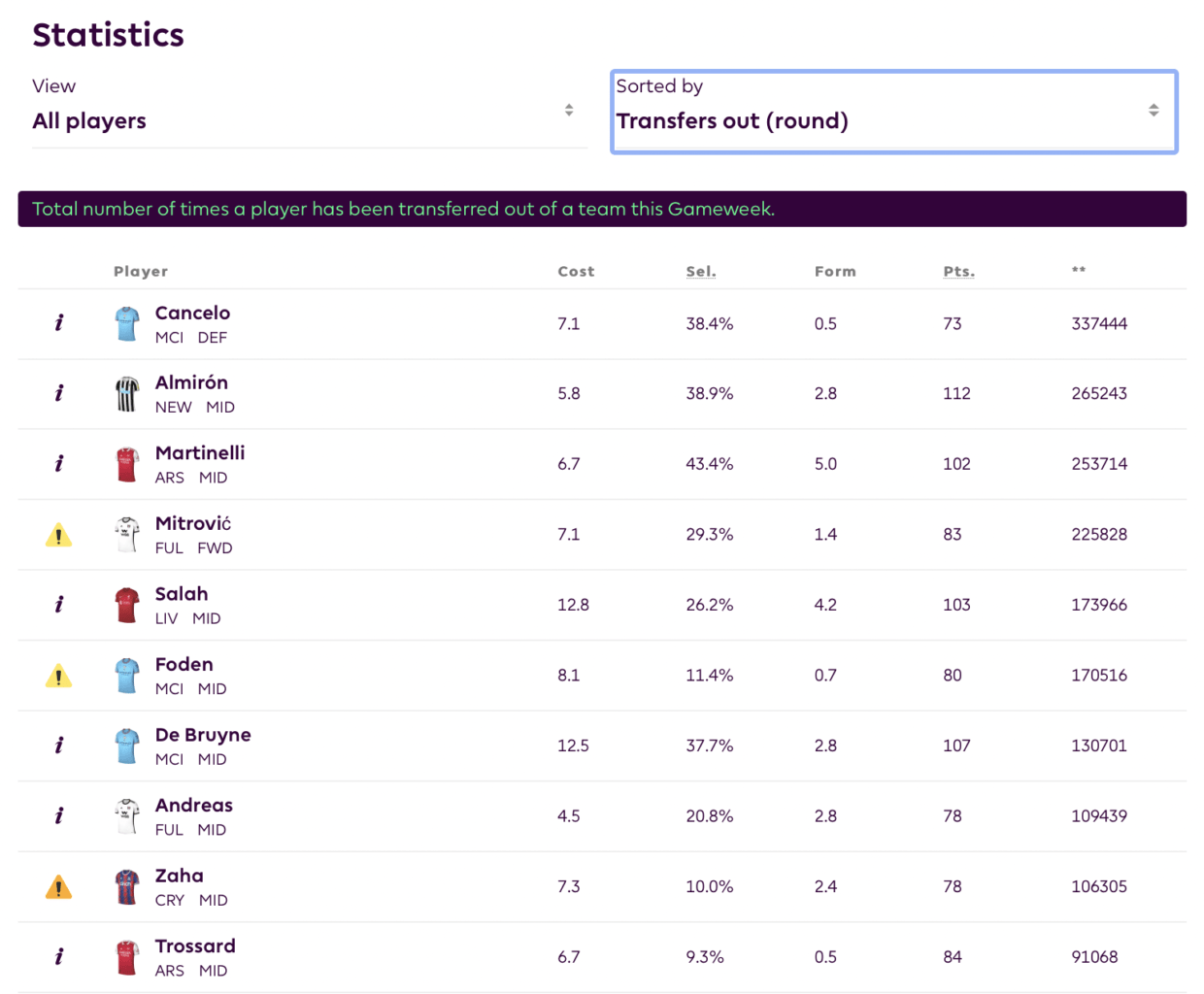 Man City's Joao Cancelo (£7.1m) has failed to feature in either of City's last two fixtures. He is the second most expensive defender in the game and with a lack of starts is a key sell for FPL managers so far this week. Over 337,000 managers have sold Cancelo ahead of a match against Spurs in Gameweek 22. Man City also play twice in Gameweek 23, so it appears that FPL managers are wary of his lack of minutes of late.
Miguel Almiron (£5.8m) was in fantastic form ahead of the World Cup, returning in returning ini seven of the eight fixtures between Gameweek 9 and 16. However, since the restart Almiron has returned just once with a goal in Gameweek 17. He has since returned four blanks. Almiron has been sold by over 265,000 managers.
Despite Arsenal being in excellent form Gabriel Martinelli (£6.7m) is a popular transfer out this week. Many FPL managers are likely making the move from Martinelli to teammates Martin Odegaard (£6.8m) or Bukayo Saka (£8.2m). Martinelli has over 253,000 transfers out so far.
After failing to return in the last three Premier League matches and picking up an ankle injury which leaves him flagged in the game in Gameweek 21 Fulham's Aleksandar Mitrovic (£7.1m) is the fourth most transferred out player. Mitrovic has been sold by over 225,000 managers so far.
Liverpool's Mo Salah (£12.8m) continues to be high on the transfers out list. Last week he was the second most transferred out, he is currently the fourth most sold player ahead of Gameweek 22. Liverpool have been struggling for consistency recently and Salah has now failed to return in the last four Gameweeks. Over 173,000 managers have parted company with the most expensive player in the game.
---
You can catch up with all of our great FPL articles here.