Key Dates for FPL managers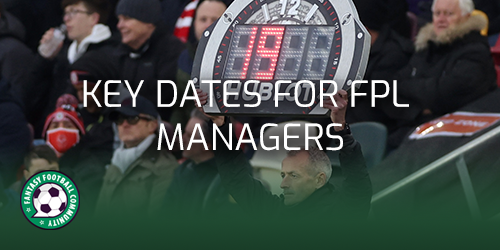 The 2021/22 Fantasy Premier League campaign is now over. If they haven't already FPL managers while shortly be turning their attention to the new campaign. Here we look at a few key dates for FPL managers over the summer.
The Transfer Window
The transfer window opened for Premier League clubs on the 10th June.
Some of the transfers which have already been approved will be finalised on the first of July. Erling Haaland's much-discussed transfer from Borussia Dortmund to Manchester City for example will happen then.
The transfer window will remain open until the 1st of September.
Premier League Fixtures
The Premier League fixtures are released on at 9am on Thursday 16th June.
When will the 2022/23 FPL game launch?
FPL launch day has been getting earlier every year. This is in part due to the timings of the last two seasons. The 2022/23 is due to start earlier than normal as a result of the World Cup in November.
Here are the launch dates for previous seasons:
A similar, 51-day gap between FPL launch date and the Premier League kick-off this time around would give us an estimated relaunch of Wednesday 15th June.
Last season, we got a drip-feed of prices from three days before the June 23rd relaunch. If we get player price releases this summer it could mean an imminent launch for the 2022/23 game.
When is the first match of the 2022/23 Premier League season?
The 2022/23 Premier League season is scheduled to get underway on the weekend on Saturday 6th of August. However, there is often a televised match on the Friday night before that.
How will the World Cup impact the Premier League?
The English top-flight teams will contest 16 fixtures up until the weekend of Saturday 12th November, pausing for the winter World Cup in Qatar.
Domestic action will return on Monday 26 December, eight days after the World Cup finishes.
When does the 2022/23 season end?
Gameweek 38 matches will be played on Sunday 28 May.
---
Already looking ahead? Check out the new signings to the Premier League so far.