How many Double Gameweek 33 players should managers aim for?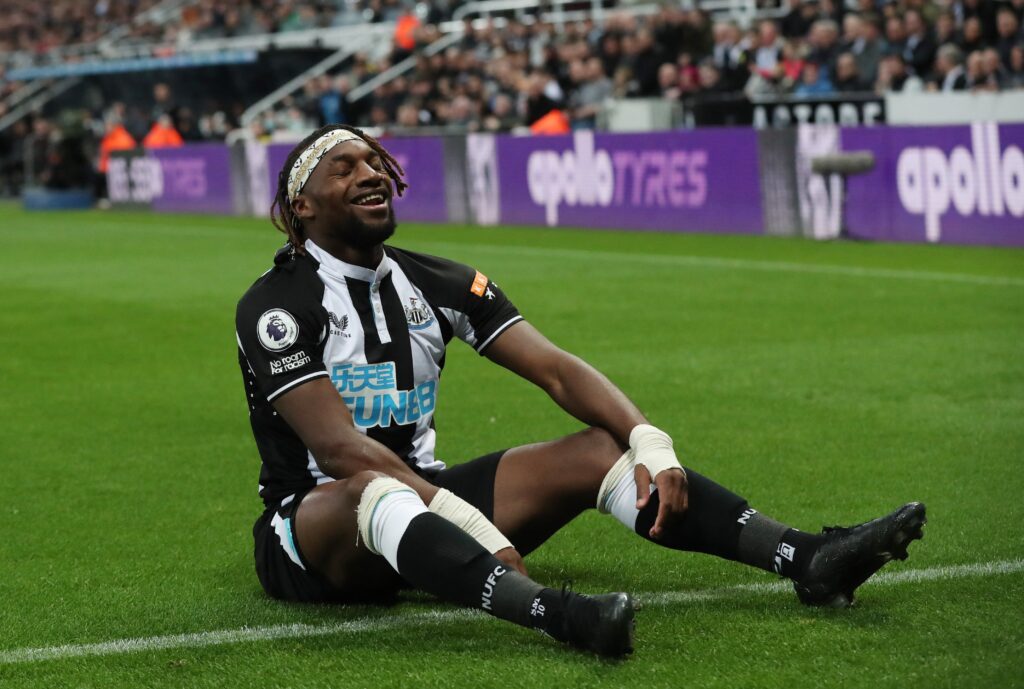 Seven teams have a Double Gameweek 33. For FPL managers not using a chip, let's find the acceptable number of doublers to get by on.
---
Double Gameweek 33 fixtures
Seven teams will play twice next week, with varying degrees of difficulty.

Elsewhere, the pick of the single Gameweek fixtures puts both Man City and Spurs at home to Brighton. West Ham host Burnley too.
Several well-known FPL managers have advocated either using a Free Hit or Bench Boost chip. Alternatively, for those not tempted to, how many Double Gameweek players is enough to survive on?
Most-owned players
Using the top 10k as a sample size, here are all the players with over 7% ownership during Gameweek 32. Thanks to LiveFPL for the data.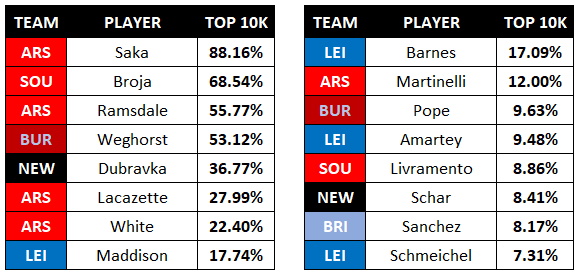 Naturally, since the Gameweek 32 deadline passed on Friday evening, the most-bought players have been from these seven teams. James Maddison, Fabian Schar, Ben White, Chris Wood and Bukayo Saka in particular.
Going through the teams one-by-one, a plan can be devised to judge how many doublers are needed.
Arsenal
As Saka is one of the game's most-owned players, he is surely an essential name to have. Forward Alexandre Lacazette has considerable investment, with his place in the line-up secured for the first time. It's a shame he's only scored once from his last 11 matches though. Defensive coverage either via White, Gabriel or Aaron Ramsdale is recommended. VERDICT – TWO.
Brighton
The Seagulls may play twice but they are difficult trips to Spurs and Man City. Even if they were able to repeat Saturday's win at Arsenal, it's hard to predict where it will come from. VERDICT – NONE.
Burnley
Although the trip to West Ham is tricky, the Clarets will be excited to host the same Southampton that has just lost 6-0. The problem is that Burnley themselves are a constant trap for FPL managers. Wout Weghorst has let many down, although their defence isn't too bad. VERDICT – ONE.
Leicester
The Foxes have their Europa Conference League quarter-final second leg on Thursday night. With this in mind, even key players Harvey Barnes and James Maddison come with a warning. It's a shame though, as their pair of fixtures look full of promise. Defensively, they still rank amongst the league's worst in several basic shot-conceding areas. VERDICT – ONE.
Man United
Free Hitters are seemingly planning for two or three Man United men, in preparation for the first game against Norwich. Yet the manner of their 1-0 defeat to Everton, combined with other lacklustre outings against Watford, Leicester and Man City, may lead to some re-thinking. Bruno Fernandes and Cristiano Ronaldo are expensive and hard to justify but perhaps Jadon Sancho will be a good differential. VERDICT – ONE.
Newcastle
The Fantasy Football Scout Fixture Ticker rates Newcastle's two matches as the best. However, they've been an unpopular hunting ground for FPL talent this season. Allan Saint-Maximin was fairly well-chosen before the winter, with Martin Dubravka now the preferred back-up goalkeeper for many of the top 10k. Neither he nor Fabian Schar are essential but the latter has been great value recently, notching two goals and an assist. VERDICT – ONE.
Southampton
Ralph Hasenhuttl's side was close to securing their annual 9-0 defeat on Saturday, although Chelsea stopped at six. Quite frankly, the Saints look and play like they're on their holidays. Their last five outings have seen 6-0 and 4-0 losses alongside home defeats to Newcastle and Watford. Armando Broja has high ownership but only because there are usually other transfers to make. He is without a goal in his last seven matches. VERDICT – NONE.
Double Gameweek 33 – Conclusion
To summarise, FPL managers opting against a Free Hit should aim for six Double Gameweek players. Four are currently on over 40% ownership amongst the top 10k, with several unpopular FPL teams like Brighton, Newcastle and Leicester playing twice.
Even five would be fine, alongside popular single Gameweek names from Spurs, Liverpool and Man City.