Gameweek 29 best wildcard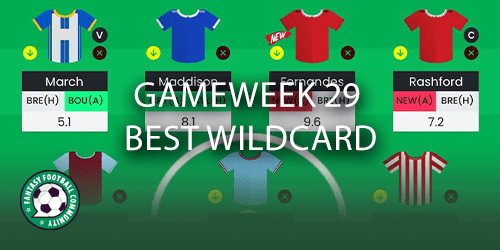 Looking at the Gameweek 29 best wildcard team. Using the Fantasy Football Scout season ticker we can see which teams have the best run of fixtures. This can then aid FPL managers in picking out some of the best assets for the run ahead.
The wildcard gives managers the opportunity to change their entire team for any reason. Managers activate their wildcards for several reasons. Whether that be to target fixture swings or just change their team up, the wildcard can be precious to our planning.
Fixture ticker
We can see from the ticker below, the teams at the top have the easiest fixtures, whilst the teams at the bottom have the toughest fixtures up to Gameweek 34 (a six match period).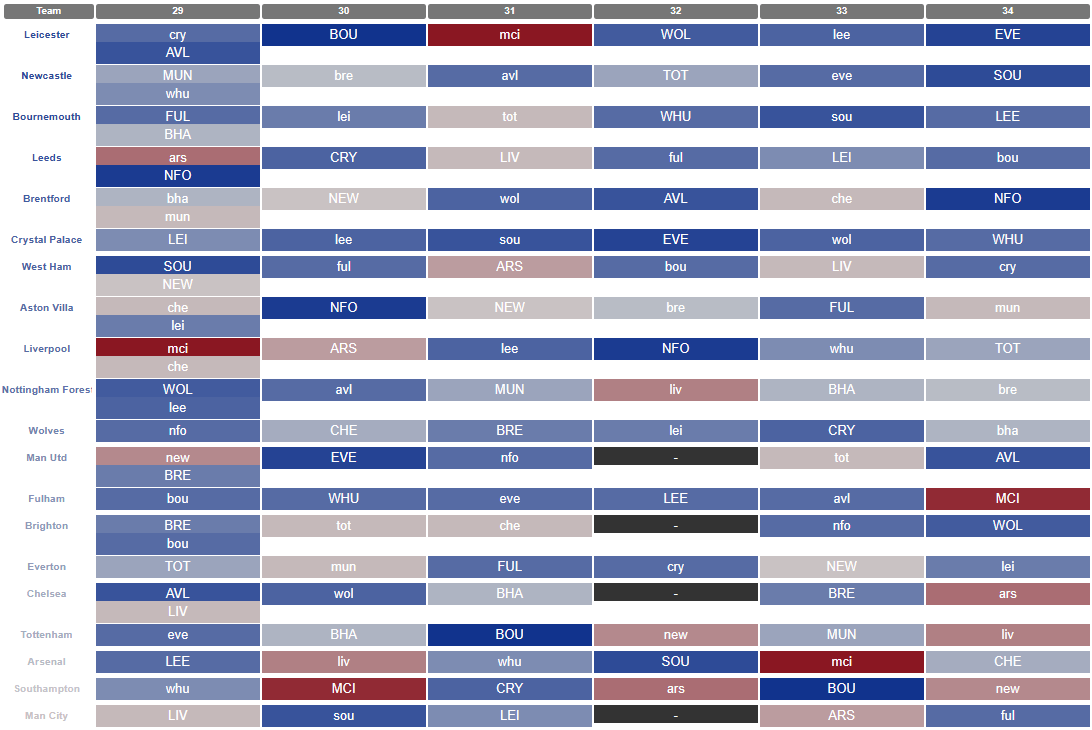 Who has the best fixtures?
Leicester, Newcastle, Bournemouth, Leeds and Brentford all make up the top five teams with the easiest fixtures until Gameweek 34.
Who has the worst fixtures?
Manchester City, Southampton, Arsenal, Tottenham and Chelsea all make up the bottom five teams with the toughest fixtures until Gameweek 34.
The best wildcard team
Trying to find balance between attacking the double Gameweek ahead, the blank Gameweek in 32 and double Gameweek in 34 will be key.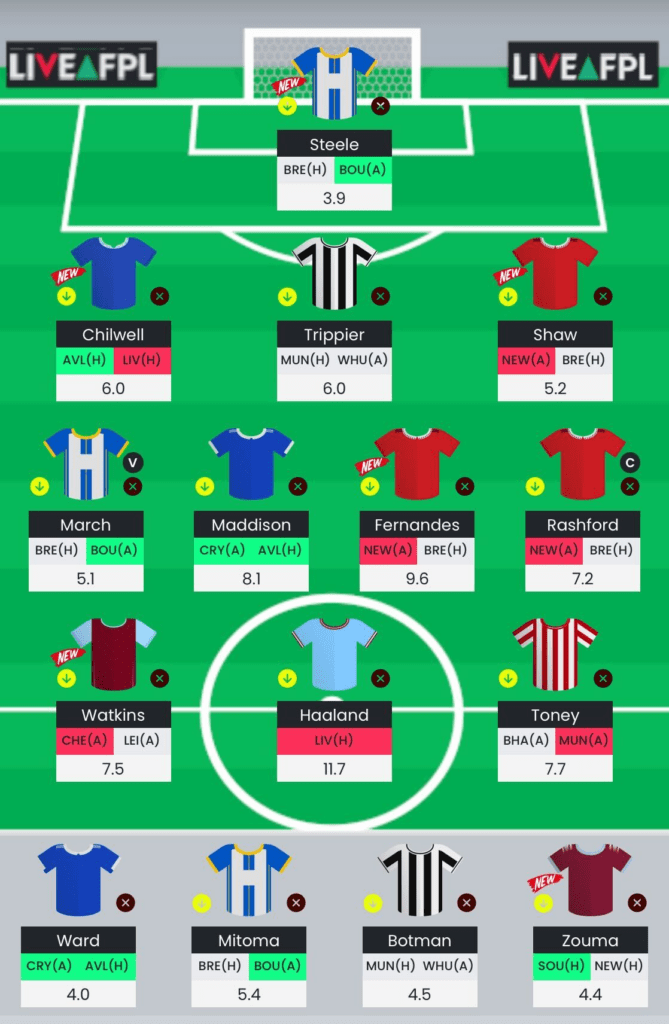 Goalkeepers
Brighton have been maintaining some fantastic underlying defensive stats lately and Jason Steele (£3.9m) looks to have cemented first team as he has started the last three Premier League games. Steele could also have two potential Gameweeks coming up.
Leicester's Danny Ward (£4m) makes a solid backup option to Steele. Ward has a double Gameweek ahead and plays in blank Gameweek 32 and so can step in for Steele when he blanks in that round. If we find news that his back-up Daniel Iverson (£3.8m) will start then we can make a switch ahead of the deadline.
Defenders
Chelsea have a double Gameweek ahead. The Blues have also been playing with a wing-back system meaning Ben Chilwell (£6m) gets into some of the most advanced positions on the pitch. Chilwell has also been directly involved in half of Chelsea's last eight goals in all competitions.
Newcastle have had the best defence in the league this season. They also have a double Gameweek ahead and play a fixture in blank Gameweek 32. Kieran Trippier (£6.1m) has sustained better distribution stats than any other defender in the league this season whilst also taking set pieces.
Manchester United blank in Gameweek 32 but have the potential to double twice in the upcoming period. Their standout option at the back is Luke Shaw (£5.2m). The left-back has managed four returns in his last six games.
Newcastle's Sven Botman (£4.5m) makes a great budget enabler. The centre-back also play in Gameweek 32 so will come in handy when we look to bench a blank Gameweek player. West Ham have the potential to double in Gameweek 34 as well as playing a fixture in blank Gameweek 32. Because of this, centre-back Kurt Zouma (£4.4m), who is nailed in the West Ham defence, makes a great option moving forward.
Midfielders
Brighton rank amongst the best four teams in the league in the last six Gameweeks for shots in the box (56), big chances total (16) and shots on target (31). Because of this and the potential of two double Gameweeks ahead, Solly March (£5.1m) is an easy inclusion. Brighton continue to pour out attacking options via Kaoru Mitoma (£5.5m). The Japanese international has managed a whopping eight returns in his last 10 games. Mitoma sits as the first substitute on the bench but owners may be tempted to swap him for another player in the starting line-up.
Manchester United also have the potential to double twice in the upcoming period. One player who cannot go a miss is Marcus Rashford (£7.3m). Not only has he managed seven returns in his last 10 matches, including three double-digit hauls but he is also the standout captaincy option in the round ahead. Manchester United's impressive offensive stats and double Gameweeks ahead indicate it could be wise to double up on their attack. Bruno Fernandes (£9.6m) has created the joint most big chances in the last six Gameweeks (five) and also takes his teams penalties.
Leicester sit first on the fixture ticker over the next period. The Foxes face some of the worst defences in the league. Their standout attacking option is James Maddison (£8.2m) who has managed nine goals and six assists this season from 20 games.
Forwards
Manchester City and Erling Haaland (£12m) have dominated many of the key offensive data points all season. The Norwegian sits as the highest owned and highest scoring player in the game whilst also having the potential to double in Gameweek 34. It could be vital we monitor news on his international break injury.
Aston Villa have a double Gameweek in the round ahead and also face a fixture in blank Gameweek 32. Ollie Watkins (£7.5m) has collected returns in five of his last six games and also takes his teams penalties, making him a great addition.
Brentford also have a double Gameweek coming up and play a fixture in blank Gameweek 32. Ivan Toney (£7.9m) is having a fantastic season. The penalty taker and focal point to the Brentford offensive line has notched up a massive 16 goals and four assists. This tallies up to 20 returns in just 25 games.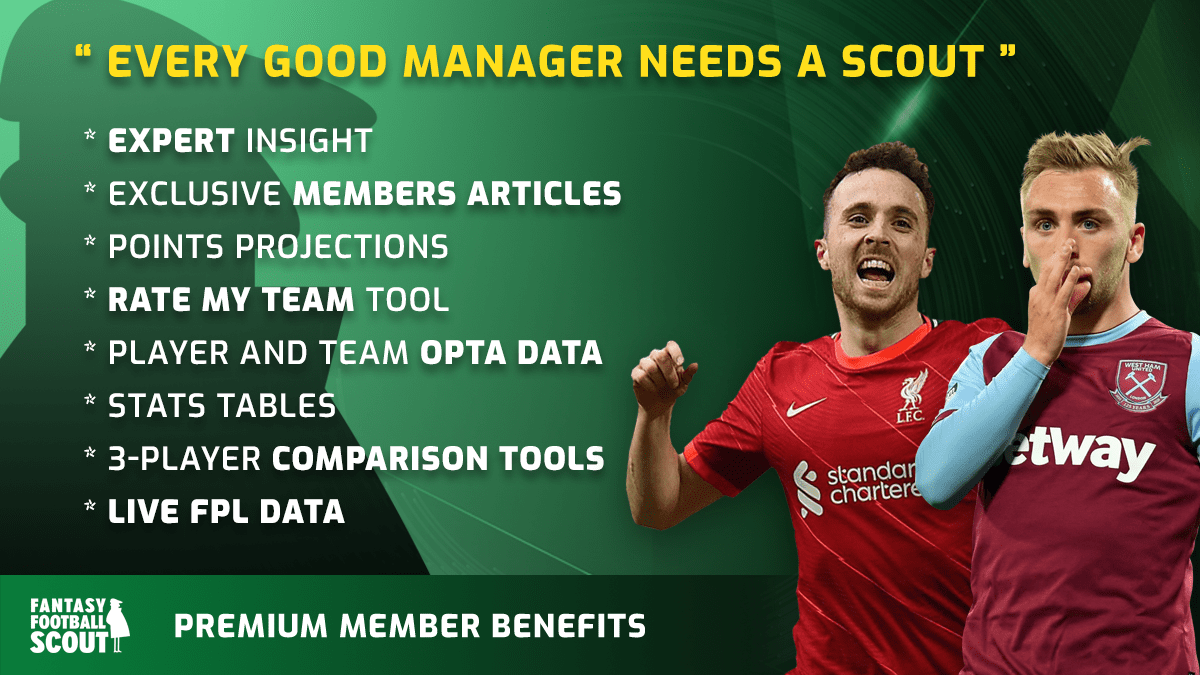 ---
Who are the top picks for Gameweek 29? Find out in our article here.