Gameweek 25: community score predictions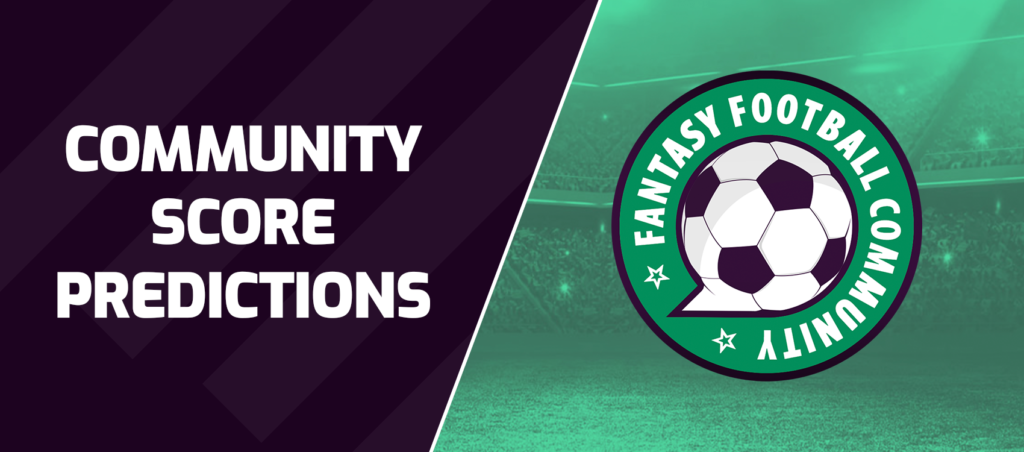 Our community score predictions panel take a look at the Gameweek 25 fixtures. When making FPL decisions many FPL managers mentally predict the outcome of matches.
Who will win?
Will there be a clean sheet in this match?
How many goals can I see being scored?
How many players do I want to play in this game?
Gameweek 25 is a big one for FPL managers. Containing a Blank Gameweek for both Arsenal and Chelsea, as well as a Double Gameweek for Manchester United and Brighton. Our community score predictions panel share their predictions for the matches and what this might mean for our FPL plans.
Gameweek 24
Last week the panel predicted the outcome correctly 26 times. All of the panelists correctly predicted that both Manchester City and Liverpool would win. with FPL Shake n Bake, FPL Rabbi, FPL Focus and El Statto all correctly predicting that Liverpool would win 2-0.
There were 7 occasions where a panels correctly predicted the scores in Gameweek 24.
FPL Inzaghi and FPL Focus both correctly predicting the scoreline in two matches. FPL Focus however also got the result right in a further three matches in comparison to Inzaghi's two meaning he won the week.
Leaderboard
To keep track on how our panel are doing we have awarded 3 points for a correctly predicted scoreline and 1 point for a correct outcome but with the wrong scoreline.
El Statto 66
FPL Inzaghi 57
FPL Shake n Bake 56
Manchester United v Southampton (Sat 12:30)
Brentford v Crystal Palace (Sat 15:00)
Everton v Leeds (Sat 15:00)
Watford v Brighton (Sat 15:00)
Norwich v Man City (Sat 17:30)
Burnley v Liverpool (Sun 14:00)
Newcastle v Aston Villa (Sun 14:00)
Tottenham v Wolves (Sun 14:00)
Leicester v West Ham (Sun 16:30)
Manchester United v Brighton (20:15)
Community score predictions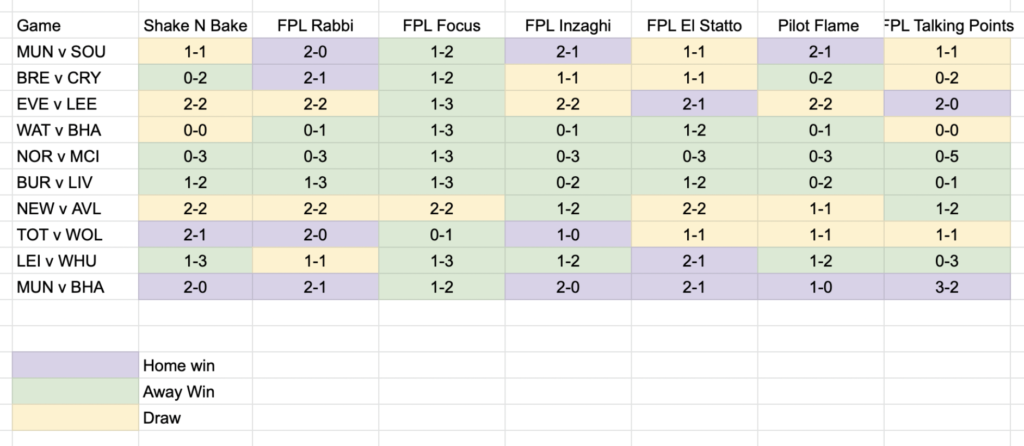 Key talking points
FPL Focus is expecting a lot of away wins this Gameweek. Has predicted nine away wins and a draw with no home victories at all. All of our panelists agree that Liverpool and Manchester City roll out likely winners in their two fixtures. Only two of our panelists expect Manchester United to win both of their Double Gameweek fixtures.
FPL Commentary
As tempting as a Double Gameweek can be, I'm not sure I'd fancy tripling up on Man United or Brighton assets. I have De Gea, Dalot and budget enabler Jakub Moder. I think that's enough. I'm not impressed enough by either side going forward so am risking going without both Bruno and Ronaldo.
Similarly, I'm risking another Gameweek without Mo Salah due to his record against Burnley, a team he notoriously struggles against.
If there was one player I would risk a one week punt on this week, it would be West Ham's Aaron Cresswell. Leicester look vulnerable from set pieces, and with Cresswell on free kicks and corners then he has a good chance of rocking up the assists. He'll likely be a good differential as managers target the Double Gameweek.
I don't feel overly optimistic when it comes to Manchester United ahead of the Double Gameweek. I think it is entirely possible that some Brighton assets outscore the Untied ones.
United have looked a bit lost in recent Gameweeks. There seems to have been some indecision about how Ronaldo and Fernandes work in the same team.
As we saw in Gameweek 24, I think Lampard will continue to struggle to get Everton going having had very little time between matches since his appointed. This means I would be wary of investing in Everton against Leeds. I also think Dan James could be a great differential pick who may be overlooked as a single Gameweek player.
We were all expecting Man City to beat Brentford by more than they did in Gameweek 24. However even though Norwich have improved a lot in recent weeks they will likely struggle against Man City. Investing in the blue side of Manchester looks attractive, even with the red side of Manchester playing double the minutes this week.
Spurs really need to bounce back after their loss to Southampton, but I think they will find it tough against a resolute Wolves defence.