Gameweek 23 Captain Hints and Tips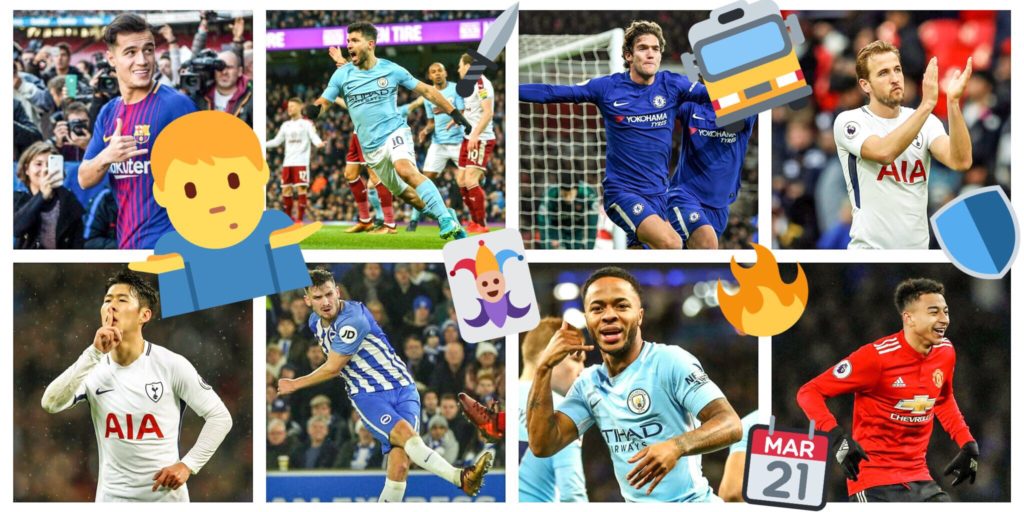 It's set to be a tricky Gameweek 23 captain decision, as Liverpool face Manchester City, Chelsea host Leicester City and Spurs welcome Everton to Wembley.
---
There's eight suggestions for your Gameweek 23 captain armband in my latest captaincy article for FPL Bet. Which of the picks will you be choosing from?
© | Gameweek 23 Captain Picks

?‍♂️There's TWO picks from my Clueless Husband after an epic fail, PLUS…

?Shield | ?Sword |?Form | ?Fixture |? Punt | ?Park the Bus

?https://t.co/PuRpqYm2er pic.twitter.com/dlvntf1o1F

— Holly Shand (@FFCommunity_) January 11, 2018
---
Despite the double Gameweek disappointment, Kane is a popular option among the community, according to the FPL Connect captain poll.
Who's your man for this one?

— #FPL Connect (@FPL_Connect) January 8, 2018
---
FPL Family talk Gameweek 23 captaincy options in their latest vlog. Try out their jammy picks too.
If you're pondering your #FPL moves for the upcoming weekend, watch the replay of the #FPLFamily live stream on YouTube ?

We talk captains, jammy picks and our transfer plans for GW23.

Check out our channel below & give us a ? (vid starts at 7mins) https://t.co/p0wRXkmL4h pic.twitter.com/XuhInqHWA3

— FPL Family (Lee) (@FPLFamily) January 11, 2018
---
Kane takes all the headlines in the FPL Herald captain article, but you may wish to follow the Daredevil Defender pick.
? #GW23 Captain Article

? Two premium forwards ?
? Two midfield differentials ✅
? One left-field defender ?

Pros and cons of each one here: https://t.co/1XuvGIZ9GS #FPL #thfc #mufc #lfc #cfc

— David Munday (@DavidMunday815) January 10, 2018
---
Kane and Aguero have excellent records against their Gameweek 23 opponents FPL Vs provides all of the key statistics.
#Kane?#EFC
?️?️?️?️?️?️?️
⚽️⚽️⚽️⚽️⚽️#Aguero?#LFC
?️?️?️?️?️?️?️?️?️?️?️
⚽️⚽️⚽️⚽️⚽️⚽️?️?️#Lukaku?#SCFC
?️?️?️?️?️?️?️?️?️?️?️
⚽️⚽️⚽️⚽️⚽️#Rooney?#THFC
?️20 ⚽️11 ?️3 ?9

— ???? (@FPL_vs) January 11, 2018
---
The community have been sharing their Gameweek 23 captain thoughts on Twitter. Here's a selection of their views.
Top 5️⃣ Captain picks for #GW23 #FPL
Kane vs EVE (H)
Aguero vs LIV (A)
Salah vs MCI (H)
Alonso vs LEI (H)
Lingard vs STK (H)

— FPL Masterminds (@fplmasterminds) January 10, 2018
GW23! As I've hit 400 followers new ideas coming to #fpl community! Thanks to all that follow my channel! Captain Kit! RT ??⚽️!@FFPundits @FPLGeneral @Fpl_Updates @FantasyFootyFix @FF_Surgery @BenDinnery @JEgersdorff @FPLHints @FPLMad @FantasyFooty247 @BenCrellin @talksport pic.twitter.com/d8sXdtrdpc

— Tel (@ElTelFPL) January 11, 2018
With Salah and Arnoutovic set for returns, my nicely symmetrical starting 11 should all play this weekend.

Arnoutovic ©️ + WHU double clean sheet could see me shoot up the rankings. Fingers crossed!

Banked my transfer ⚽️? #FPL pic.twitter.com/unUb5PAS8a

— FPL Champion ? (@FPLchampion) January 10, 2018
▪️Fresh after not starting last 2 games
▪️Goal & assist off bench on Friday
▪️Goalscoring record speaks for itself
▪️Arguably the best captain option in GW23 (MNU vs STO, TOT vs EVE & LIV
vs MNC) and GW26 (MNU vs HUD, BUR vs MCI & LIV vs TOT)
▪️9.8% live ownership#FPL pic.twitter.com/85xCYrgqVu

— FPL Guidance (@FPL_Guidance) January 11, 2018
? GW23 SCHOOL PREFECTS

Morata stays and is Captain. Aguero for GW24

A* Picks – Son & Lingard (both in form)

Clean Sheet – Man Utd pic.twitter.com/OacqEBlITm

— FPL School (@fplschool) January 11, 2018
---