Gameweek 15 best wildcard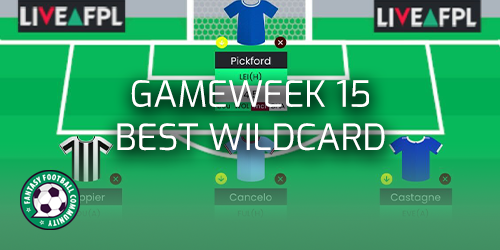 Looking at the Gameweek 15 best wildcard team. Using the Fantasy Football Scout season ticker, we can see which teams have the best run of fixtures. This can then aid FPL managers in picking out some of the best assets for the run ahead.
The wildcard gives managers the opportunity to change their entire team for any reason. FPL have given the community two wildcards to use in each half of the season. In addition, unlike any other season, FPL have also provided managers with unlimited transfers during the World Cup.
Fixture ticker
We can see from the ticker below, the teams at the top have the easiest fixtures, whilst the teams at the bottom have the toughest fixtures, up until Gameweek 16.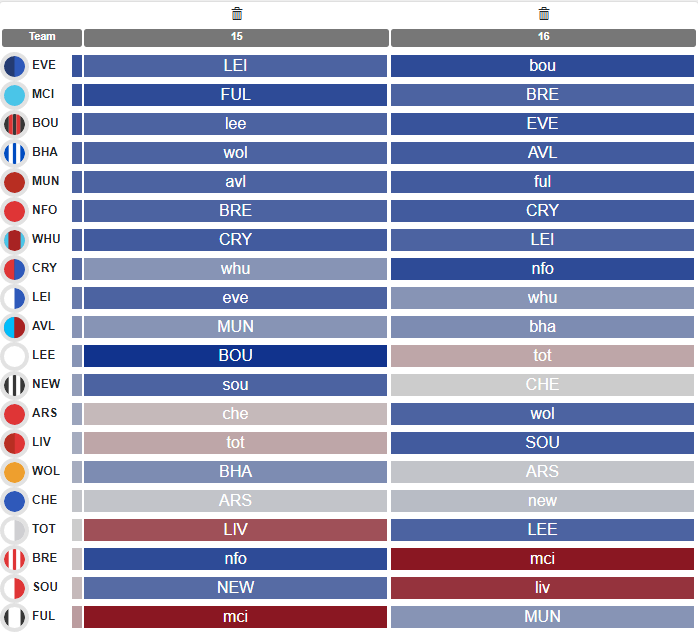 Who has the best fixtures?
Everton, Man City, Bournemouth, Brighton and Man United are amongst the top five teams for having the easiest fixtures. This could indicate investing in these teams may be beneficial on the wildcard.
Who has the worst fixtures?
Fulham, Southampton, Brentford, Tottenham and Chelsea are amongst the bottom five teams for having the toughest fixtures. This could indicate avoiding those teams on a wildcard could be beneficial.
The best Wildcard team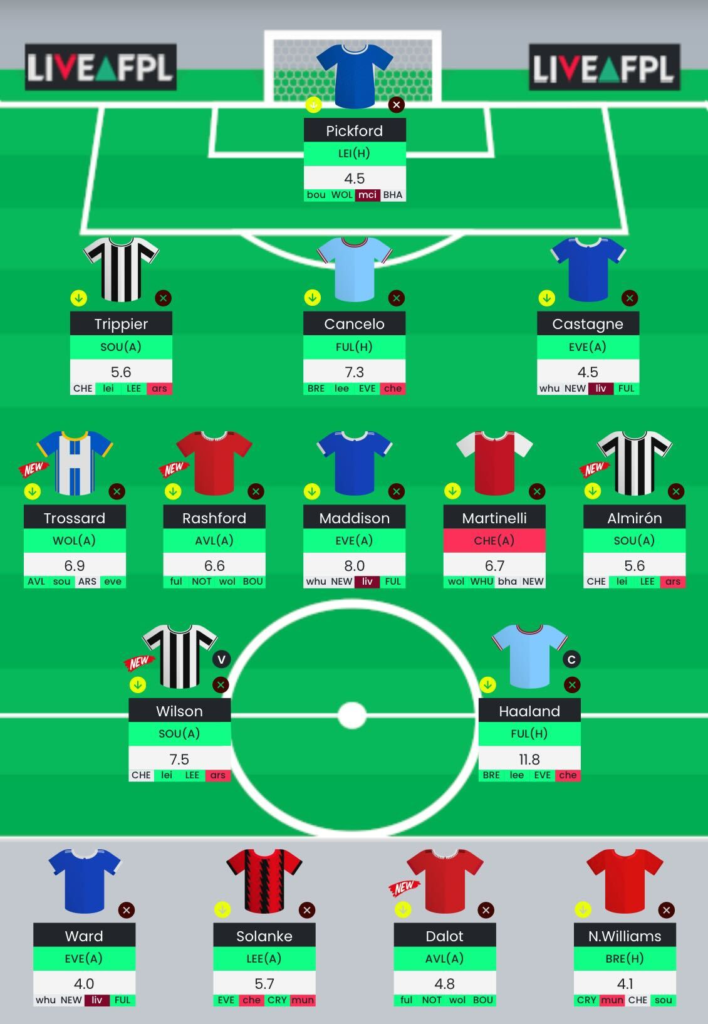 Goalkeepers
Everton rank first on the fixture ticker with fixtures against Leicester and Bournemouth. Jordan Pickford (£4.5m) has now racked up two back-to-back returns in his last two matches. One of those returns include a huge 11-point haul. As well as having solid clean sheet potential, Everton also concede plenty of shots in the box. This could indicate that his chances of save points increase.
Leicester's Danny Ward (£4.1m) sits on the bench as back-up. The Foxes improving defence also means managers could well decide to play Ward over Pickford in any of the two matches ahead.
Defenders
Newcastle continue to surprise FPL players. Their great start to the season has resulted in plenty of clean sheets. As well as clean sheets, defender Kieran Trippier (£5.9m) has topped some of the key distribution stats amongst defenders this season. He is an easy inclusion. Just six points behind Trippier on points is Joao Cancelo (£7.4m). Man City have once again proven to be one of the best defences in the league. The Portuguese defender has also manged four assists, four clean sheets and two goals in all competitions.
Leicester's improving defence could mean selecting Timothy Castagne (£4.6m) a good idea. The Belgian has picked up returns in five of his last six matches. One of these returns includes a massive 12-point haul. for his clean sheet, assist and three bonus points. On the substitutes bench is Manchester United's Diogo Dalot (£4.8m) and Nottingham Forest's Neco Williams (£4.1m). Both have good fixtures and both can be used at the discretion of the managers.
Midfielders
Brighton rank fourth on the fixture and play two teams that keep conceding goals. The in-form Leandro Trossard (£6.9m) scored against both Man City and Chelsea in Gameweek 13 and Gameweek 14. Man United could be another team to invest in. A player we could include is Marcus Rashford (£6.6m). The winger seems to be cementing himself as a key player under the new manager.
Leicester player James Maddison (£8.2m) has picked up retruns in more than half of his matches played this season. A reflection of his potential came in Gameweek 9 where he hit a huge 19-point haul for his two goals, assist and three bonus points. Arsenal have maintained some of the best attacking stats in the league this season behind Man City. One of the biggest contributors to that is Arsenal midfielder Gabriel Martinelli (£6.8m). The Brazilian has picked up five goals and two assists already in his current campaign.
In-form Newcastle attacker Miguel Almiron (£5.6m) is currently the second highest scoring midfielder in the game. He is picked up three back-to-back double-digit hauls in his last three matches. With a great fixture against Southampton next, Almiron could well extend that great run.
Forwards
The highest owned and highest scoring player in the game, Eling Haaland (£12.2m) makes the team with ease. The Man City forward has managed an incredible 17 goals and three assists in his 11 league matches. However, it could be worth monitoring his current injury.
Callum Wilson (£7.5m) has missed just less than half of the season due to injury. However, the Newcastle forward is back to full fitness. His potential was reflected in his Gameweek 14 performance. Wilson bagged a massive 19-point haul for his two goals, two assists and three bonus points. Bournemouth striker Dominic Solanke (£5.7m) could make a great bench option. The penalty taker ranks third on the fixture ticker with Bournemouth and can be used to replace injuries and assets with tough fixtures.
---
What to expect from Gameweek 15? We answer that right here.