Gameweek 10 Community Teams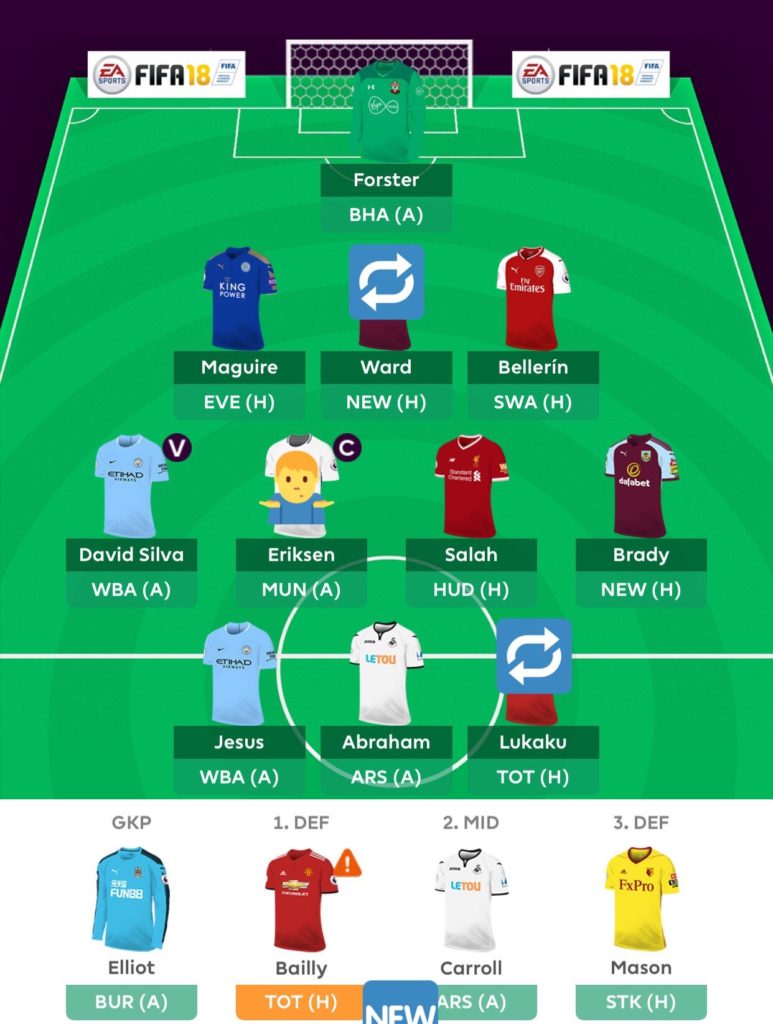 Earlier this week, it looked like a template was developing. Then the Kane news hit and now we've got a varied array of community teams.
Free Hit
Kane's injury forced the hand of many, with early points hits needing to be repaired. Many have decided to play their Free Hit chip. Here's a selection of community squads.
Locked in, could regret Aguero but let's roll the dice #GW10 #FreeHit #FPL pic.twitter.com/k7K3bsNbKu

— #FPL Drew (@FFPundits_Drew) October 28, 2017
Own the likes of Kane/Coutinho/Sterling so with all the uncertainty it felt right to activate

Rank: 1.3m
Sànchez © ?#FPL pic.twitter.com/GfgXW1qm2E

— FPL_Enthusiast (@FPL_Enthusiast) October 28, 2017
My current free hit team looks so nice that, a bit like taking a luxury car for a test drive, it's gonna be hard to give it back after #GW10 pic.twitter.com/GWrsk8oLAN

— Amigo Don (@TheMarpleCurse) October 27, 2017
Team of the Week Tips
Any managers who are considering playing their Free Hit, should look to the advice of those who are sharing this weeks optimal team on Twitter. This is also useful transfer advice.
No Kane? No problem! Here's this week's #TeamOfTheWeek – armband given to Alexis. ?? Green arrows, if you please…#GW10 #FPL pic.twitter.com/TbQ5uf1kgv

— FPL Team Of The Week (@fpl_team_weekly) October 28, 2017
GW10 #AlgorithmXI

*Within budget*

Predicted points – 56
Vardy (C) pic.twitter.com/g0vtE9M32R

— Fantasy Football Fix (@FantasyFootyFix) October 27, 2017
Our Tips For #GW10 #FPL @premierleague @OfficialFPL pic.twitter.com/A28PgfJ2z6

— EPL FANTASY (@ZeyadAlowaish) October 27, 2017
Wildcard
Plenty have chosen to play their wildcard, including myself. Here's the latest drafts shared on Twitter, including from a former FPL Champion.
?GW10 Wildcard REVEALED

After numerous drafts and a Harry Kane injury, here's my wildcard squad.
? Sword Captain!?https://t.co/F46wnZuEuR

— Fantasy Football Community (@FFCommunity_) October 28, 2017
Finalised Wildcard #Balls.

A lot of talk that Aguero won't get the minutes this week, so brought Jesus in for 1 week.

Let's see…#FPL pic.twitter.com/6yLo09br9f

— The Gaffer Tapes (@TheGafferTapes) October 28, 2017
When it's cold & wintery outside & you rush downstairs to unwrap your wildcard team…. Latest draft, any suggestions? (2.3 itb for Kane) pic.twitter.com/w06ZivnzFY

— Simon March (@MarchSimon) October 28, 2017
Hits
There's been plenty of points hits floating around too. Here's some transfer decisions made by many!
Been a tough week to try figure this shit out……DONE#Kane➡️#Morata#Eriksen➡️#Salah#Davies➡️#Dunk -4#RLC➡️#Richarlison -4#GW10 #FPL pic.twitter.com/Sdle2qIrQg

— ?????? (@FPLUFC) October 28, 2017
My FPL Gameweek 10 Team

Kane & Mbemba OUT❎
Morata & Lascelles IN✔

-4 Hit

£1.6M ITB

Lascelles has impressed & Morata has good games. pic.twitter.com/UBeMJPP1aS

— FPL Hints (@FPLHints) October 27, 2017
Captain Differentials
A certain Watford midfielder is a popular captain choice in the community this week.
https://twitter.com/from_burnley/status/923987573617414153
GW10 – 2ts Kane & Wimmer out. Duffy & Morata in. Sword captain! Good luck folks ? @fantasyfoot20 #GW10 #FPL pic.twitter.com/DwIWoN4tRW

— FPL VET (@FPLVet) October 27, 2017
Graphics
There's some fantastic graphics provided by some managers. These are some of my favourites, including a blast from the past!
#CalledIt #Team #FPL #GW10 CORRECTED

From below 2 million to 145k in 4 GWs. Good things happening… pic.twitter.com/bIS4zQpBBa

— Called It! FPL (@CalledItFPL) October 27, 2017
https://twitter.com/fplpricechanges/status/924194755977850880
FINAL TEAM for #GW10: Elliot; Cedric, Jones, Mee; Loftus-Cheek, Sterling, Richarlison, Salah (C), Eriksen; Lukaku, Vardy. #FPL pic.twitter.com/3HbqOB3hSe

— FPLtips (@_FPLtips) October 27, 2017
#FPL Gameweek Team – GW10. Good luck guys! Big green arrow pls! https://t.co/hFAnZkSmLB pic.twitter.com/woWmcsxOXM

— Kidzio ⚽?? #FPL (@Kidzio_FPL) October 28, 2017
Clueless Husband
For those following the progress of my other half, here's his reluctant team for Gameweek 10.
?‍♂️Clueless Husband's Team

Points:520
Rank:190K
2FT:Kane,Hunemier➡️Lukaku,Ward
Captain:Eriksen – read why here?
? https://t.co/LdHYV5jP96 pic.twitter.com/kFQ0GgACme

— Fantasy Football Community (@FFCommunity_) October 27, 2017
Good Luck all! Come back on Monday for the Gameweek 10 Review!