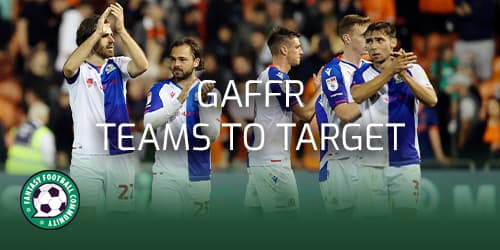 With the international break now here, we can reflect on the best GAFFR teams to target when the Championship returns. Taking into account form, league positioning, goals, clean sheets and more, we can draw up a list of some great teams to target for GAFFR managers.
Looking at GAFFR teams to target could be very beneficial to managers when the football returns. With plenty of time to spare during the break, GAFFR managers will be eager to set out their plans for the gameweeks ahead.

Blackburn
Blackburn have started the season better than many expected. They currently sit seventh in the Championship, just two points from the top four and five points off second place. Blackburn face Millwall and Cardiff in Gameweek 12 and Gameweek 13, two inconsistent teams.
A potentially bigger factor to invest in Blackburn is the fact they have a double gameweek in Gameweek 14. They face Rotherham and Wigan in the same week. This can provide a much higher ceiling for managers in terms of GAFFR points.
Bristol City
Bristol City currently reside in ninth place in the Championship. Although this is the case, they have not failed to score in a single game so far. Not just that but they have also managed to put away two goals or more on a huge seven occasions in the Championship.
Bristol City face a QPR team in Gameweek 12 who have only kept two clean sheets all season. They then go onto play rock bottom Coventry, a team conceding two or more goals regularly. If that wasn't reason enough to back their assets, they also have a double gameweek ahead. Bristol City play against Birmingham and Preston in Gameweek 14.
Burnley
After a slow start to the season, one of the promotion favourites are making their climb to the top of the table. Burnley sit fourth in the Championship without losing a match since early August. They face matches against Cardiff, Stoke, Coventry, Swansea and Birmingham in the next five matches.
As well as facing some of the league's most inconsistent sides, they also play a double gameweek straight after that run. Burnley play Sunderland and Norwich in Gameweek 17. Although the double could be viewed as tough, the most experienced fantasy managers know double gameweeks tend to have higher ceilings for points.
Norwich
Another team to make a slow to start to the new season was promotion favourites Norwich. After losing two of their first three fixtures, they seemed to have progressed. Norwich are now second in the league and have won four of their last five matches in the Championship.
In great form, it could be difficult to ignore the good fixtures ahead. Norwich play Blackpool, Reading and Preston in their next three matches. What could be even more significant is that they have a double gameweek ahead.
---
Which players top the GAFFR points for every single team in the Championship? Take a look here.