GAFFR Gameweek 23 Key takeaways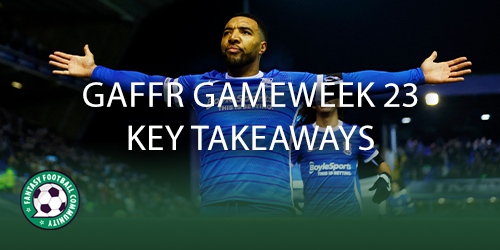 We take a look at the GAFFR Gameweek 23 key takeaways. We go through each and every game that played in the Championship in the most recent round. Taking into account clean sheets, assists, goals and bonus points we highlight the most successful assets in Gameweek 23.
Picking out the GAFFR Gameweek 23 key takeaways in each game every Gameweek can give managers even more information to make those all-important decisions for the round ahead. Whether it be for transfer plans or captaincy, the Gameweek 23 key takeaways can very beneficial to fantasy managers.
Note: At the time of writing, the Coventry v West Brom match is yet to play.

Birmingham v Reading
It was a thrilling contest between Birmingham and Reading where the home side came out on top with a 3-2 win. Reading may have lost but it didn't stop midfielder Ince (£6.3) from returning. He picked up a 10-point haul for his goal and three bonus.
Birmingham striker Deeney (£5.9m) hit a whopping 17 points after scoring, winning a penalty, scoring a penalty and picking up bonus points.
Bristol City v Stoke City
Stoke came out at 2-1 winners away from home. Bristol City striker Wells (£7m) collected a 10-point return for his goal and three bonus. The biggest Stoke return came from striker Brown (£7.4m), he bagged 11 GAFFR points for his goal and bonus.
Burnley v Middlesbrough
Burnley continued their great run of form with a 3-1 win over Middlesbrough. Middlesbrough midfielder Watmore (£6.5m) came off to bench to secure six points due to his goal. Burnley goalkeeper Muric (£6m) collected 11 points after his second half clean sheet, penalty save and bonus.
Burnley's biggest return came from midfielder Benson (£7.6m). He hit a huge 16 points for his two goals and bonus points.
Cardiff v Blackpool
It was a tightly contested affair between these sides and the game finished 1-1. Cardiff striker Etete (£5.8m) picked up 11 points for his goal and bonus. Blackpool's highest scoring players were goalkeeper Grimshaw (£4.5m), striker Madine (£6.1m) and midfielder Poveda (£5.4m) who came off the bench. All three players hit six points each.
Coventry v Swansea
In one of the most action-packed games of the week, the game between Coventry and Swansea finished in a 3-3 thriller. Coventry striker Viktor (£8.1m) collected a huge 14 points for his goal, assist and bonus points.
The biggest Swansea return came via striker Piroe (£8.6m) who hit eight points for his goal and bonus.
Huddersfield v Watford
It was a comfortable win for Watford as they won 2-0. No Huddersfield player managed more than four points in GAFFR this week. The Watford backline all secured six points each but the biggest GAFFR success came from striker Pedro (£9.7m). He bagged 16 points for his two goals and four bonus points.
Hull v Sunderland
Hull and Sunderland both took a point from the game as it finished in a 1-1 draw. The home side had two 10-point returns within their squad. One of them was midfielder Woods (£4.6m), he created the assist and picked up four bonus. The other player was midfielder Tufan (£5.5m) who came off the bench to score and collected four bonus.
Sunderland's highest scoring asset was striker Stewart (£6.6m) who came off the bench to score and hit nine points.
Preston v QPR
It was a tightly contested affair between the sides but QPR ran away with the three points after their 1-0 win. The Preston players failed to hit above five points in GAFFR. The biggest return of the game came via QPR defender Dunne (£4.9m), coming away with 14 points because of his clean sheets, goal and bonus.
West Brom v Rotherham
The baggies sustained their great form with a 3-0 win. Rotherham did have an standout asset as goalkeeper Johansson (£4.8m) earned eight points for his penalty save and save points. West Brom midfielder Wallace (£10.6m) hit a huge 16 points for his goal, assist and bonus, whilst striker Thomas-Asante (£6.4m) came on to win a penalty and score taking his Gameweek total to 12 points.
Norwich v Blackburn
Norwich's underwhelming performances finally caught up to them as they lost 2-0. No Norwich player earned more than two points from the game. The biggest Blackburn performance came from midfielder Dolan (£6m) who hit 12 points for his goal and bonus.
Wigan v Sheffield United
Sheffield United stole the show with their 2-1 win, continuing their great from. Wigan's highest GAFFR earner was striker Broadhead (£6m) who bagged seven points for his goal. Sheffield United's midfielder Ndiaye (£7.8m) collected 10 points for his assist and bonus.
---
You can keep up to date with all of our latest GAFFR articles right here.