GAFFR expert manager interview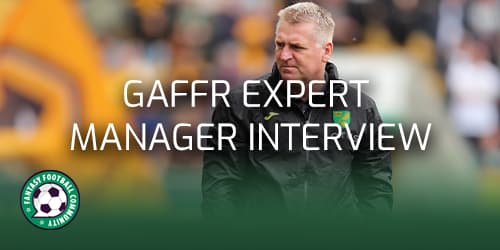 For the first time we look through a GAFFR expert manager interview. Host of the EFL Fantasy Podcast and GAFFR content creator Angus McPhail joins us to answer some of the most requested questions within the GAFFR community.
Getting to know one of the most experienced GAFFR Fantasy mangers around, can be hugely beneficial to managers. Seeing the thought processes of top managers can sometimes bring clarity to our own decisions and could even help improve our own game. Here we take to GAFFR expert manager Angus.

Where does your love for the Championship come from?
Everyone always talks about the unpredictability, which I obviously love. After living overseas for a while as a kid, the first game I went to when I came back to the UK was a Championship game, so that probably helped grow my interest and meant that I kept following it.
Tell us a little about yourself
I'm 30 years old. Despite the jokes about how many teams I support, I'm a Rangers and Arsenal fan. I've spent time living in multiple different countries including Turkey, Italy and Gambia, and visiting lots more, so I love to travel. I've been playing fantasy sports for a long time, and currently probably play too many formats!
Why do you play GAFFR Fantasy?
I first heard about it when it was first launched as a one-off prior to the first season and have really enjoyed it ever since. Listening to the Championship Express (the first version of our pod that Jamie did with his previous co-host), helped me think about the game more. Plus, I was good at it, which always helps!
What is your rank target every season?
Genuinely, first. After that, the target is top 25.
What type of manager are you?
I like using both eye test and data together. I tend to use one to back up the other. I'm also someone who loves taking a risk/punt. Of course, the majority of the ones I remember are the ones that went well!
How do you use your chips?
I like to have a plan that I work towards, but I also make sure I have alternative plans and weeks to use for if (or when) something messes with the plan. I don't believe in stubbornly sticking to a strategy if there's potentially a better option available.
How has your season gone so far?
A couple of bad gameweeks mixed in, but generally it's gone pretty well. Currently 127th with two boosts left to play, so I can't complain really!
Which players should every manager have in their teams?
I don't believe in "essential" players. That being said, it's probably hard to argue against having Bree, Chair, and at least one of the Middlesbrough wing backs.
---
Is it time to use the away days chip in GAFFR? Which teams and players should we be targeting? We answer both of those questions in our article here.