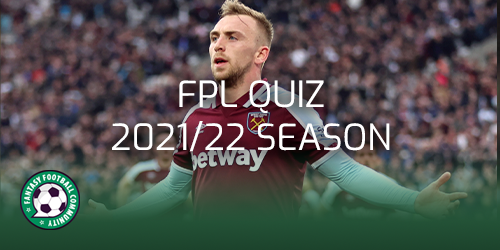 How good is your memory of the 2021/22 FPL season? We have created a quiz that allows managers to test their knowledge of the most recent FPL season.
---
It's already been over a month since the dramatic final day that brought comeback wins for both Liverpool and eventual champions Man City. Additionally, Spurs saw off Arsenal to claim fourth place whilst Leeds escaped relegation at the expense of Burnley.
Ahead of FPL 2022/23's launch, the FPL quiz 2021/22 is designed to test how well managers remember the season. Which player returned the most bonus points? Which outfield player played the most minutes? Who had the most aerial attempts on goal?
See how well you remember some of the highlights of the season and take this knowledge to help you plan for the upcoming campaign.
Using the popular Sporcle quiz site, click below to test your memory of last season in FPL. Sporcle is a website that allows users to create quizzes. You will have five minutes to answer ten questions.
How did you do in the quiz? Post your score to us on Twitter.
---
Meanwhile, check out our regular updates of Premier League transfer rumours and completed deals.