How did the 22/23 season go? FPL Family's Sam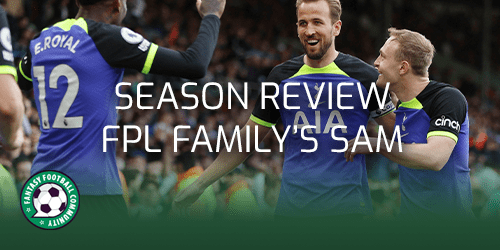 FPL Family's Sam had a rollercoaster of an FPL season. From a difficult start to the season to a great return after the World Cup she shares her thoughts on season. What did she learn from the campaign and how did the 22/23 season go for her, we find out.
The 2022/23 season was full of mostly highs for me in terms of the overall campaign. From appearing weekly on the Premier League's FPL Pod to working on the Sky Sports News FPL Show it was a hugely exciting season. SO when people ask me how did the 22/23 season go, I'll answer that it was my proudest season to date.However, it started off badly. For the opening 16 gameweek's of the season I really struggled to find any rhythm in my game.
There were a number of green arrows in there, however the red ones were always bigger. For every green arrow bringing me a step closer to an overall rank I was happy with, the red ones would take me two steps back again.
For me the World Cup came at the right time. I was struggling with my team and with wanting to rip it up and start again. The Unlimited Transfer window allowed me to do that.
Unlimited Transfers
Over the course of the World Cup I decided not to make any transfers while the prices were paused. I did however make hundreds of drafts. My camera roll was just draft after draft of potential options for my team. On Christmas Eve I finished wrapping my kids Christmas presents and then set up my team. That team went on to register 90 points in Gameweek 17, and a run of nine straight green arrows.
Between Gameweek 17 and Gameweek 25 I took 69% of my rank away. In fact between Gameweek 17 and 38 I had only four red arrows.
Final weeks
At the start of every season my aim is always to finish in the top 10k. However, at still well over a 1 million at the World Cup I had to revaluate my goals this season. Heading into Gameweek 17 the hope was to get to 500k by Gameweek 20 by picking out some differentials. That worked and I was at 300k by Gameweek 20. Then I continued to set new goals as milestones.
After Gameweek 33 I finally believed that a good finish could still be on the cards. However I knew I would have to take some educated gambles to get ahead. Gameweek 34 I scored 110 points. Estupianan registered a 16 point haul with Alexis Mac-Allister a 12 point haul. Meanwhile Rashford, Grealish, Mitoma, Gakpo, Kane and Haaland all returned well too. In fact it was only Ederson and Trippier who blanked. Then bringing in Gallum Wilson and captaining him in Gameweek 36 proved a deal breaker.
Gameweek 38
Heading into Gameweek 38 I was sitting at 42k, on the back of a tiny red arrow in Gameweek 37. There were two potential actions for Gameweek 38, play it safe and try to hold rank and win the FPL Family battle against Lee, or push on and try to secure a strong final overall rank but maybe risk Lee beating me. In my mind a top 25k finish was still on the cards and so I decided to go for it. I took a -4 heading into Gameweek 38, replacing Haaland with Alvarez, in order to free up budget to replace injured Jack Grealish and Luke Shaw with Mo Salah and James Tarkowski. Those transfers saw both Salah and Tarkowski return.
But it was differentials Kiwior and Gakpo who really stole the show, along with my favourite Harry Kane who I handed the armband too.
It wasn't the perfect end to the season however. Ederson was on for a 10 point haul before he conceded. Those 10 points had me at 17k Overall Rank. I also seriously considered both Ollie Watkins and Gabriel Jesus instead of Alvarez. Both of these would have given me an even greater green arrow.
However, I am thrilled to the season at 20k, especially where I was ahead of the Qatar World Cup.
Overall – How did the 22/23 season go?
So overall how did the 22/23 season go? It was a rollercoaster but one I loved. The lows were difficult, but the highs coming out of them are what we play FPL for. Finishing at 20k after this season is probably my greatest FPL achievement. Especially alongside how exciting it has been to be on the FPL Pod and Sky Sports News this season.
One of the biggest learning points for me this season has been not to give up. The early months of the season were a real test. However, I was determined that if I continued to play my game eventually I would turn a corner. This will be a big thing for me to remember ahead of the Gameweek 23/24 campaign.
I also went without some of the biggest premiums this season. For example I owned Salah for very few gameweeks this season. Instead I used teammates like Luis Diaz and Cody Gakpo. Doing this allowed me to have both Haaland and Kane, and meant I stayed invested in Liverpool. This is something that I will try to replicate again this season. Looking for the value picks with in the squads of the premiums I can't afford might just help make not having all of the premiums easier to handle!
I will also be taking a look at the top scoring FPL assets from this season when the game launches ahead of the new 23/24 season.