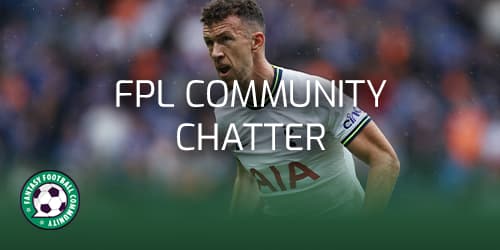 Having a look into the FPL Twitter community chatter to see what FPL managers are talking about ahead of the start of the Premier League season. Covering opinions and hot topics mixed with FPL assets people are discussing.
With the season looming and the first match beginning on Friday night with Arsenal v Crystal Palace it means the deadline is only days away. Taking a look at community chatter can help give FPL managers indications of lots of different things to help get their teams ready.
@LetsTalk_FPL
£5.5m defender Perisic found his way into many FPL managers drafts when the game opened. The new signing scored eight goals and created seven assists in Serie A last season. At the time of writing Perisic sits at a current ownership of 29%.
The tweet below from Andy could be because Perisic finally managed a good chunk of game time in the match against Roma recently suggesting his fitness could be good enough to give him the start in game week 1. With his fitness potentially back we could see his ownership increase as we head towards deadline.
@FPL_Harry
Harry has brought up a very current topic in the community at the moment. The decision as to who takes up that third Liverpool start continues to grip everyone's choices in the build up to game week 1. Robertson created an assist against Man City in the community shield on the weekend. This could give managers an even bigger view of siding with attacking left back Andy Robertson.
The Chelsea options are also an interesting topic. Rumours are suggesting Reece James has the potential to play in RCB this season. This immediately indicates a lack of goal threat for James. Chelsea cover could be a good option though and with Mason Mount scoring in his last friendly he could be on everyone's minds.
@FPL_Banger
As you can see theres no let up from the FPL community. FPL Banger Podcast shows the attacking position of Robertson is more advanced then midfielder Diaz. This could be more evidence that mangers are swaying towards the defender for their third Liverpool slot.
@FPLReaction
FPL Reactions points out that Leicester's £5m midfielder Dewsbury-Hall continues both his great pre-season run and his increasing competition with £5m Leon Bailey. Leon Bailey also continues to impress FPL managers around the world with his consistent starts for Aston Villa and his goals.
@DreadFPL
The amazing pre-season form of Gabriel Jesus isn't going unnoticed by the community. His ownership continues to drive upwards increasing the risk of going without the Arsenal man.
With six goals in pre-season its hard to argue with selecting the most owned player in FPL at the time of writing this.
@Pras_fpl
Pras gives a fresh perspective on why the £8m midfielder bracket may not be as appealing as it once was near the beginning of pre-season. Many FPL managers were struggling to decide which £8m midfielder to select for a long time but maybe there could be reasons to avoid for now.
---
For more FPL community reactions you could check out the pre-season friendlies and implications article here.