Forward planning for Gameweek 27 and 28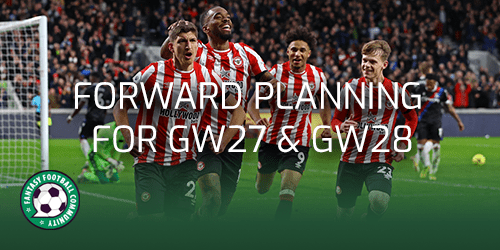 Two fixtures have been rescheduled into Gameweek 27. Meanwhile Gameweek 28 will be a blank gameweek as a result of the FA Cup fifth round. Here we start forward planning for Gameweek 27 and 28.
FPL managers need to plan carefully for blank and double gameweeks. They are a good opportunity for FPL managers to get an advantage over their mini league rivals or climb the overall ranks. Managers need to think ahead in their planning so that they are able ensure that they have enough players for the gameweek, avoiding those who blank and maximising those who play twice.
Teams that play twice in Gameweek 27
Brentford
Brighton
Crystal Palace
Southampton
Teams that are likely to blank in Gameweek 28
The FA Cup Fifth Round takes place on the 28th February and 1st March. Once those games have been played managers will know which teams blank in Gameweek 28 for the Sixth Round of the competition. The following games are currently at risk of being postponed. If the teams in bold win their FA Cup match that game will need to be rescheduled.
Brentford v Leicester
Liverpool v Fulham
Southampton v Spurs
Wolves v Leeds
Brighton v Man United
Man City v West Ham
Where both teams in a match are still in the FA Cup, both sides will need to be knocked out of the competition for the Premier League fixture to be played.
When could the postponed matches be rescheduled for?
The Premier League announced that six of the previously postponed fixtures will now be played in Gamweek 29. This leaves only Newcastle v Brighton still to be rearranged. There are two midweeks currently without any other competition being played between now and the end of the season. These fall in Gameweek 34 and 37. These would therefore be good opportunities for the Premier League to reschedule this match along with any matches postponed for the quarter finals of the FA Cup.
How to manage a blank gameweek
The bench can be really important for FPL managers in a blank gameweek. Managers are able to move three players (and a goalkeeper) who won't play in to the bench slots. However, this does mean that every other player in the squad needs to play.
For Blank Gameweeek 28 managers could have difficulty fielding a full XI depending on the results of the FA Cup. If key teams like Man City, Man United blank alongside teams like Brentford and Brighton who play twice the week before, managers could have a headache.
With time ahead of Blank Gameweek 28 managers have time to carefully consider their transfers. Doing this will mean managers can potentially get as close to a full team out as possible.
However, the fixtures in the FA Cup Fifth Round mean that many are expecting big teams to miss Gameweek 28.
FA Cup Fixtures
Stoke v Brighton
Leicester v Blackburn Rovers
Fulham v Leeds
Southampton v Grimsby
Man United v West Ham
Sheffield United v Spurs
One of the games between Liverpool v Fulham and Wolves v Leeds will definitely go ahead. This is because Leeds and Fulham play each other in the FA Cup meaning that one is certain to exit the competition. However the other all Premier League tie between Man United and West Ham is not so clear. If Man United beat West Ham then West Ham would need Man City to be knocked out of the FA Cup to be certain to play in Gameweek 28. If West Ham beat Man United, then Man United would also need Brighton to lose in the cup to be sure of the Gameweek 28 fixture happening.
Depending on how many players managers have blanking they could just rely on transfers, go without a full squad or play their Free Hit chip. The Free Hit chip allows managers to field a full squad of the best picks for the gameweek, and means the managers would have their normal team back for the following week. This means managers wouldn't have to sell players like Rashford or Haaland if they blank and would get them back again for Gameweek 29. But the Free Hit Chip can often be more valuable to managers in a gameweek where multiple teams play twice.
How to manage a double gameweek
Investing in players who play twice in a gameweek is often a strategy deployed by FPL managers. However, before taking points hits to bring players in managers should consider a number of factors.
Do you want these players for longer than just the double gameweek?
Are they likely to play in both of the matches of the double?
Who are the opponents in the double and are they likely to return points against them?
The answer to all those questions is unlikely to be yes. However, if the answer to a number of them is then it is worth considering bringing those players in.
In Gameweek 27 Brentford, Brighton, Crystal Palace and Southampton play twice. However the FA Cup results next week could mean that Brentford, Brighton and Southampton play twice in Gameweek 27 and then immediately blank in Gameweek 28. Managers should therefore be careful of over investing in double gameweek players for Gameweek 27 if they blank in Gameweek 28. Unless managers play to play their Free Hit in Gameweek 29 and then they can fully target the double gameweek in Gameweek 27.
How to forward plan
Once the FA Cup fifth round has been played managers should start using their transfers and making plans. This is to target the gameweeks in terms of the doubling players, but also deal with the blanking assets, or have a chip strategy to cover you.
If managers have a non-playing player on their benches swapping them for an asset certain to play in Gamewek 28 could be a wise strategy. Managers should also be wary of not over investing in teams in difficult form such as Southampton and Palace simply because they have a double gameweek,
Overall
Look at your team early, however especially after the FA Cup in midweek. Highlight those you already have who play twice and those who blank is a good idea. Doing this will allow you to spot the gaps and those players you want and don't yet have. Plan early and make your coming transfers work beyond just this week and through Blank and Double Gameweek 27 and 28 Forward planning for Gameweek 27 and 28 is going to be key.