Forward planning for Gameweek 25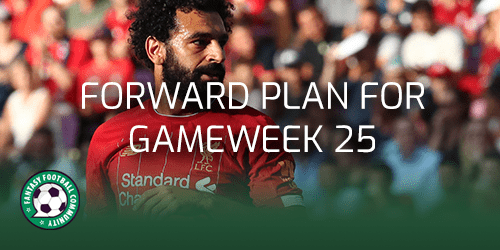 The League Cup final is always a big weekend for FPL managers. If a Premier League side makes it to the final then at least two teams will blank in FPL that weekend. This year Gameweek 25 is even more important because it not only contains a blank gameweek for four teams, but a double gameweek for four more too. Here we start forward planning for Gameweek 25.
FPL managers need to plan carefully for blank and double gameweeks. They are a good opportunity for FPL managers to get an advantage over their mini league rivals or climb the overall ranks. Managers need to think ahead in their planning so that they are able ensure that they have enough players for the gameweek, avoiding those who blank and maximising those who play twice.
Teams that blank
Brentford
Brighton
Man United
Newcastle
Teams that double
Arsenal
Everton
Liverpool
Wolves
How to manage a blank gameweek
The bench can be really important for FPL managers in a blank gameweek. Managers are able to move three players (and a goalkeeper) who won't play in to the bench slots. However, this does mean that every other player in the squad to play.
For Blank Gameweeek 25 managers are likely to want to keep a number of key assets for the run of fixtures that they have after the blank. Players like Marcus Rashford, Luke Shaw and Kieran Trippier will likely be highly benched, rather than sold for Gameweek 25.
With time ahead of Blank Gameweek 25 managers have time to carefully consider their transfers. Doing this will mean not having to take hits to get a full team out.
However, it is not essential for managers to have 11 playing players. Managers who have more than three players they want for after the blank may be better to just have 10 players in Gameweek 25. For example if players have Rashford, Shaw, Trippier and Kaoru Mitoma and want them all for Gameweek 26 then holding and just having 10 players in Gameweek 25 makes sense.
Managers could also play their Free Hit chip. The chip allows managers to field a full squad of the best picks for the gameweek, and means the managers would have their normal team back for the following week. But the Free Hit Chip can often be more valuable to managers in a gameweek where multiple teams play twice.
How to manage a double gameweek
Investing in players who play twice in a gameweek is often a strategy deployed by FPL managers. However, before taking points hits to bring players in managers should consider a number of factors.
Do you want these players for longer than just the double gameweek?
Are they likely to play in both of the matches of the double?
Who are the opponents in the double and are they likely to return points against them?
The answer to all those questions is unlikely to be yes. However, if the answer to a number of them is then it is worth considering bringing those players in.
In Gameweek 25 Liverpool, Wolves, Everton and Arsenal play twice. Liverpool, Wolves and Everton have had difficult seasons and therefore investing in them heavily could be a risk. Arsenal on the other hand are in great form and have the benefit of two doubles in quick succession. Therefore investing in triple Arsenal makes sense.
In Gameweek 25 managers could also compensate for not having a full 11 of playing players, but having a number who play twice.
Double Gameweeks are also a good week to play the Free Hit chip. You can target in on those playing twice in order to play the fixtures.
How to plan for a gameweek with both blanks and doubles
Tuesday's announcement by the Premier League that four teams would play twice in Gameweek 25 has made the gameweek more complicated. This will make forward planning for gameweek 25 more important.
Managers should start using their transfers now. This is to target the gameweek in terms of the doubling players, but also dealing with the blanking assets.
If managers have a defensive injury or banned player moving them to the likes of James Tarkowski for the double is good planning. Likewise, moving players like Antony Martial to Eddie Nketiah will set up the team wisely for Gameweek 25. Managers could also look to do Bruno Fernandes to Bukayo Saka. However, losing Bruno ahead of manageress Leeds in Gameweek 24 could be difficult for managers.
Overall
Look at your team early. Highlight those you already have who play twice and those who blank is a good idea. Doing this will allow you to spot the gaps and those players you want and don't yet have. Plan early and make your coming transfers work beyond just this week and through Blank and Double Gameweek 25. Forward planning for Gameweek 25 is going to be key.