Fantasy Football Content this week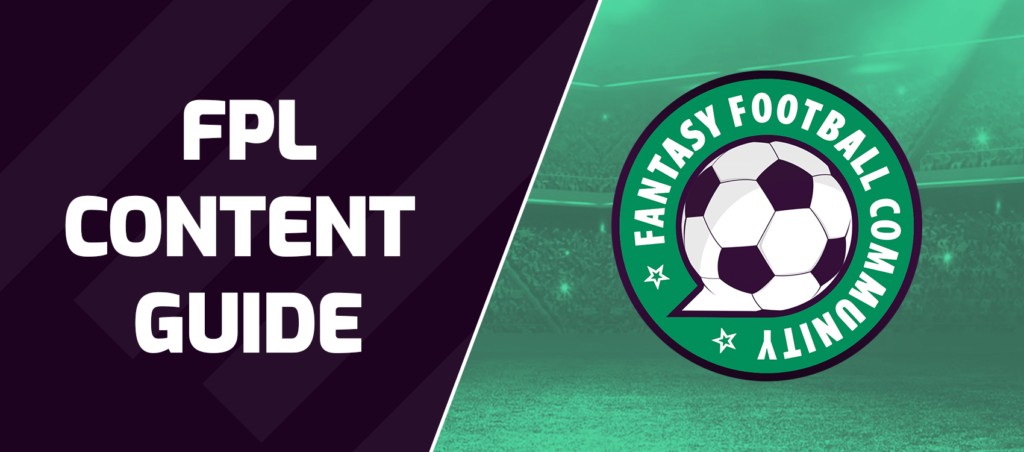 The FPL community is full of excellent Live Streams, Videos and Podcasts to help you make the best decisions for your FPL teams.
Every week we'll round up some of the best Fantasy Football Content available so you'll always know where to go.
Ahead of Tuesday's FPL deadline the content timings might be slightly different to those advertised. Keep an eye on your favourite content creators social media for any changes to their scheduling.
Fantasy Football Scout YouTube Channel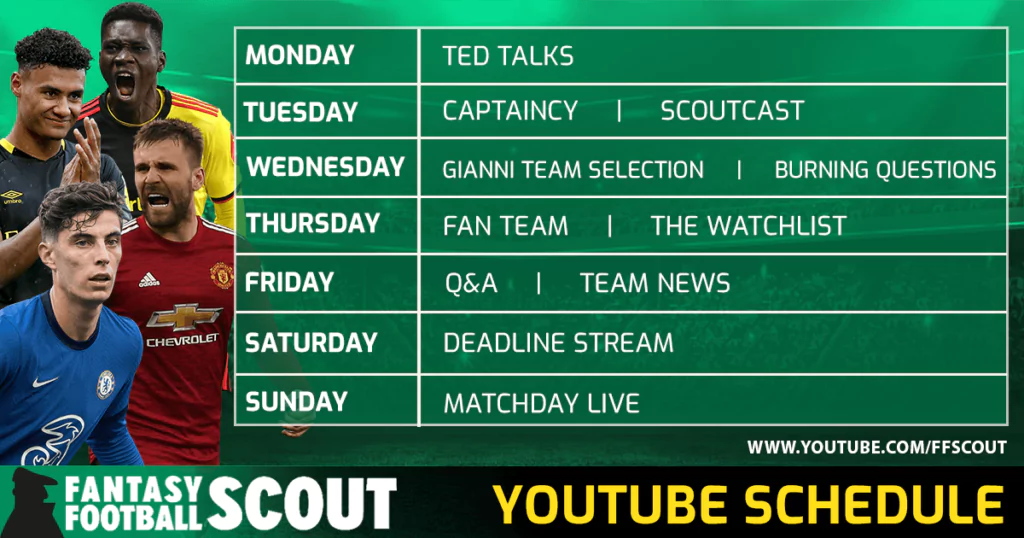 TV and Podcast Schedule
Morning
Afternoon
Monday
FPL Focus: Gameweek review
FFScout: Ted Talks
Planet FPL: Daily Video
Tuesday
FPLFamily: Jammy Pick 9am
FFScout: Captaincy video
Football Chatbox: Captaincy Video
FPL Nymfria: Gameweek Deload Stream
Planet FPL: Daily Video
FFScout: Scoutcast 8pm
Wednesday
FFScout: Team Selection with Gianni
FFScout Scout the Gameweek Podcast
FPL Nymfria: Team Selector
FPLBlackBox: Live Stream
Football Chatbox: FPL Podcast Live
Planet FPL: Daily Video
Thursday
FPLFamily: Top Points Pick 9am
FFScout: FanTeam
FFScout: Q&A
FPL Nymfria: Five Things
FPL Inzaghi
Let's Talk FPL: Team Selection
The FPL Show
The Official FPL Podcast
Planet FPL: Daily Video
Friday
Football Chatbox: Team selection Q&A
FFScout: Weekly Q&A with Az and Sam
FPLFamily: Captaincy
FFScout: Team News
Planet FPL: Daily video
Saturday
FFScout: Deadline Stream
Let's Talk FPL: Deadline Stream
FFScout: Scoutcast Matchday
Sunday
FPL Family: Live Stream – 8:30
Let's Talk FPL Stream:8:00
There's also plenty of content which isn't always released on the same day each week including:
Doubtful 75%
Podcast: The Academica Vertex
The FPL Experiment Podcast
FPL Side Net
Twitter Spaces with FPLSonaldo and FPL Bruno
Links to Content:
Twitter Spaces with FPLSonaldo and FPL Bruno