Fantasy Champ Man GW15: Hits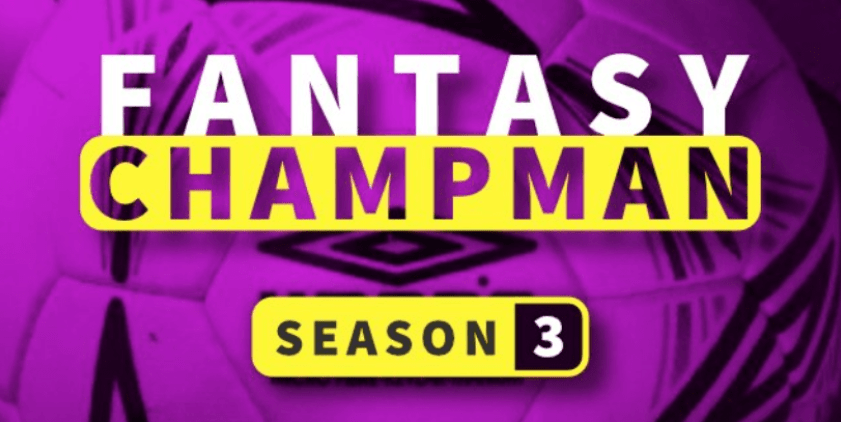 So season three of Fantasy Champ Man is here. As a result, our expert David (@FPL_Gills) kindly provides regular advice to the FPL community.
---
Taking hits in any Fantasy game should always be carefully considered. In FPL, the best managers out there will take calculated hits, where necessary, in order to make gains. But what about in Fantasy Champ Man?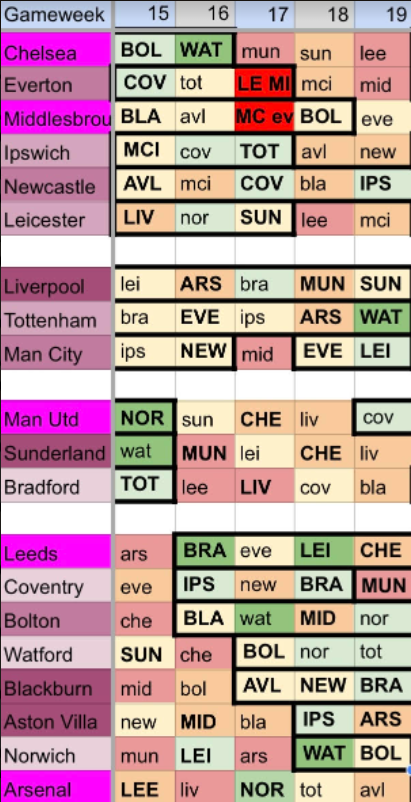 Gameweeks 16 and 17 see a fixture swing for the bigger clubs. Man United, Chelsea and Sunderland are at the end of their decent runs, whilst Leeds, Bolton and Blackburn all start an appealing run of games.
At this point, many Fantasy teams are holding several assets from the likes of Man United and Chelsea. So, if you don't want to use a Wildcard, is it worth using free transfers each week to improve your team? Or are hits a viable option?
A key difference between this game and FPL is that results and points scoring are somewhat more predictable here. We generally know the following:
Home form is much stronger than in real life, especially with clean sheets.
Wingers do well against wing-backs, certain formations perform better than others (for example, Watford are leaking goals) and strikers playing up front on their own tend to score consistently.
Match-ups are key too. So, for example, if Ruud van Nistelrooy is up against a centre-back with poor jumping and positioning, he's likely to have a field day.
With this in mind, being able to 'predict' points makes taking hits a much more viable option.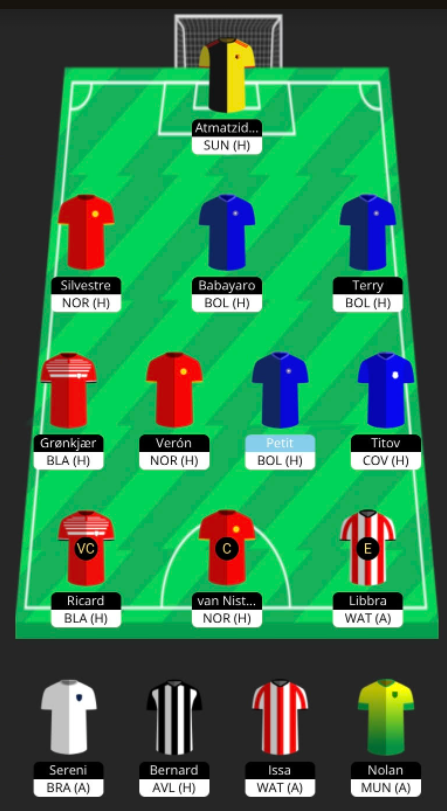 This is my team, which I'll be rolling with this week, as most of my players either have home games or are up against leaky Watford. Next week, I'm considering making five transfers and taking a 12-point hit, something I've not done before. However, when you consider the moves on their own merit, there's arguably a justification for each. And whilst I don't want to make this article just about my team, each of the following players have significant ownership and you should consider whether they're a decent long-term hold.
Sereni to Kirkland
Spurs have been awful at the back this season. I also have Atmatzidis but Liverpool's form has improved dramatically. They have a great run, with Chelsea (a) the only poor game in their next ten matches. Chris Kirkland wasn't expected to start this season. For me, he's a snip at £5m and easily the best goalkeeper in the game at his price.
Bernard or Issa to Kelly, Atherton, Gardner or Hyypia
Unfortunately, Olivier Bernard looks to be a dead asset, with Newcastle signing Michael Ball and Seth Johnson. New signings tend to get a 'bounce', meaning they're likely to play regularly for a good few weeks. There's a small chance Bernard will play but it could be at left-back, so if you own him I suggest it's time to move him on soon.
Now the Fantasy Champ Man season is settling down, each of the four contenders has great runs coming up and they all have the ability to get consistent attacking returns. Hyypia is on penalties, Gardner can haul against anyone, Atherton is a cheap way into the Middlesbrough defence and Kelly is the highest-scoring defender at his price point.
Sunderland also have a less than favourable run coming up. I'm confident Watford will score against them, so Issa owners may see this as a decent time to sell.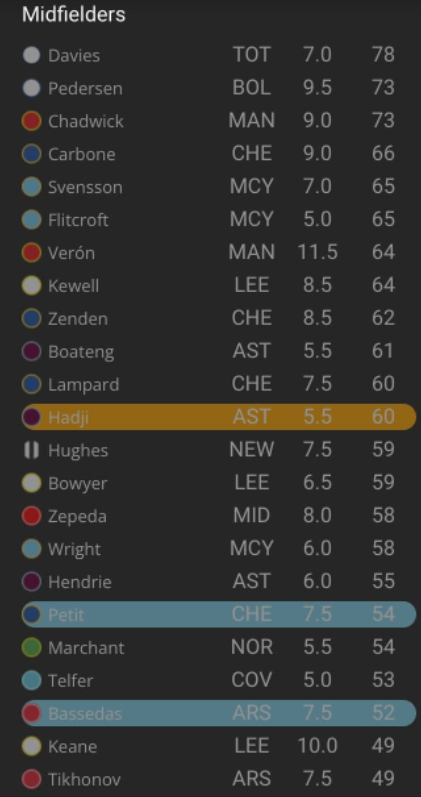 Veron, Chadwick or Nedved to Pedersen, Aimar or Davies
Veron has been underwhelming so far but has returned in the last few weeks during United's plum fixtures. Next week is a great time to reinvest in your midfield – considering his price – and there is a number of options. I'd include team mates Chadwick and Nedved as players you should also consider moving on.
Davies has been Spurs' standout performer so far, with plenty of goals meaning he's currently the highest points scorer in midfield. Spurs also have a great run of games in the next five rounds before Man United (a) in Gameweek 20, so he's a great option.
Pedersen is the next highest-scoring midfielder and has a run of good home games from next week. He's expensive but worth considering in the AMC role. If you want to take a bit of a punt in the Leeds midfield, then Aimar is currently nowhere near the top midfield scorers but he should still have the new signing bounce and play most weeks.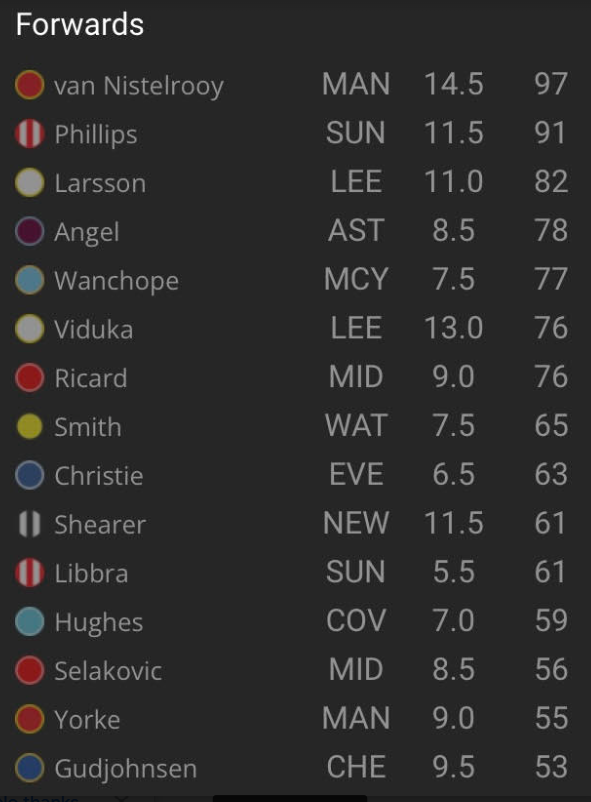 Van Nistelrooy or Phillips to Larsson, Viduka, Gudjohnsen or Shearer
A Leeds striker is a must-have from next week. Ruud has been ticking along nicely and Sunderland (a) may yield a goal but I'd much rather have one of the Leeds forwards in a home tie versus Bradford. Viduka is a great asset but Larsson is a £2m saving, so there's a tricky decision. It's also an easy move from Kevin Phillips if you own him.
If you want to be really different, perhaps take a one-week punt on Gudjohnsen but I'd favour penalty-taker Shearer.
Libbra to Christie or Wanchope
Sunderland's great run is over next week, so there are a couple of cheaper strikers worth considering. Christie may get a Double Gameweek 17 and we should know by Sunday's stream. He would be a great option for next week – if confirmed – as he'll visit a Spurs side that concede goals for fun. Wanchope also has a superb home game against Newcastle next week, so he's a decent short-term punt. You could also go down the Rushbury or Wood route, depending on this week's line-ups.
I was bricking it when I took the following screenshot.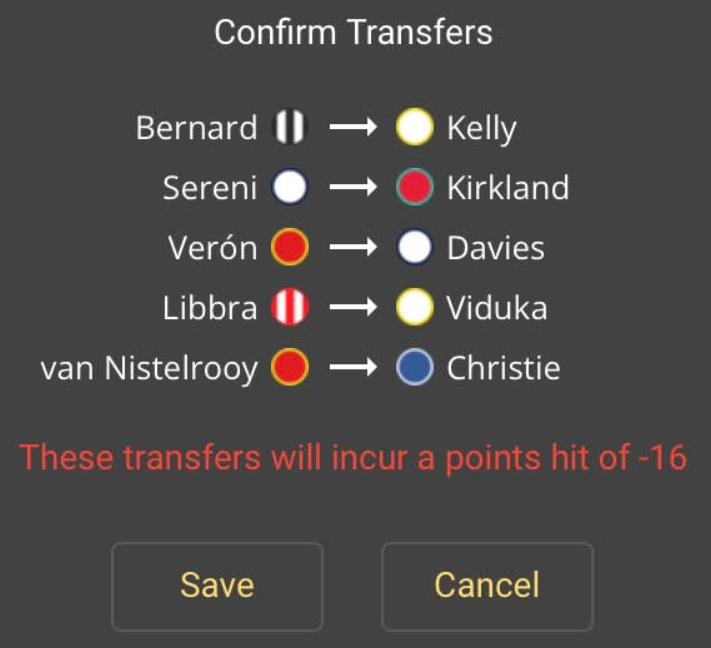 To conclude, points are more predictable in this game, so don't be afraid of taking hits with a long-term view. Benno is currently third in the standings and takes hits for strikers most weeks, so you can make it work for your team. Good luck with planning for the next few weeks!
Make sure to engage with the Fantasy Champ Man community on the Discord and YouTube channels, with links on my previous articles, or tweet me.