Famous People Playing FPL – GW12 Review
A weekly round-up of how comedians, actors, TV stars and generally famous people are doing at FPL, including footballers.
---
It was a strong FPL week for many footballers, with Bukayo Saka's team scoring 90 points to see him jump from 945k to 535k. Not only did defenders Trent Alexander-Arnold (15) and Reece James (12) haul for him, Saka had the audacity to captain Joao Cancelo for 24 points. Questions would have been asked had he gave the armband to Mohamed Salah, a man he was about to face on Saturday evening.
So his goalkeeper and back four brought in 57 points, complemented by the ten points of Allan Saint-Maximin and the returns of Salah (8), Ivan Toney (6) and new signing Conor Gallagher (5).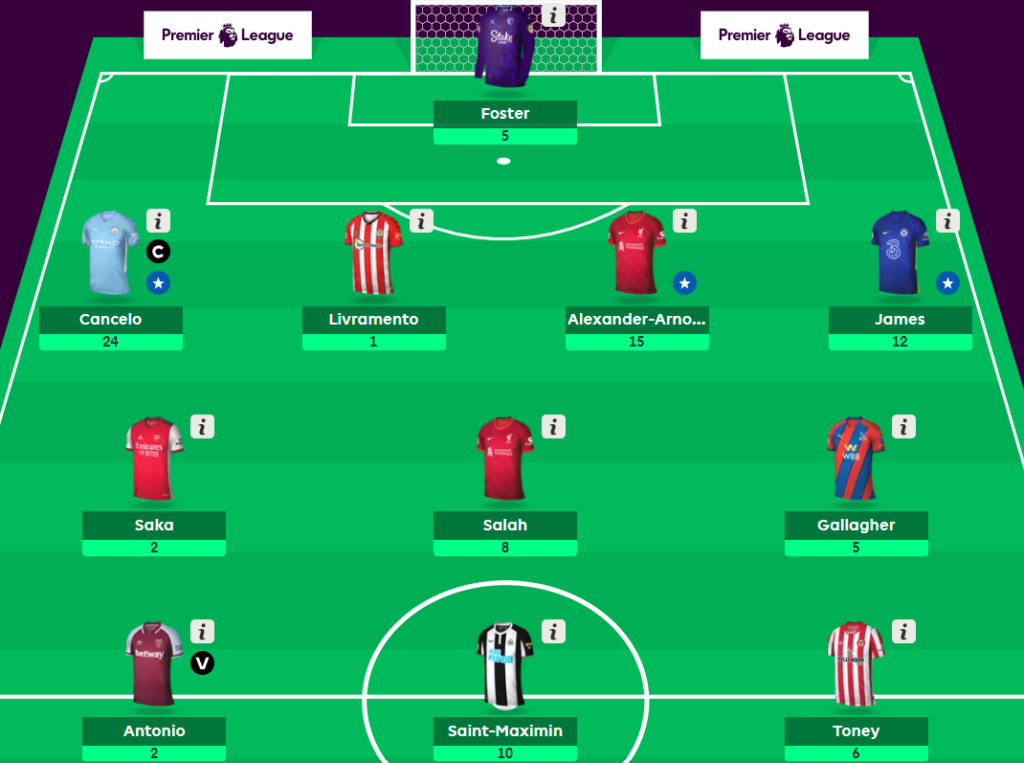 Middlesbrough winger Duncan Watmore will be pleased with 79 points. Alexander-Arnold, James and Antonio Rudiger combined for 41 of those, with Captain Salah, Toney and Diogo Jota also returning.
'AC Me Rollin' – the team of Andy Carroll – registered 77 points. He also owns Saint-Maximin, having the foresight to grab Tottenham's Sergio Reguilon (9) in his Gameweek 4 Wildcard. There were also respectable weeks for Angus Gunn (73), Matt Lowton (72) and Emiliano Martinez – a man whose recent scores of 17 and 20 were followed up by 71 this time.
We saw in the Copa America penalty shoot-outs how confident Martinez is and it's the same here, giving himself FPL captaincy for his weekend clean sheet against Brighton.
Former Blackburn defender Derrick Williams now plays for LA Galaxy. He took an eight-point hit for his four transfers – Harry Kane (2), Harry Winks (2), Scott Carson (0) and Andrew Omobamidele (0). Spending points on budget-priced enablers just to buy Kane, captain him and watch him blank versus Leeds. That must have hurt!

Commentator Sam Matterface made three transfers, with Callum Wilson (1), Hugo Lloris (4) and Joel Matip (6) coming in. He captained the assist of Cristiano Ronaldo but suffered by missing out on the premium defenders that are hauling at a relentless rate.
Not all players had a good time. Vocal FPL manager Patrick Bamford's team had a gameweek rank of 8.37 million (from an 8.66 million total) thanks to a score of 28 points. Only Ronaldo and Salah brought either a goal, assist or clean sheet, as another seven couldn't muster more than one point. The returns of Joachim Andersen (9) and Kostas Tsimikas (6) were stuck on his bench.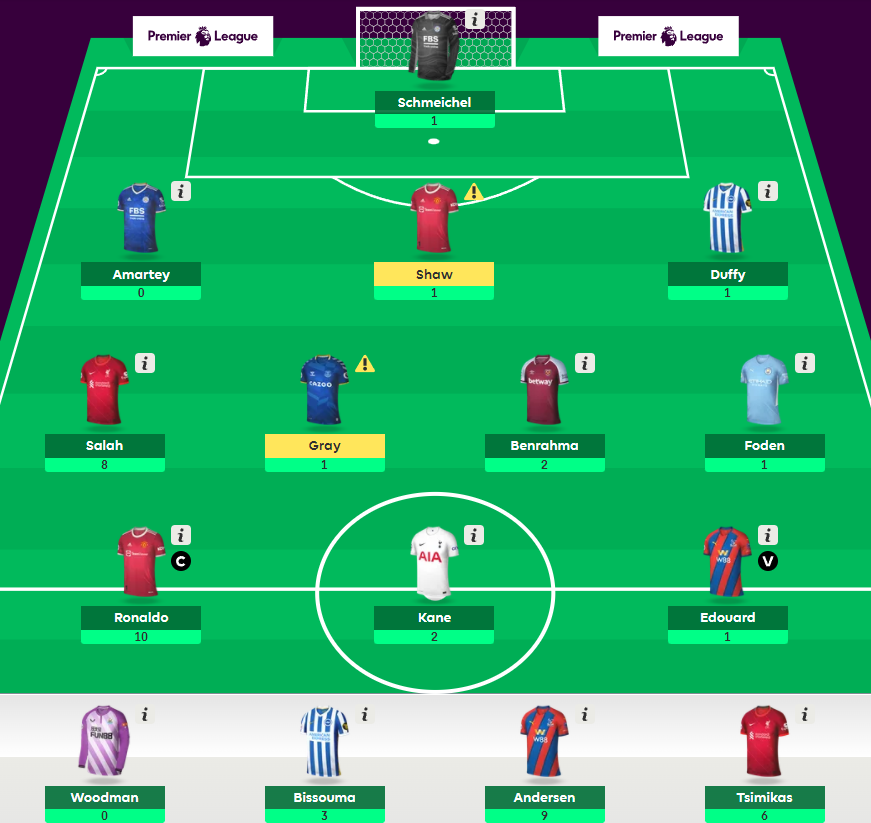 Iain Stirling extended his lead over the Comedians Playing FPL mini-league because of a high-scoring defence and Raul Jimenez (8). 'The Flying Piglets' of Russell Howard overtook Jon Richardson into third place, although he'll be gutted at the 14 points of Emmanuel Dennis remaining on his bench.
Elsewhere, the 79 points of Daniil Medvedev continues a run of three green arrows that have quickly taken him from 646k to 156k. His pair of transfers disappointed but a strong defence – combined with Jimenez's goal autosubbing in for Raphinha – made it a good FPL week for the tennis star.
Both Marvin Humes and Sophy Ridge scored 69, dropping the Sky News reader outside of the top 2k after three weeks. Humes sold the 14 points of Rudiger for the 12 of James.