Famous People Playing FPL – Gameweek 8
A weekly round-up of how comedians, actors, TV stars and generally famous people are doing at FPL, including footballers.
---
In the Comedians FPL mini league, Josh Widdicombe had the best Gameweek 8 with 72 points. Despite only making one transfer so far and not even bothering to design a kit for his Low Fat Pizza XI, the early addition of John McGinn (£5.8m) finally paid off with the Scotsman's 13-point haul against Wolves.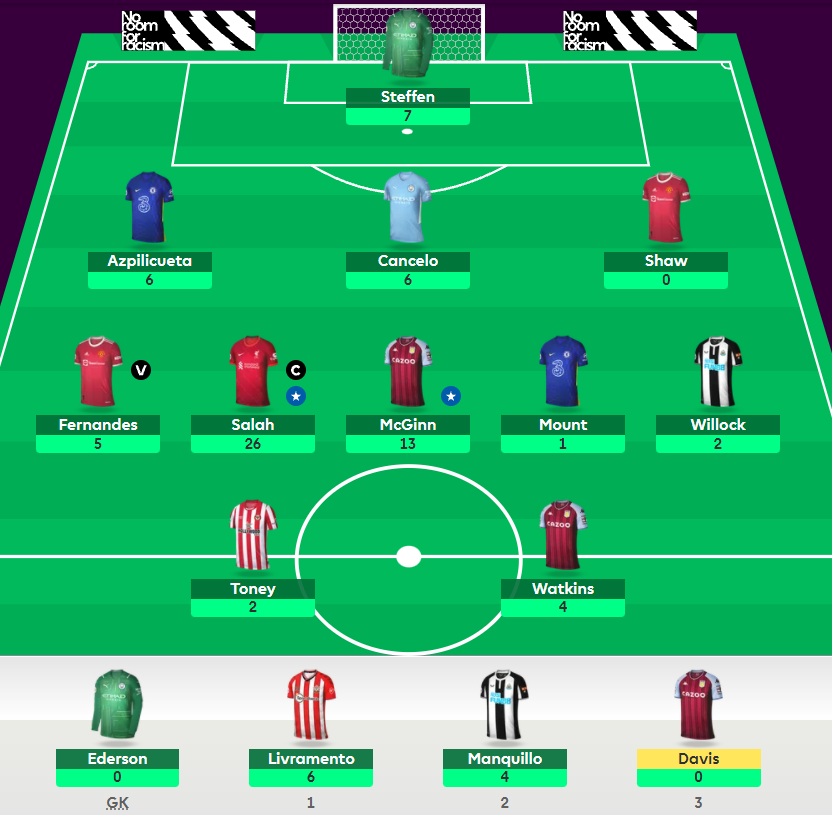 Zach Steffen (£4.5m) came off the bench to replace Ederson (£6.0m) and bag seven points, adding to the clean sheets of Cesar Azpilicueta (£6.2m) and Joao Cancelo (£6.3m). Captain Mohamed Salah (£12.8m) did what he usually does, helping Josh to a highly impressive gameweek rank of 197,769 despite having the ten points of Tino Livramento (£4.3m) and Javi Manquillo (£4.0m) remain benched.
Fellow host of 'The Last Leg' Alex Brooker netted 62 points, denied more by the decision to award Gabriel Martinelli (£5.2m) an assist rather than Ben White (£4.4m). Lined up in a 4-4-2 formation, Tierney's Tesco Bag also captained Salah for his goal and assist at Watford. There were seven points each for Aaron Cresswell (£5.5m) and Mason Greenwood (£7.6m).
In the lead, Emily Dean is one of the few managers in this league to have a genuinely good overall rank. Although down from the Gameweek 7 high of 61,354, Dogs of Warnock is currently placed 103,442 and amongst the top 2% of the game's 8,422,597 teams.
Bringing in Bukayo Saka (£6.4m) for Ismaila Sarr (£6.3m) didn't work, due to the England star being replaced at half time after the brutal assault from James McArthur (£4.5m).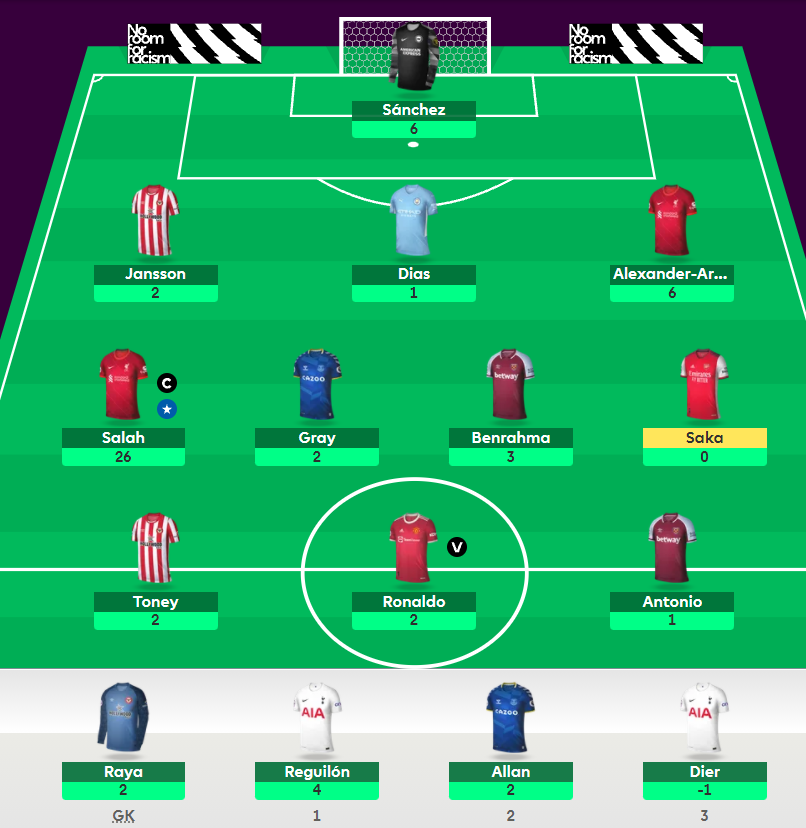 TV presenter, author and overall smart man Richard Osman is 14th in Comedians FPL, opting to captain Cristiano Ronaldo (£12.5m) rather than Salah in his Saturday Murder Club side.
Jon Richardson and Matt Forde – hosts of the 'Comedians Playing FPL' podcast – are having contrasting seasons. Jon had a rough opening weekend but his 80 points of Gameweek 3 was in the world's top 100k. He used the momentum of this to Wildcard in Gameweek 4 and, after another slow start, he immediately followed with a jump from 1.1m to 499k.
He entered this weekend just outside the top 300k but the non-appearances of Ederson and Jack Grealish (£7.9m) took him down to ten men, one of whom was the negative points brought by Eric Dier's (£4.6m) own goal at Newcastle. He now ranks at 467,326.
Matt's 66 points thoroughly beat Jon for the week, although Forde is outside of the top six million because his Gameweek 2 Wildcard was soon followed by a 20-point hit in Gameweek 4. He ranks 25th of the mini league's 28, ahead of three managers who care so little that they haven't bothered to make any transfers or probably log-in at all.
Leeds striker Patrick Bamford (£7.8m) was a guest on their podcast last week and has been added as an honorary member of Comedians FPL.
Bamford has spoken publically numerous times about his passion for FPL and his decision to replace Romelu Lukaku (£11.7m) with Harry Kane (£12.1m) was inspired, trusting the Spurs man with the captaincy as he finally scored his first goal of the season.
The current and former players of Leicester City have a competitive mini league, with James Justin (£4.7m) and Hamza Choudhury (£4.5m) having strong starts by being ranked 394,919 and 596,841 respectively. Preston North End left-back Josh Earl began Gameweek 8 from an incredible 46,964 rank but sadly dropped outside the top 100k due to captaining Lukaku over Salah.
Bristol City's Andy King isn't far behind, scoring 58 points despite new signing Kyle Walker (£5.6m) not making an appearance.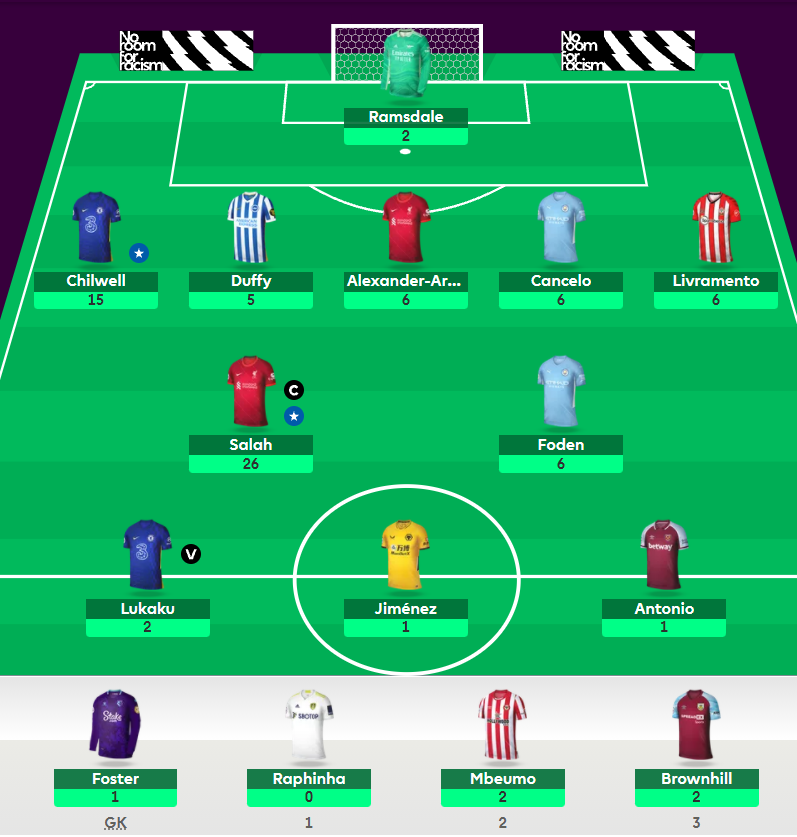 Elsewhere, let's take a moment to appreciate the season of Sky News' Sophy Ridge. Another fantastic round of games brought in 76 points and takes her up to 12,606 in the world. Sheffield Thursday haven't been outside of the top 100k since Gameweek 2 and she used this momentum to activate the Wildcard for Gameweek 8, bringing in 38 points alone from her back five, plus the 26 of captain Salah.
World number two in the ATP rankings, Daniil Medvedev comes slightly lower in FPL. However, 271,250 is still a good place to be this early in the season. His back three of Trent Alexander-Arnold (£7.5m), Cancelo and Azpilicueta each brought in six points, denied a further clean sheet from Walker's ticket for the Pep Roulette.
---
Many athletes, singers and TV stars play FPL, so please feel free to inform us of any other famous names with active teams. Let's make the database as big as possible.