Expert insight: What can we learn from FPL Nymfria?

We had a chat with FPL Nymfria to get some expert insight, find out what her strategy has been so far this season and what her plans are for the coming Gameweeks.
FPL Nymfria is part of the Fantasy Football Scout Network as well as having her own YouTube channel.
Her best Overall Rank is 23,038 in the 2015/16 season. FPL Nymfria is currently at ranked at 114,866 after Gameweek 25.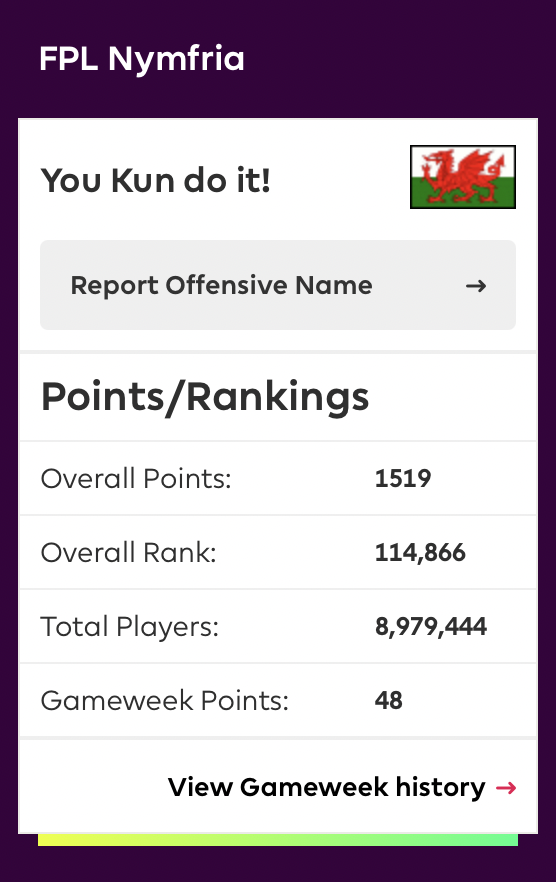 How often are you taking hits this season? Is that more than you would normally take?
I've made at least two transfers every week since early in the season. Most of them have been for a -4. This is because I have been unable to roll transfer as much as I would normally have liked.
I wouldn't say it is unusual for me to take hits, However, I've taken smaller more calculated hits this season. For example selling players who were out with Covid for players I knew would have a fixture. As apposed to previous seasons where I've had the tenancy to take major indulgent hits for the sake of it. 
How are you deciding who wears the captain's armband? Form/Fixtures/Historic record against opposition etc 
Before Mohamad Salah left to AFCON he was an easy set and forget on his form. However, since he left, I've leant heavily on fixtures. This has meant that I have given the armband to Double Gameweek players and it hasn't paid off. Giving Jarrod Bowen, who has been consistently on form, the armband would have been a much smatter move. The set and forget captaincy is also something truer to my style of game play.
How many chips have you played so far and when? 
I played my first wildcard in Gameweek 9 and this was earlier than usual for me. However, it had a positive affect gaining me 97 points that week and helped get me ahead of the fixtures. I managed to navigate Blank Gamewek 18 without the Free Hit chip. Instead using my first Free Hit in Blank Gameweek 19. This was because I knew I wanted my Gameweek 18 team back afterward Gameweek 19. However, I'm not sure I would have done this if not for the extra Free Hit given. Using the chip in that moment though did lead to three green arrows. I still Have my Wildcard, Triple Captain, Free Hit and Bench Boost left. 
Are you planning to play a chip in Gameweek 26?
Yes, I think I'll Triple Captain Salah. Mainly because I think this will be the main play for many FPL managers and going against the crowd with nearly 50% owned Salah could be very costly indeed.
I have considered moving it to Diogo Jota or Trent Alexander-Arnold instead, based on being a bit concerned that Salah looks tired after AFCON and could be rotated. However, I always planned to captain Salah if he had a double this season, so I'll likely continue with me plan as things stand.
Who does FPL Nymfria think is the best captaincy pick this week?
Tough one, as just discussed it is hard to look past Salah who is still the highest scoring player this season despite two Gameweeks at AFCON, with 181 points. He has a double against Norwich and Leeds, two teams that have been poor defensively this season, having only kept 9 clean sheets between them. If you were feeling brave then I think another Liverpool player could be a maverick pick, or maybe an Arsenal player with two home fixtures. However, I tend to keep it simple in Gameweeks as crazy as this.
Who has been your best and worst transfer in so far this season?
Getting Jota early this season on nothing more than a hunch that he would be one of the top scorers this season has definitely been one of my better transfers.
In terms of my worst, it's mostly been chasing the double gameweeks, getting Cristiano Ronaldo and Leandro Trossard in for Double Gameweek 22 was an epic fail!
Which player(s) are you looking to target ahead of the Gameweek 26 deadline?
I moved early on Salah for KDB last Gameweek, so I'll be looking to add to my eight Double Gameweek players. I was hoping to do Michail Antonio and Bruno Fernandes to Son Heung-Min and Wout Weghurst. However, with Spurs looking poor and Waghurst's potential injury, I'm having to re-think. Son may still come in for Bruno, but I then will need to consider if I want to spend a -4 on Antonio to Jimenez (my second preferred £7m forward option) or an Arsenal player. Possibly even Philippe Coutinho for Trossard in midfield.
What is your preferred system at the moment?
It's mostly three at the back and then has been shifting between five in midfield and two up top, to four in midfield and three up top depending on the Double Gameweek fixtures. 
Which PL teams should FPL managers be looking to target/double up on over the next 4-5 Gameweeks?
Liverpool, it go without saying, we should be tripling up on.
Wolves are a team I feel we've mostly slept on this season, especially in defence. They don't blank in 30 and still have fixtures to be arranged. I like the look of Arsenal assets, but word of caution you'll need to cover their blank in Gameweek 27 and their three fixtures to be re-arranged are Tottenham, Chelsea and Liverpool, so not easy matches.
I would like an Aston Villa attacker. With a nice fixture run ahead and matches against Burnley and Leeds to be re-arranged.
Lastly Broja or James Ward-Prowse my also be making their way into my team with great fixtures until the end of the season. Newcastle should come into the conversation too.
How are you planning to manage Blank Gameweek 27?
I currently have just enough playing players to allow me to bench my three Liverpool players. This does however mean playing the likes of Tino Livramento and Leandro Trossard. This means that I will likely use my free transfer to strengthen one of those positions. 
What is your target for the end of the season?
I've been just outside of the top 100k for most of the season. If I finish inside the top 100k this season I will consider the season a success, anything more than that it's a bonus. Anything less and I have learnt massive amount this season, and have changed how I'll play the game moving forward. That's something I'm very grateful to take away with me, hopefully build upon in coming seasons.
One piece of advice for FPL managers from FPL Nymfria
One take-away from this season for me is to not rush on transfers. I've always chased the price rises and tried to avoid the drops. This has meant that I have always ended the season with a great bank and team value. However that hasn't always reflected a good rank. You don't win anything for having the most money, information has been far more knowledgable this season than any. 
Need help with planning for Gameweek 26? Here's some useful articles on the Double Gameweek teams.