Double Gameweek 20: Should Erling Haaland be Triple Captain?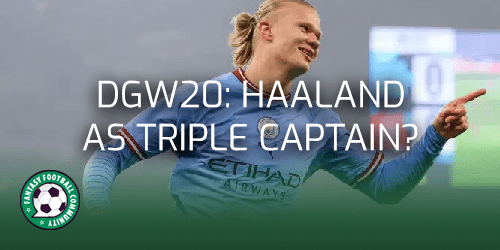 Erling Haaland plays twice in Gameweek 20. As each week's leading armband candidate, we assess whether it's time for the Triple Captain chip.
Quickly following Double Gameweek 19 – the season's first – is another that sees Man City, Man United, Tottenham and Crystal Palace play twice. Since signing for the champions during the summer, Norwegian forward Erling Haaland has been phenomenal. 21 goals from 16 matches, including three consecutive home hat-tricks.
Inevitably, most managers will want their triple captaincy to combine the game's best player with multiple fixtures. So is it already time to use it?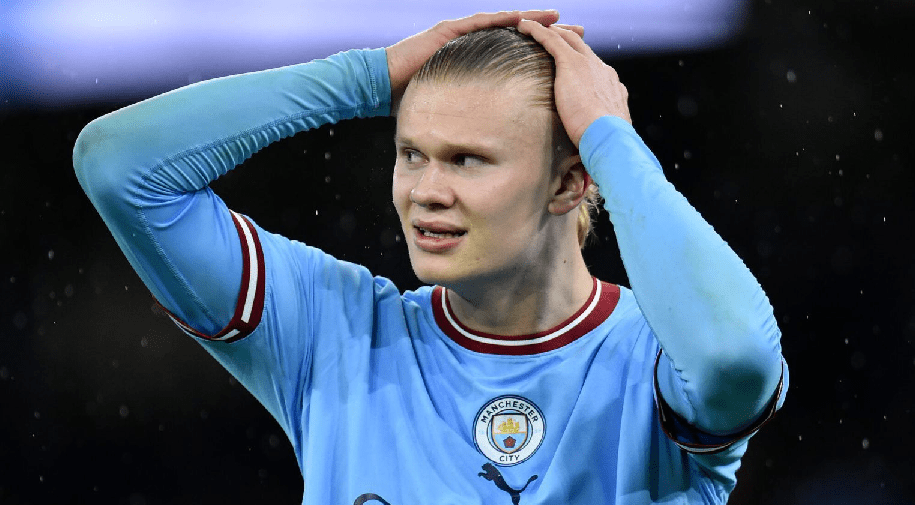 RECENT FORM
Haaland didn't blank at all until Gameweek 11 but there have been two from his last four outings. On both previous occasions, he followed it up with two goals and a 13-point return, so it's unwise to go against an angry Haaland.
Interestingly, his devastation is despite having relatively few touches of the ball. We can use Fantasy Football Scout's Members Area to see that his 399 ranks 13th amongst forwards, yet Man City's 14,313 touches are more than any other team.
FIXTURES
His two Gameweek 20 opponents are Man United and Tottenham, currently fifth and sixth. The former have kept three consecutive clean sheets – taking them to six from nine – although October's reverse meeting brought three goals, two assists and a monstrous 23 FPL points for Haaland.
Meanwhile, two of the bottom four have conceded fewer than Spurs' defence. Not only should these fixtures not be feared, there is very little chance that Haaland will be rested for such high-profile encounters.
OTHER DOUBLE GAMEWEEKS
The big question is whether this will be the best chance to hand Triple Captain to Haaland. We know there'll be at least one more Man City double – in Gameweek 23 – but there could be another should they reach the Carabao Cup final and therefore blank during Gameweek 25.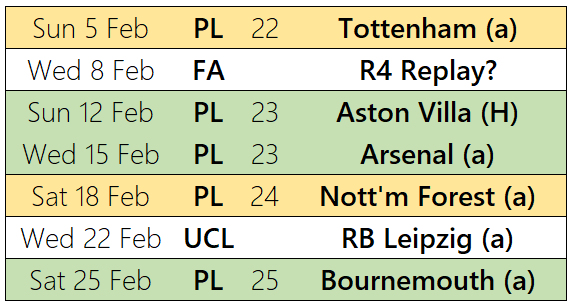 Considering the first half of Gameweek 23 should have a week-long gap beforehand and the second half is a huge trip to Arsenal, it's again likely that Haaland starts both. The subsequent trips to newly-promoted Nottingham Forest and Bournemouth are better chances to rest, with a Champions League trip to RB Leipzig sat in-between.
OTHER NAMES
For risk-takers or managers needing a differential to chase down a mini-league rival, you could look elsewhere.
After their tough Double Gameweek 20, there are no other Spurs games to reschedule. Furthermore, their clash with Chelsea is one of the few locked in on Carabao Cup final weekend, so that also won't be creating a future double. That makes it tough to use a Triple Captain chip on Harry Kane.
As for Mohamed Salah, Liverpool's match is another that is definitely taking place on Carabao Cup final weekend, although they have two previously-postponed fixtures to squeeze in somewhere.
CONCLUSION
Using the chip on Haaland seems to be the sensible option, it's just a matter of when. There is little to fear from these Gameweek 20 opponents but he should also be playing both times in Gameweek 23.
With the potential for a third double, managers may choose to wait and see, in case such eagerness denies them a dreamy pair of future Haaland fixtures.