There's cash, prizes and bragging rights on offer in the 2018/19 Fantasy Premier League community leagues.

How will you fill those 15 Classic League spaces?
---
The FF Community Shield
Make sure that you join the our own community leagues. My Greatest 11 have sponsored the mini league, with a £225 cash prize pool:
1st place – £100, 2nd place – £50, 3rd place – £25, Christmas Number 1 – £50. The 4 winners will also receive a framed My Greatest 11 print, from their website.
To be a part of The FF Community Shield, manually enter our league code 1739-786, or click the graphic below.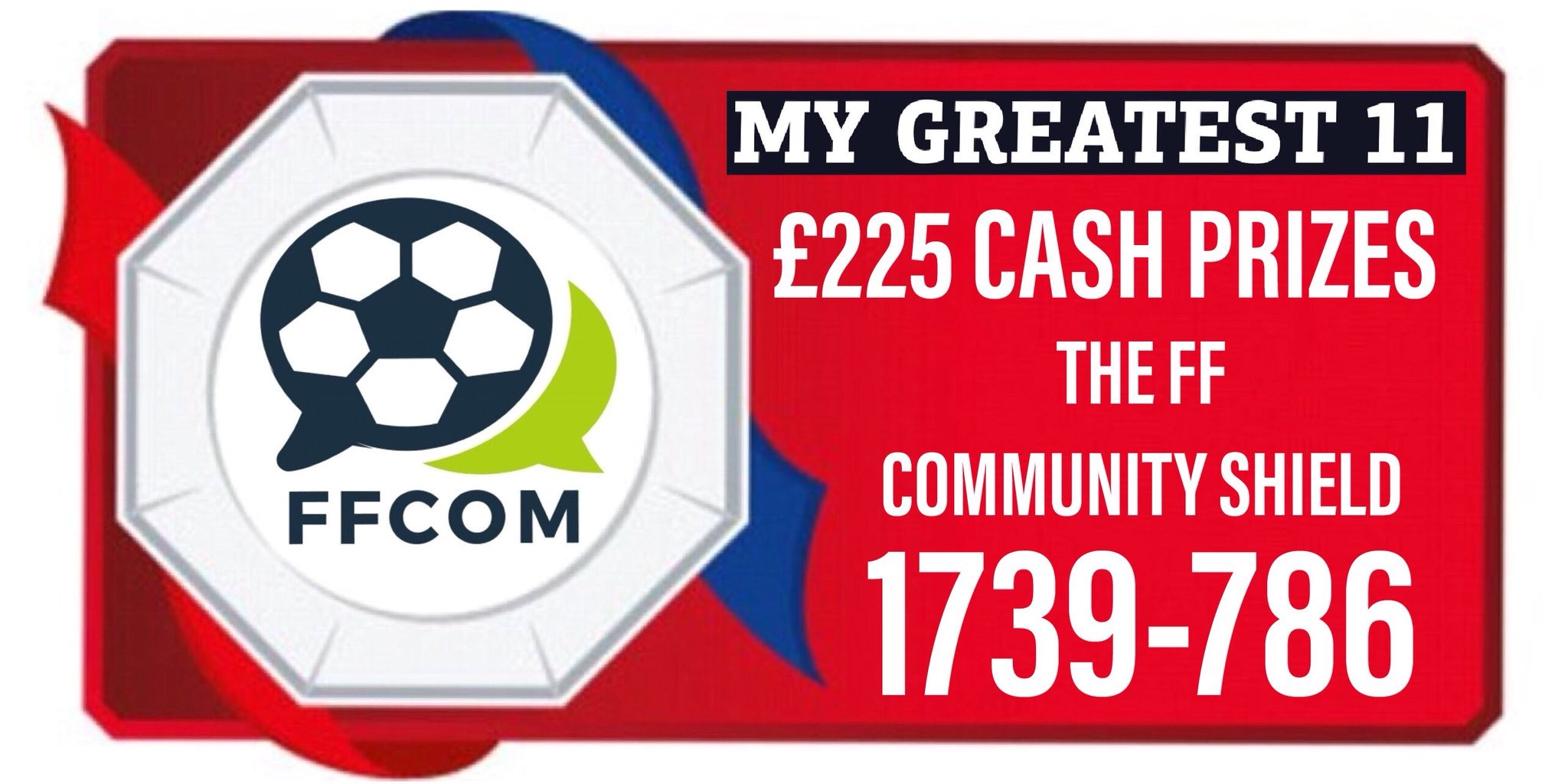 ---
Christmas Island
While there are only 15 Classic League slots in the Official Fantasy Premier League game, the community have exploited the preset country to allow an extra slot.
Be sure to select Christmas Island as your country before Gameweek 1

Once you select your country it can't be changed during the season

We had 1,500 participants last season (300% increase from the season before)

Almost all of the Christmas Island Top 10 finished Top 1k#FPL pic.twitter.com/mY7it193K0

— Chief ⚽ #FPL Manager 🇨🇽 (@FPLHints) July 1, 2018
FPL Hints has encouraged managers to adopt Christmas Island as their nation, and their Tourism Board have promised three prizes throughout the season. Show your colours!
Pleased to announce that @CITourism have agreed to provide prizes* for the Christmas Island country league in #FPL!

Prizes will be offered for:

– August Manager of the Month
– Christmas Number One
– Overall 18/19 Christmas Island league winner

*Subject to terms and conditions pic.twitter.com/vrL3xG4nr5

— Chief ⚽ #FPL Manager 🇨🇽 (@FPLHints) July 18, 2018
Here's 15 Classic Community Leagues that we recommend joining for the 2018/19 Fantasy Premier League season.
---
Star Leagues
1. The League of Doing Bits: 769483-171842
Premier League and Crystal Palace star, Patrick Van Aanholt, has created his own league for the season. With exclusive giveaways promised and some high profile entrants, it's well worth getting involved.
Right, I've set up an @OfficialFPL league 😬… I'll be doing giveaways during the season so make sure you join using the following code; 769483-171842 …welcome to the league of doing bits 😂

— Patrick van Aanholt (@pvanaanholt) July 19, 2018
BREAKING: #FPL announcement

The champion of my league will win;

1. Personal meet & greet to receive your League of Doing Bits trophy 🏆

2. A matchworn shirt signed by the squad 🦅

3. £1,000 of kit from my boot sponsor ⚽️

4. A customised mobile phone 📱

Good luck😉

— Patrick van Aanholt (@pvanaanholt) August 8, 2018
2. Battle the Breach: 1153305-360742
Premier League and BT Sport presenter, Jules Breach, has reactivated her mini league for 2018/19. It's highly competitive, with familiar faces from the world of Fantasy.
Here we go. BATTLE THE BREACH IS BACK!! Last year, thousands of @OfficialFPL managers from all over the world joined my mini league to take me on. Think you can win this year? Bragging rights & forever being lorded by me is your prize🏆 HERE'S THE CODE PEOPLE: 1153305-360742 #FPL pic.twitter.com/N9g21EwfxQ

— Jules Breach (@julesbreach) August 1, 2018
3. Kasby Primo League: 703475-348798
Bollywood superstar, Atul Kasbekar, has set up a very popular league for the new season. There's fighting talk to get a competitive edge, plus prizes provided by Puma.
Attn #FPL players…

Happy to announce that @pumaindia is on board to give some seriously cool merchandise to the top 3 winners of my FPL private league 😳⚽️

Only the baddest, most brutal football know it alls need apply

The Kasby Primo League code is:
703475-348798

— atul kasbekar (@atulkasbekar) July 31, 2018
---
Cash leagues
4. 90MAAT: 78364-16579
Premier League digital magazine 90 Minutes at a time, have put up a cash prize of £100 for the winner of their mini league.
⚽⚽⚽ 90MAAT FPL MINI-LEAGUE 2018/19 – £100 CASH PRIZE ⚽⚽⚽

Join 90MAAT's FPL mini-league for the 2018/19 season.

League Code: 78364-16579

As it's our second season of coverage, we wanted to take it up a level, so the winner takes £100 cash ⚽💰⚽ pic.twitter.com/DBPHTjy6sA

— 90MAAT⚽ (@90MAAT_) July 9, 2018
5. Hype Train: 5934-1917
There's also One Hundred Pounds on offer for the winner of the Real Hype Train community league. Thousands of managers are expected to take part.
⚽️🚂 #FPL 2018/19: £100 Classic League 🚂⚽️

The #FPL launched today and with it we'll be running our classic league again, which is welcome to all Fantasy players. Join now and spread the word. #AllAboard

League code: 5934-1917

Autojoin ⬇️https://t.co/OYYQ6Ks2h8 pic.twitter.com/RZtGwlH02Y

— The Hype Train (@RealHypeTrain) July 5, 2018
6. Fantasy Football Hub: 1396-1927
It's a double dose of prizes from Fantasy Football Hub, who are offering a cash prize on top of a 1 Year Membership to their website. Engage in their tweet to up the final prize pot.
For every ♥️/RT this tweet receives we'll add 10p to our first place prize in our #FPL league 🏆

PLUS 1 year's membership (worth £24). Membership link ⤵️https://t.co/vEt4xh6d99

League auto-join link ⤵️https://t.co/6zGDVq2oLe

*must follow us to be eligible for prizes pic.twitter.com/bgoVZIYG4S

— Fantasy Football Hub (@FFootballHub) July 9, 2018
---
Prize Leagues
7. Playmakers Pod: 338854-71801
Football related podcast, Playmakers, are offering a 2019/20 Premier League shirt for the winner of their classic league this season.
Our #FPL League now comes with a prize!
The winner will now win a 2019/20 Premier League shirt of their choice!

Join using this code and spread the word!

Classic – 338854-71801 pic.twitter.com/Ym3HN3yf5n

— #Playmakers (@Playmakers_pod) July 17, 2018
8. Survivor
FPL El Statto has teamed up with tech providers Veho, to produce some great gadgets for fantasy managers. The scoring is a new take on the classic format, with survival the ultimate aim.
🚨IT'S LIVE! My "Survivor" mini league. 🚨

For details of how to enter and the prizes you can win please read here:https://t.co/Qzi7t4z64a…

Massive thanks to Veho for the prizes. Please RT to spread the word, any questions let me know. Good luck! #FPL pic.twitter.com/r1LuFXE3K0

— ÉL STATTO (@FPL_ElStatto) July 13, 2018
9. FPL Bet League: 1740321-398005
With the ultimate aim to beat the Clueless Husband, FPL Bet are offering up a Sonos Play Smart Speaker to the overall winner of their classic league. It's a great prize!
Our 2018/19 mini league is live!!

Enter Now ➡️ https://t.co/q3boKGn0fR …

This years winner will take home a Sonos Play1 Smart Speaker!

Plus – help us prove that #FPL takes genuine skill by beating Holly's Clueless Husband 🤷‍♂️.

Are you up to the challenge?#FPL pic.twitter.com/DWgeJTyp3k

— fplbet (@fplbet) August 1, 2018
10. The Gaffer Tapes League: 4817-1594
Popular podcast The Gaffer Tapes have partnered with Monster Shop to provide a PS4 bundle as their community league prize. With monthly prizes also on offer, it's good to be involved.
We are very happy to announce our OFFICIAL #FPL LEAGUE PARTNER for the 2018/19 Season: @MonsterShopUK

As well as MONTHLY 'Manager of the Month' prizes, we have an amazing #PS4 Bundle for the overall winner!

JOIN NOW

League Pin: 4817-1594
Auto-Join Link: https://t.co/5DJ7sIVi1O pic.twitter.com/x7Yqkjv1p9

— The Gaffer Tapes (@TheGafferTapes) July 31, 2018
---
Bragging Rights
11. FF Pundits League: 12909-3368
The Fantasy Football Pundits league will be stacked with elite Fantasy Premier League managers. With thousands of entrants, it's ultimate bragging rights to finish near the top.
🙌 Our @FFPundits #FPL league has now been reopened.

If you entered last season then you'll be automatically entered this season.

All newcomers welcome.

Code: 12909-3368

Auto join 👉🏻 https://t.co/6txwY8R2kd pic.twitter.com/hxm7UUPvuY

— Fantasy Football Pundits (@FFPundits) July 5, 2018
12. Fly's Super League: 157-388
Twitter favourite FPL Fly has returned with the latest installment of his Super League. The man himself is always pushing for the top, but can he be beaten?
Re-activated your #FPL account yet? 🤔

Join Fly's SuperLeague 18/19 – my Fantasy Premier League private league. ✅

Manual code: 157-388 📲https://t.co/Hrdob1OMc9

— FPL_Fly🔻 (@FPL_Fly) July 8, 2018
13. Beat the General: 29104-7585
FPL General has a superb record in Fantasy Premier League. Join the league to be in the chasing pack and cement your expertise for a shot at the Elite 64 in subsequent seasons.
Join my 'Beat the General' mini-league for 2018/19 #FPL

Auto-join – https://t.co/Af2US7J66r

Code – 29104-7585 pic.twitter.com/J5FdqAmZ02

— The General (@FPLGeneral) July 5, 2018
14. Rebel Girls: 16719-4260
The FPL Rebel Girls league has a strict female-only policy. The 5% fantasy minority are always on the hunt for keen FPL Ladies to join their league and battle against each other.
The #FPL is up and running and so is the Rebel Girls League! If you want to get in on the best FPL Ladies' group in the game, sign up now!
Here's the new code: 16719-4260
Please Retweet! Thank you.

— FPL Rebel Girls (@FPLRebelGirls) July 5, 2018
---
Charity League
15. Charity Fantasy Football
Chairty FPL are supporting St Oswald's Hospice this season. To do your bit for charity, plus be in with a chance of winning 1k, join in with just a ten pound entry fee.
Would you like to win a £1k prize & the title 'Manager of the Season?' Play #CharityFantasyFootball & support St Oswald's every time a Premier League match is played! Just £10 to play – sign up before the season starts on 10 August at https://t.co/1TKF58kzsY & follow @CharityFPL pic.twitter.com/WGaevHFleE

— St Oswald's Hospice (@stoswaldsuk) July 25, 2018
---
Alternative Competitions
The Budget League
The Budget League has always been popular in the Fantasy Premier League community. With just 75 million allowed to be spent, finding bargains presents the ultimate challenge.
THE BUDGET LEAGUE IS OPEN TO 25 MORE MANAGERS!!!

Rules:

-75M team
– at least 25M in the bank at all times.

Drop in the DM to join/inquire.#FPL #FPLTBL

— The Budget League (@FPL_TBL) July 27, 2018
Community Clash
Those involved in the community on Twitter are encouraged to form a team and enter the Community Clash. Team IDs will be used, rather than classic scoring, so it won't require one of those valuable 15 spaces.
🚨 #FPL Community Clash Update 🚨

RTs Appreciated 🙌 pic.twitter.com/zm6ObS1Xdd

— FPL Savage™ (@FPLSavage) July 14, 2018
---
If you're interested in playing Premier League Daily Fantasy Football with us and many other community members this season, please download the FREE Starting 11 app today by clicking the banner below – available on Android & iOS.
---
BEFORE YOU GO… Catch up with the weekly preview series from pre season!